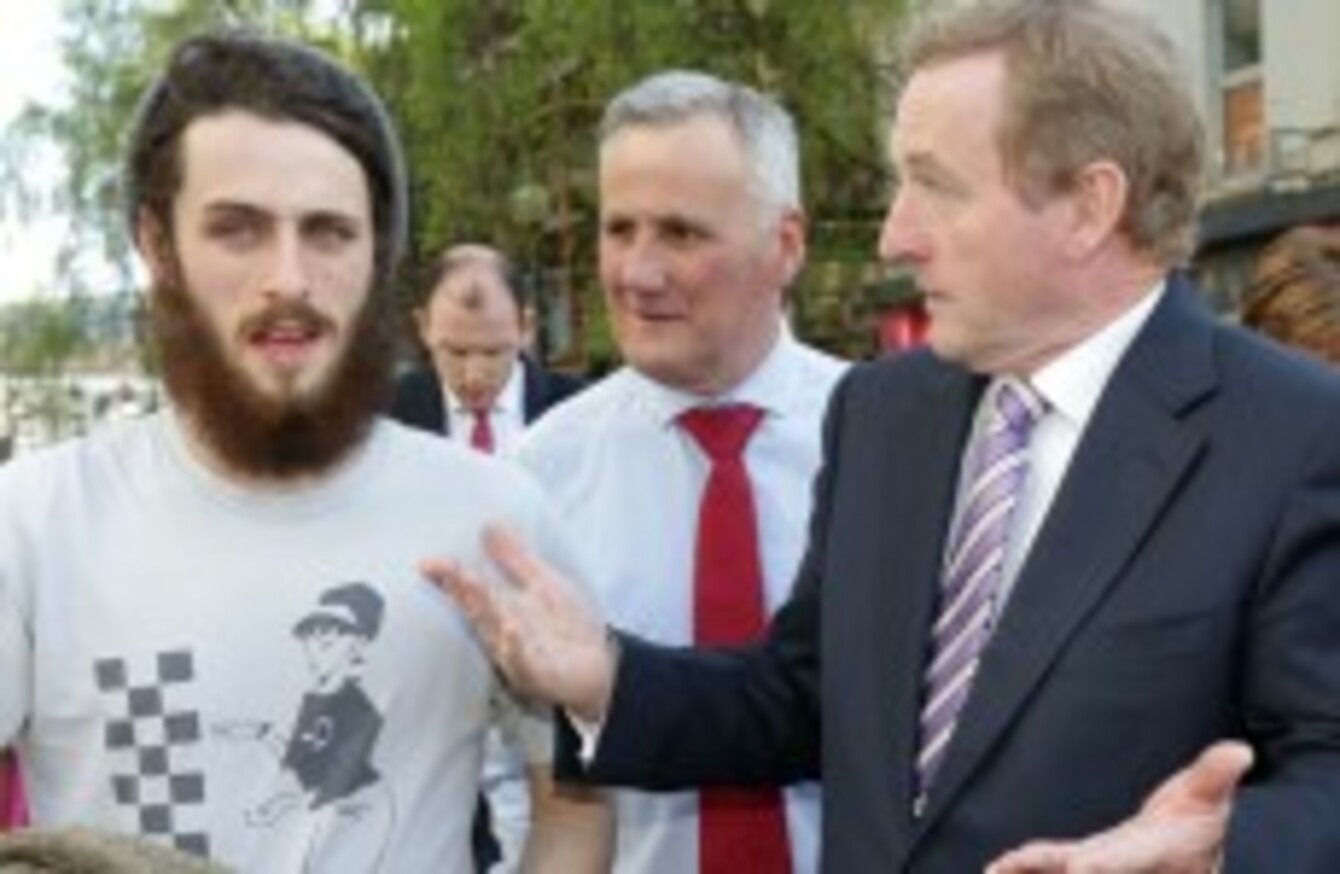 Enda Kenny talks to Jack O'Donnell from Dundalk (left) during a canvass in the town this week.
Image: Laura Hutton/Photocall Ireland
Enda Kenny talks to Jack O'Donnell from Dundalk (left) during a canvass in the town this week.
Image: Laura Hutton/Photocall Ireland
EVERY WEEK, TheJournal.ie casts its eye over events inside and outside Leinster House that have got people talking.
As the saying goes: 'You win some, you lose some.'
So here are our political winners and losers from the past seven days:
The 5 winners of the week are…
1. Eamon Gilmore
It's been a turbulent week for Labour but the party leader comes out on top for now with TDs and members rallying around him in the wake of one MEP's call for him to step down. Gilmore is safe right now but as some TDs admit privately, it's anyone's guess after the 23 May elections depending on the result. All that said, the Tánaiste was in bullish mood towards the end of the week, insisting his leadership is not up for debate.
https://vine.co/v/MvYMagaUKtg
2. Ciarán Lynch
The newly-appointed chairman of the banking inquiry is rarely seen without a smile on his face around Leinster House and this week it was that little bit broader after his appointment to head the long-awaited investigation. TDs and Senators were only too happy to shake his hand as they bumped into him in the halls (strategically, perhaps?) and there are plenty of them angling to be involved in the bank probe.
3. Brian Walsh 
The Fine Gael TD has been readmitted to the parliamentary party less than a year after voting against the government on the abortion legislation. Walsh's return to the fold follows several months of keeping his mouth shut and voting with the government in contrast to the other rebels who have established the Reform Alliance. There's no way back for the likes of Lucinda Creighton now.
4. Seán Sherlock
We don't see much of this Labour TD and junior education minister but he managed to get his face and voice in most places this week after a man wielding several knives attempted to gain access to Leinster House on Tuesday. Sherlock didn't do  anything in particular, but he was only too happy to talk about what he witnessed.
5. Leo Varadkar
The Transport Minister demonstrated his top skills with the lady-folk whilst attending one of those bizarre and potentially hazardous photo-ops with the Molly Malone statue this week. "It's okay touching the shoulder, isn't it? It's one of the safe areas?" Varadkar remarked as he and Brian Hayes did everything they could to avoid looking at Dublin's most famous cleavage:
… and the 5  losers of the week are…
1. Gerry Adams
No surprises here as the Sinn Féin leader spent two nights in Antrim police station being asked questions about the murder of Jean McConville. Aside from the seriousness of the crime itself – which Adams denies any involvement in – this is politically damaging for a leader and a party attempting to appeal to new voters.
Core Sinn Féin voters won't be swayed either way by this week's developments. But what will those who have been thinking about voting Sinn Féin – and they're increasing in numbers – think about this week's developments?
2. Mary Lou McDonald 
The Sinn Féin party contains some of the brightest minds in Irish politics right now and Mary Lou is definitely one of them, but she has taken a very conscious and potentially damaging (politically) decision to put herself front and centre in defending Adams, insisting that he's not a suspect in the McConville murder and vociferously stating that this is all politically motivated.
3. Phil Prendergast 
Calling for Eamon Gilmore to go was a deeply cynical move by the Ireland South substitute MEP who is languishing in the polls and felt that drastic action was needed. It's done her no favours with Labour members and is unlikely to be of huge interest to voters. They're shunning party not because of its leader, but because of what it's done in government. The fact that Prendergast is prepared to to canvass with a leader she has no confidence in is not only hypocritical, it's farcical too.
4. The people who abused a Labour candidate 
Martina Genockey would almost certainly prefer that she wasn't in the spotlight for the reasons she is this week, but there is something very admirable about the way she dealt with the people who followed and abused her as she campaigned in Tallaght on Monday.
No one is saying you're not allowed express your anger towards politicians who want your vote, but following them and describing them as "Labour traitors" is really not on. As Genockey herself says repeatedly in the video below: "This is democracy."
Source: Broadsheet Ie/YouTube
5. Jan O'Sullivan 
The Labour TD has been Housing Minister for three years but there is little sign of the housing crisis getting any better and that was underlined in a Dáil debate this week. She has set a target of ending long-term homeless by 2016 but as several TDs told us this week there is little prospect of that goal being reached.