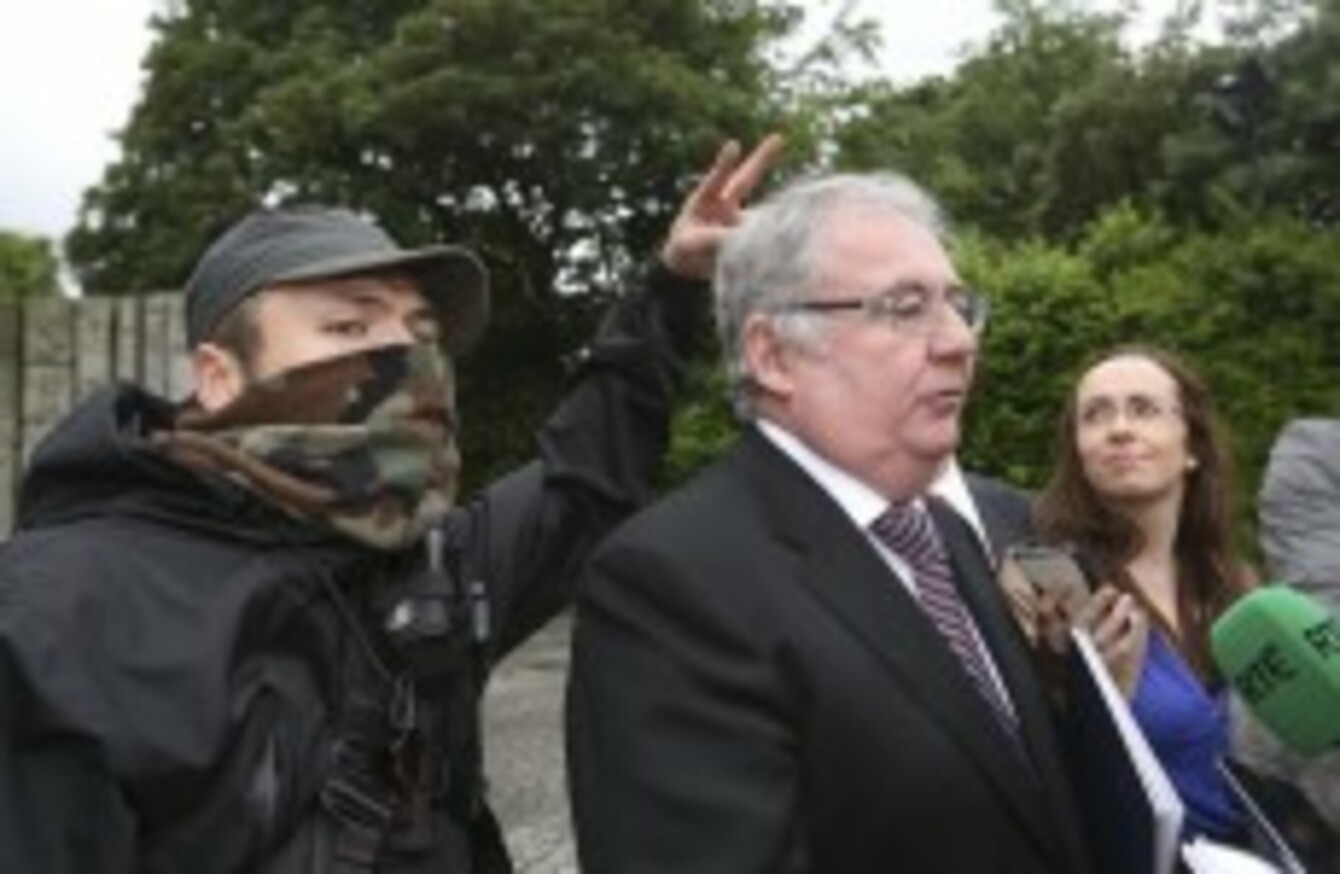 A bike messeger makes gestures towards Pat Rabbitte in central Dublin during the week
Image: Sam Boal/Photocall Ireland
A bike messeger makes gestures towards Pat Rabbitte in central Dublin during the week
Image: Sam Boal/Photocall Ireland
EVERY WEEK, TheJournal.ie casts its eye over events inside and outside Leinster House that have got people talking.
As the saying goes: 'You win some, you lose some.'
So here are our political winners and losers from the past seven days:
The 5 winners of the week are…
1. Michael Noonan
In a classic Michael Noonan way, the Finance Minister disclosed his battle with cancer this week in an understated but detailed manner that has put any fears about his health or his future to bed. He was chirpy and cracking jokes at a press conference on Wednesday morning and he's very much of the view that now it's just time to get on with it.
https://vine.co/v/Mp0EZd5n0al
2. Ciara Conway
The Labour deputy leader hopeful set herself apart from her rivals by making a firm commitment not to take a ministerial position if she is elected next month. Some accuse the Waterford TD of lacking ambition, but Labour members have complained that dissenting voices haven't been tolerated under Eamon Gilmore's leadership. If elected Conway would stand to benefit is she uses her distance from Cabinet to be that dissenting voice. It appears her rivals for the role can't make a commitment similar to hers.
3. Mary Hanafin
The newly-elected Fianna Fáil councillor is now officially a Fianna Fáil councillor after the party decided not to take any further action against her for defying Micheál Martin and running in Blackrock. Hanafin was delighted when we spoke to her this week, joking: "I'm all official again."
4. Enda Kenny
The Taoiseach will have been glad to get away from the considerable controversies at home this past week. He was having great craic altogether in California, going on Facebook and all. Of course it was all about the serious business of jobs for much of the time.
5. Kevin O'Malley 
While he was in the States, Enda Kenny was able to welcome the good news that US President Barack Obama has finally got around to appointing a successor to Dan Rooney as ambassador to Ireland. St Louis-based trial lawyer Kevin F O'Malley will take up residence at the Phoenix Park shortly.
… and the 5 losers of the week are…
1. James Reilly
The Health Minister is in the wars again this week amid an increasing likelihood that he will be shuffled out of the Department of Health. A number of Fine Gael TDs are now openly calling for him to go while privately there are many more that feel he should be replaced. The departure of Reilly has taken on an air of inevitability this week.
2. The banking inquiry
The banking inquiry is already fraught with difficulties before it's even started and this week the government made a complete mess of trying to ensure it has a majority of members. All of which means the inquiry could now be delayed. On top of that the lack of any women on the committee – as it stands – is a real blow to the government's stated aim of achieving greater gender balance in politics. A government senator was not impressed:
3. The Seanad
All of the above underlined the ongoing dysfunctionality of the Seanad as it spent some three hours rowing about the issue, adjourning several times and generally looking like it wasn't doing anything productive. Yes to some extent it's a victory for the opposition that they gave the government a kick on the banking inquiry. But the bigger issue is perhaps that the upper house has not changed one iota in the way it is run since the people decided to retain last year.
4. Politicians on the Tuam baby scandal 
There was something quite unsettling about the willingness of politicians, particularly from the area, to jump on the Tuam babies story this week and give their tuppence worth. It's an awful story of course, but the reality is that it has been around for years but why is it only now that local TDs have decided to be vocal about it?
5. Martin McGuinness
Not a good week for the North's deputy first minister whose World Cup draw in the office pool was ironic in the extreme: