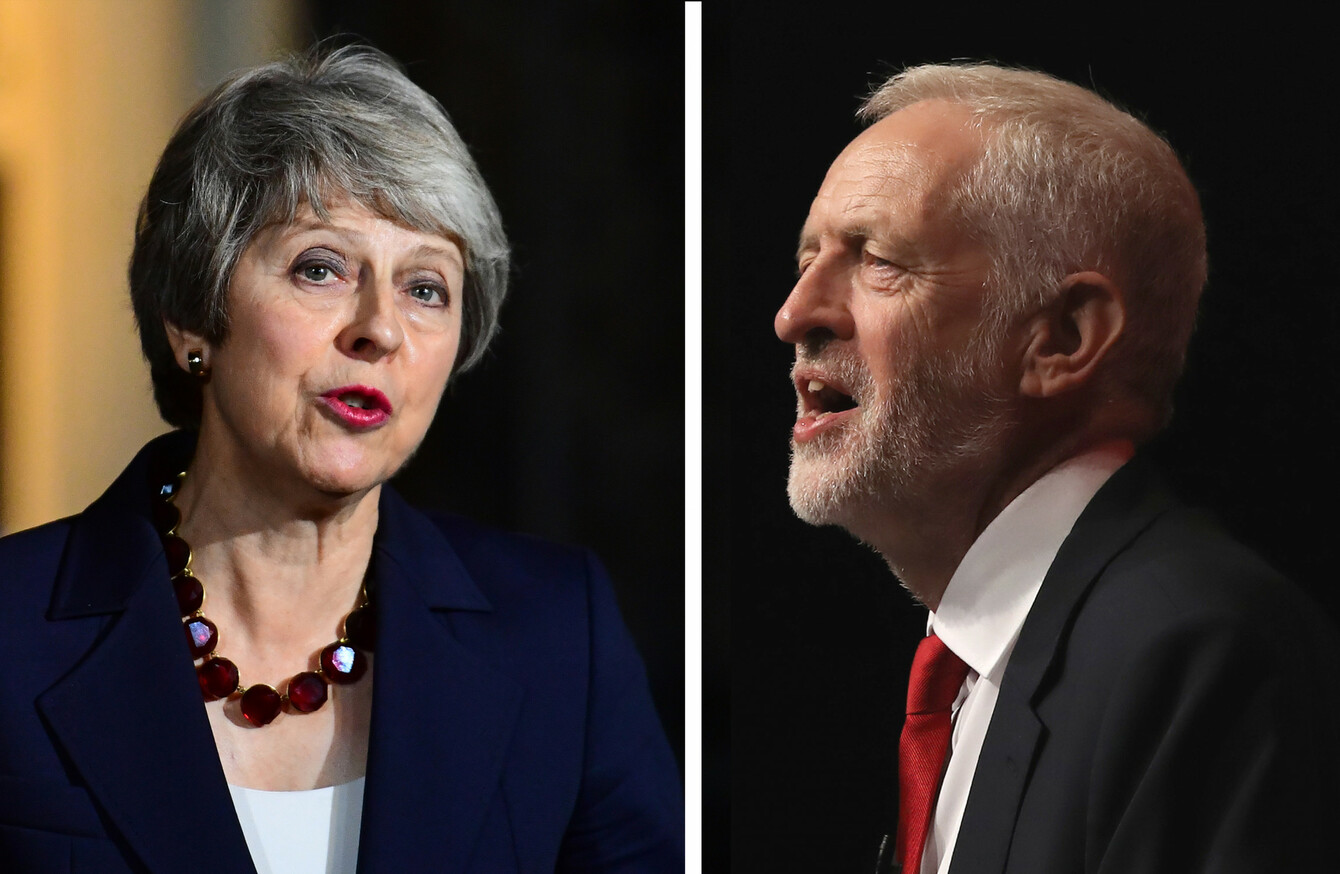 Image: PA Images
Image: PA Images
Updated Apr 2nd 2019, 10:45 PM
UK PRIME MINISTER Theresa May has said that she will request another extension to Article 50, saying that although the UK could "make a success" of no-deal, leaving with a deal would be preferable.
"What we need to focus on is our relationship with the EU," she said, adding that in order to pass a Brexit deal, she would need the support of the opposition.
She said she was offering to sit down with Labour leader Jeremy Corbyn to work out a way forward, so the UK could leave with a deal, and it was an offer Corbyn agreed to this evening. 
Any deal must include her withdrawal agreement, she said. 
In a Twitter post this evening, Corbyn said he'd agreed to meet May to ensure a "disastrous no deal outcome is prevented".
"We also need to ensure we give security and certainty to the people of this country that there will not be a crashing out at the end of this process," he said. 
Any plan agreed by May and Corbyn would be put to the House of Commons for approval next week with a view to bringing it to the European Council summit next week. 
She said that if she and the Labour leader could not agree a way forward then a list of options for the UK's future relationship with the EU would be put to MPs. 
She said she wanted the process she set out to be finished by 22 May, so the UK did not have to hold EU elections. 
The UK government has until 12 April – Friday week – to propose a plan to the EU or it will crash out without a deal. 
European Council president Donald Tusk, reacting via Twitter, said: 
Even if, after today, we don't know what the end result will be, let us be patient.
May made a public statement following over seven hours of talks with her Cabinet.
It came following events in the House of Commons last night, where MPs voted against all four alternative options to May's Brexit deal that were on the table. 
Tory backlash
After failing to win over enough Brexiteer rebels in her own party to back her withdrawal agreement on three occasions, May's reaching out to Corbyn has drawn criticism from within the Conservatives.
Boris Johnson, in a series of tweets, said it was "very disappointing" and that the terms Labour would seek, such as a customs union for a softer Brexit, would "in no way resemble what the people were promised when they voted to leave". 
"The PM and cabinet have concluded that any deal is better than no deal, and this is truly a very bad deal indeed – one that leaves us being run by the EU," he said. "I can under no circumstances vote for a deal involving a customs union as I believe that does not deliver on the referendum."
Veteran Tory Iain Duncan Smith, meanwhile, told Sky News that it was "utterly appalling" that the Conservative party are about to "legitimise Corbyn". 
The Prime Minister's new arrangement also has not impressed the DUP.
The party said in a statement this evening: "The Prime Minister's lamentable handling of the negotiations with the EU means she has failed to deliver a sensible Brexit deal that works for all parts of the United Kingdom. That is why she has not been able to get it through parliament.
Her announcement therefore tonight comes as little surprise. Though it remains to be seen if sub-contracting out the future of Brexit to Jeremy Corbyn, someone whom the Conservatives have demonised for four years, will end happily.
- With reporting from Daragh Brophy and Grainne Ní Aodha