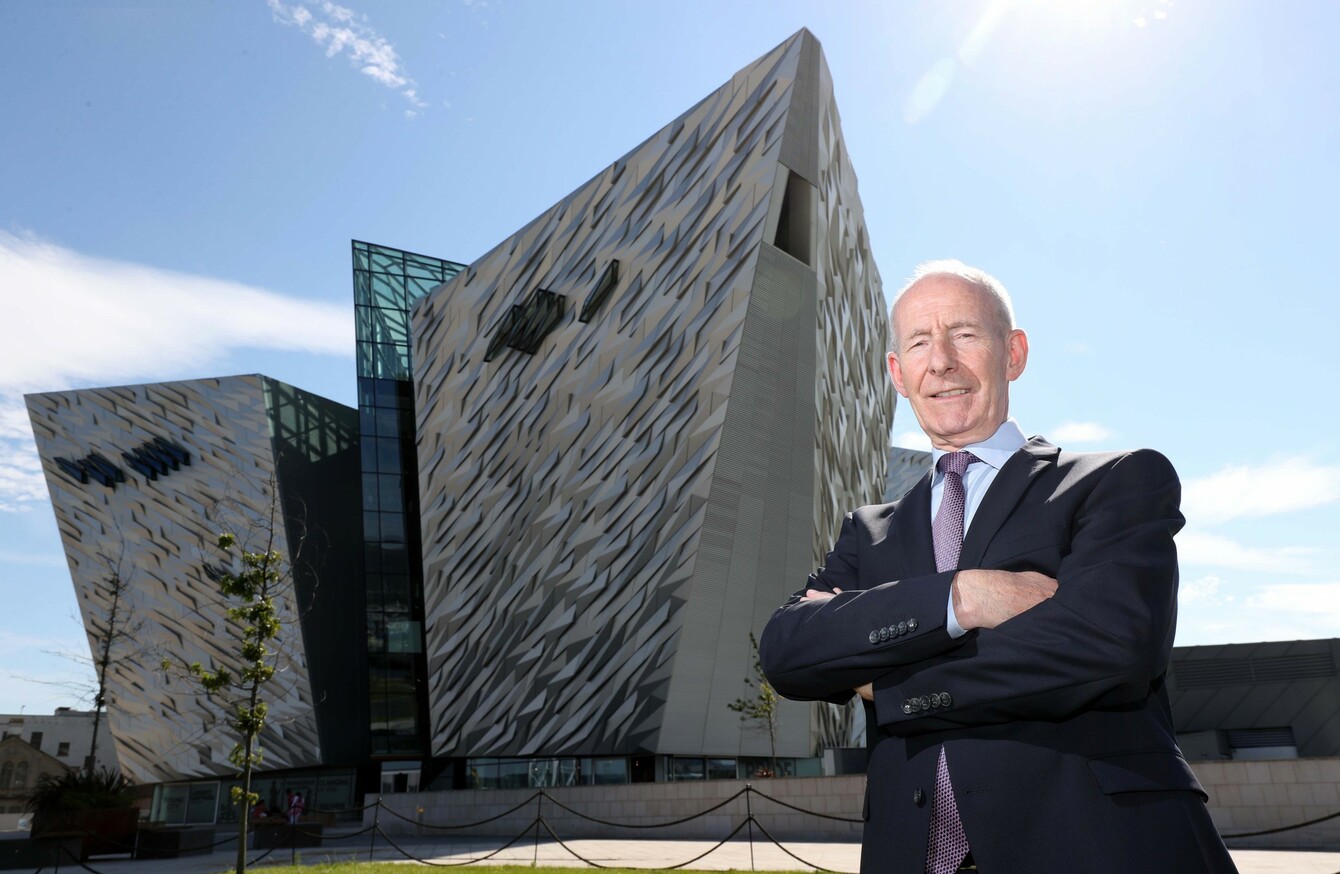 Image: Titanic Belfast
Image: Titanic Belfast
AFTER THREE DECADES of violence, it took a maritime disaster to propel a city jarred by conflict onto the global tourism stage.
Titanic Belfast recently beat the Eiffel Tower, the Roman Colosseum and Dublin's Guinness Storehouse to win the title of 'best tourist attraction in Europe' at the prestigious World Travel Awards.
It was the first time a Northern Irish attraction won such an accolade.
"It's quite a significant endorsement," says Conal Harvey, the man who spearheaded the construction of the visitor experience as a director at Harcourt Developments, a sister company of Titanic Island Ltd which redeveloped the Titanic Quarter more than 10 years ago.
"It's a culmination of a lot of effort and planning over four years," he tells Fora.
Harvey, who continues to have a leading role in both the Titanic Belfast and Titanic Quarter, is credited with securing support from the Stormont government and key stakeholders to complete the visitor attraction in time for the 2012 centenary of the Titanic's ill-fated voyage.
It took three years to build and cost £77 million, or €92.4 million at the time.
Since then, Titanic Belfast has attracted over three million visitors, with 625,000 people visiting in 2015, up 2% on the previous year.
Harvey says the success of the attraction lies in the fact that it is "anchored in an authentic story", noting the nautical pun.
"The visitor experience is done in an entertaining way," he says. "Visitors can enjoy wandering through the galleries, enjoy the diversity of them, even though the subject matter is entirely historically accurate."
Foreign visitors
Two-thirds of Titanic Belfast's visitors last year came from outside the island of Ireland.
"That's a great story for Belfast and Northern Ireland," Harvey says. "It's in the growth in numbers from abroad that you get added economic value."
Last year, roughly two-fifths of the 4.5 million overnight trips to Northern Ireland were taken by visitors from foreign markets, according to statistics from Stormont's department for the economy.
Harvey claims the Titanic visitor experience has "made that contribution for Belfast to reinvent itself with a forward-looking approach".
"It's really a symbol of something new and fresh, even though it reaches back to the hundred-year-old history of the city."
Conflict
Harvey says there is no doubt the Troubles held back Northern Ireland as a tourist destination and acknowledges that the legacy of the conflict continues to act as a drag on visitor growth to the region – "you don't shake off history in a few years".
"It will take a little longer to grow out of the Troubles," he says. "The identity of the city for three decades was one of the Troubles. People weren't sure if they could go there. Even people within the island of Ireland would have been reticent about going to Belfast."
Despite the newfound political stability, the number of visitors from the Republic has yet to show growth in line with the south's recovering economy. Visitor figures dropped in 2015 by 53,000 trips to 300,000 overnight visits.
Harvey claims that as the peace process becomes more historic, tourism to the region will increase.
"I see no reason why Northern Ireland can't get at least its proportion of the tourism growth that Ireland is enjoying at the moment," he says, adding that there needs to be provision for more hotel rooms.
Screen tourism
So-called 'screen tourism' is another area which has delivered big business for Ireland's tourism marketing chiefs.
Tourism Ireland, which has the remit to promote both the North and the Republic to foreign markets, claims that up to 35% of tourists choose a destination based on how it is portrayed in a TV programme or film, which is the motivation for plugging Northern Ireland's connection to Game of Thrones.
Titanic Studios, where some scenes from HBO's hit series were shot, is located in Titanic Quarter and, although it isn't open to the public, it fits into Harvey's aspirations for the waterfront area.
"Our vision for Titanic Quarter is to be an urban quarter with a reasonable high density (in residential property), good services and a full mix of content and usages," he says.
#Open journalism No news is bad news Support The Journal

Your contributions will help us continue to deliver the stories that are important to you

Support us now
Development plans
Right now, there are more than 100 companies renting office space at Titanic Quarter, including multinationals Citigroup, Microsoft and IBM.
Last year, plans were announced for a £395 million (€460 million) investment to develop 1.5 million sq ft of land over a three-year period.
Without giving away too much detail, Harvey says that the development "will grow in all its dimensions" and "will be more residential". He likens it to a mini-IFSC.
On the tourism and leisure side, there are four hotels in development, including a boutique hotel in the former Harland & Wolff shipping headquarters.
"I think in many ways the emotional connection with that by the people of Belfast will be greater than Titanic Belfast," Harvey says. "There are many people who have relations who worked in the shipyard. I think it's quite exciting to see that coming to life."
Uncertainty
One major factor that looms over the development – and Northern Ireland as a whole – is Brexit, which Harvey agrees "creates a level of uncertainty".
Harcourt Development's sister company Titanic Island warns in its most recently filed accounts that the UK's decision to leave the European Union "is likely to lead to a period of uncertainty … that may adversely affect the group's trading prospects in the short to medium term."
"There's no doubt that uncertainty is the enemy of economic and business progress," Harvey says. "Belfast is still a very competitive location from a cost point of view. Both in terms of property costs and in terms of salary cost."
Although there is always a possibility of hesitancy among investors, he thinks "the office space will be filled".
"Right now, Belfast is short of high quality, grade-A office space. These things don't drop in overnight.
"Our understanding is that it will go ahead. That's not to say there won't be some kind of fallout or delay. But if you think about Belfast as a cost base, the sterling has fallen significantly so it's more competitive than ever."
Written by Conor McMahon and posted on Fora.ie