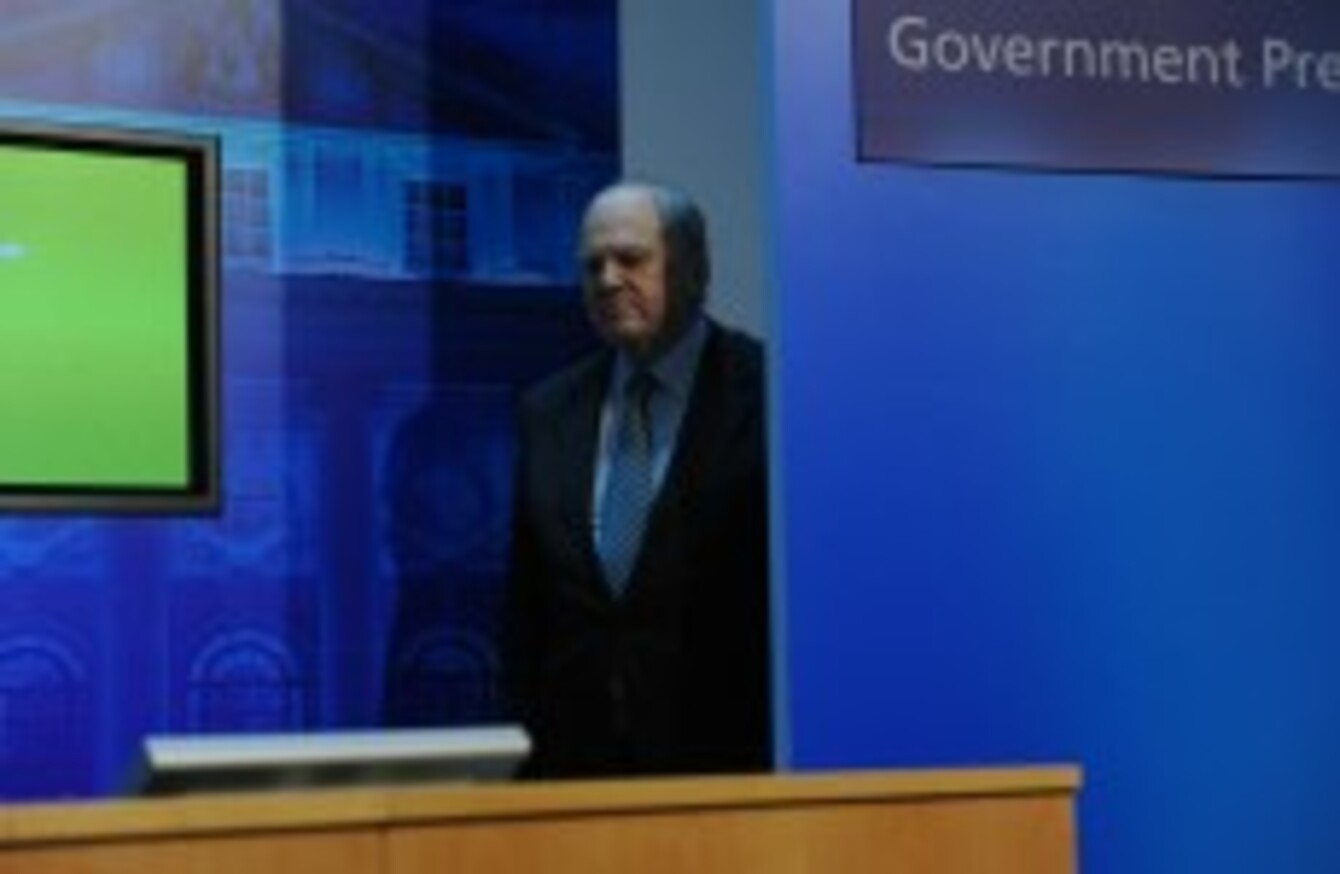 Minister for Finance Michael Noonan enters a press conference on the day the promissory note deal was announced
Image: Sasko Lazarov/Photocall Ireland
Minister for Finance Michael Noonan enters a press conference on the day the promissory note deal was announced
Image: Sasko Lazarov/Photocall Ireland
EVERY SATURDAY MORNING we like to take a look at all the best comments left on the site by you lot over the past week.
This week  there was a lot of talk about the report into the Magdalene laundries, the unexpected liquidation of IBRC and the promissory note deal that came shortly afterwards. There was also Cork Gardaí voting in favour of industrial action, Clare Daly being cleared of drink driving, whether Ireland should legalise same-sex marriage, and, crucially, which town is the most romantic in Ireland.
So here, in no particular order, are the standout comments from the week that was.
The top 5 articles which received the most comments this week
1. Poll: Should Ireland legalise same-sex marriage? (434 comments)
2. As it happened: Dáil approves Bill to liquidate IBRC (258 comments)
3. 8 childhood treats you'll likely never taste again (250 comments)
4. Dáil to sit at 10:30pm to debate emergency legislation on liquidating IBRC (245 comments)
5. Cork City gardaí vote in favour of industrial action (227 comments)
Some of the best comments left on the site this week
(AP Photo/Mark Humphrey)
On Monday we published 17 particularly insane moments during Beyoncé's performance at the Super Bowl in the US. Barry Byrne was sanguine about it:
It is disappointing to see that the Artane Boys Band were overlooked AGAIN for this.
Sean Flanagan was unimpressed with the overnight session in the Oireachtas to pass legislation to liquidate IBRC:
We're watching history in the making. It's like the moon landing, only shit.
The full report into the Magdalene Laundries was published this week and shone a light on one of the darkest parts of Ireland's history. Tony Hegarty got a lot of thumbs up for this comment…:
Words cannot express the pain I feel for those women who suffered at the hands of the religious orders nor can i find the words to express the anger I feel towards the RCC and the politicians and civil servants who supported and still support their regime today.
… as did Henry Porter for this:
To be honest whether or not they made much money is not important. This is a human rights issue. The worst thing is that none of this is new. During the sixties and prior, everybody knew what Magdalene laundries were and how the women got there. Some delivered by their families. Society was wholly complicit in enslaving these women because it suited the social mores of the time.
A British university confirmed this week that a skeleton discovered beneath a car park is believed to be that of Richard III. From Stephen Barry:
His last words were , she said she would only be a minute
The horse meat saga seems set to rumble on with the news on Thursday that a Findus beef lasagne was found to contain a whole lot of horse. Katie Does summed up the problem for many people:
To some extent I can understand why people find this all so amusing. There isn't anything intrinsically wrong with horse meat, other than perhaps upsetting some people due to a cultural aversion to eating horses.

But this is not about horse meat, it's about the fact that you've no clue what you are eating and that what it says on the back of any pack may or may not be a clue to what the food contains, but you've no way of knowing. If one ingredient that's not supposed to be there can be there in such significant percentages, what else might be in there too?

Everyone is frantically looking for horse meat now, they never looked or cared before the last couple of weeks. It's probably true that at least some of the food producers have themselves been conned, and hadn't a clue that what they were using was not beef. So, what else are they not checking for? Can they even check for things they don't know or suspect might be there?
The fear of burglaries has risen significantly over the past year, according to a new survey. Zedabelzer explained what it's like:
Have been burgled twice. Really difficult to get over seeing someone uninvited in your sitting room. I think burglars are so caught up in 'sure they're Insured' they don't realise the trauma it causes. Not that I'm sure they care either. Very upsetting.
Matthew Johnston/Vimeo
After living in Dublin for five years, one man made this poignant video to say goodbye to it as he prepared to leave. The video got a lot of likes in the comments – and Matthew Johnston, who made the video, got involved:
Thanks for the comments folks, I'm no professional (barely even an amateur) film-maker, this was just a wee thing I put together quickly to say goodbye to my friends, I never thought it'd be shared like this :)

I only intended the video to encapsulate the Dublin that I am most familiar with, I think it'd be hard to do justice to all of the beauty of the city without spending months and months doing it – in other words, this is just my Dublin, go discover yours!
5 of the comments which received the most thumbs up
Drumroll please… The most popular comment this week came from Niall Connolly, who got more than 2026 thumbs up on the article about the American girl who is trying to find the guy she met in Copper Face Jacks in December:
Fill in the blanks? I somehow don't think blanks were involved in this case.
John Byrne's comment beneath this article about one of the women who suffered in a Magdalene Laundry was the second most popular this week with 1222 thumbs up:
Shame on everyone involved , it never ceases to amaze me the sadism of the Catholic Church .
Another one from the article about Coppers – this time James Patrick Smith got 1127 thumbs up for this:
I just met you and this is crazy, you shagged me after coppers now here's your baby
Professor Mehoop had this popular comment on the article about everything that Ireland still has, no matter what happens with the ECB:
It's still the best country in the world. And that's a fact you can't take to the bank.
Finally, John Cotter got a lot of thumbs up for this comment on the poll about same sex marriage in Ireland:
I voted yes because who am I to say who can or can't marry. There should only be two people involved in that decision.
Spot any good comments? Let us know: mail christine@thejournal.ie with any suggestions for comments of the week.