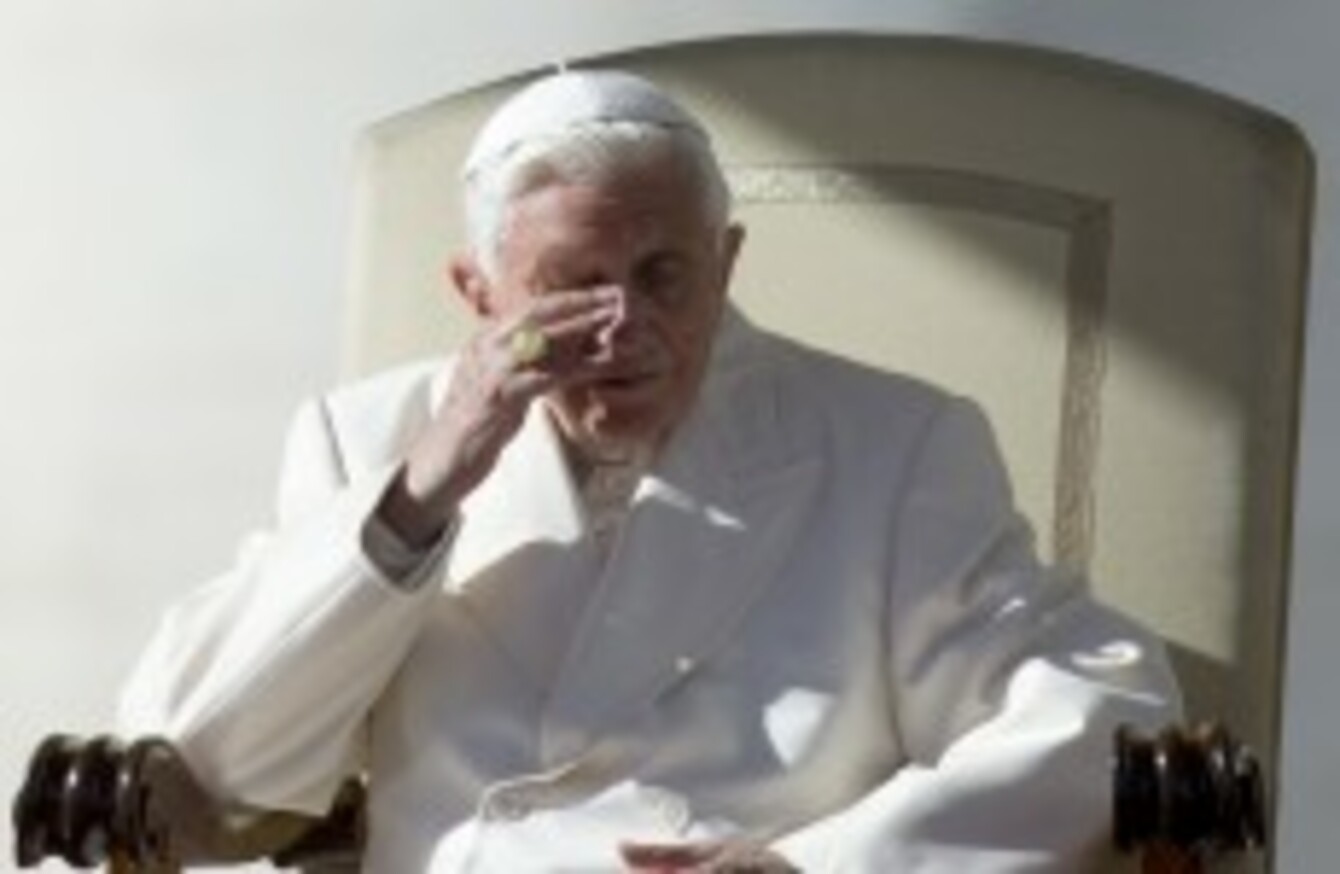 Pope Benedict XVI, who announced his resignation this week
Image: AP Photo/Andrew Medichini
Pope Benedict XVI, who announced his resignation this week
Image: AP Photo/Andrew Medichini
EVERY SATURDAY MORNING we like to take a look at all the best comments left on the site by you lot over the past week.
This week there was a lot of talk about the unexpected resignation of Pope Benedict XVI, the impending threat of industrial action by gardaí, and Oscar Pistorius being charged with the murder of his girlfriend Reeva Steenkamp. Then there was Fianna Fáil's resurgence in the opinion polls to become the most popular political party in the country, office romance and er, Chubby Checker's lawsuit against a penis-measuring app.
So here, in no particular order, are the standout comments from the week that was.
The top 5 articles which received the most comments this week
1. New opinion poll shows Fianna Fáil is Ireland's most popular party (357 comments)
2. Pope Benedict resigns, cites 'advanced age' and deteriorating health (310 comments)
3. Poll: Would you support a garda 'blue flu'? (294 comments)
4. Poll: Do you think Fianna Fáil will return to government in the next election? (243 comments)
5. Gardaí across the country voting in favour of industrial action (234 comments)
Some of the best comments left on the site this week
This video about Dublin slang translated for people who aren't used to it was popular on the site this week – as was this comment by Shane Ellis about how easy it is to get tripped up by it:

(Video: Jenny Keogh/YouTube)
I remember when I first moved to Dublin from the country and was in a friends house in ballyfermot and their neighbour who was a somewhat larger lady popped in to show off a new dress she got for a wedding. All the girls started telling her she looked massive. I nearly choked on my tea.
A couple in Thailand set a new record this week for the world's longest kiss by locking lips for more than 58 hours on Valentine's Day. Nun on Yokes was not impressed:
That is nothing. There is a bloke sitting across from me in the office who has kissed my bosses ar#e for 2 solid years.
As Michael McTague pointed out, there have been a number of strange and unexpected stories over the past few days:
Pope resigns, lightning hits basilica , meteors hit Russia, horses turning into cows and sky reporting larger meteor to be the closest recorded ever tonight ? We're the Mayans right. Where's the nearest bunker !
There was a huge reaction to the announcement this week that Pope Benedict XVI is to resign. Some commenters spoke positively about him, others didn't. This comment was from Tracey Coughlan:
I think he was too told to be elected in the first place … It's a lot to take on at that age. I hope the next pope will be younger and have a more open/ softer view of the world. There is just so much skeletons dropping out of the churches cupboard maybe the stress of it all is too much to bare ……. But then again the victims had to carry the weight of those vicious crimes
Four animal organisations saved more than 140 dogs from what were described as "deplorable conditions" in the single biggest dog rescue in the history of the State this week.
Gary Cogan pointed out some of the issues with the situation:
This story causes conflicting emotions for me. As my two rescue dogs snore on my sofa, I count the blessings they give me. I'm thankful for the great work work done by so many volunteers in groups like ASH animal rescue. But lets be clear, the condition of these dogs indicate they weren't for sale. She wasn't in this for profit and the fact she was trying to rescue dogs seems to indicate she wasn't intentionally cruel. Yes, the dogs needed to be rescued. But maybe so does she. Instead of burning her at the stake, how about a mental health intervention, training and 1000 hours supervised community work at an animal shelter? I have no time or tolerance for those who set out to hurt animals but was that really what was happening here? So very sad for all involved, be they on two legs or four.
It was National No Smoking Day earlier this week, and one ex-smoker wrote this column about how she finally gave up after decades. Joan Ruud Donnellan-Wijnen shared her own story about her mother:
My mother died young from Emphysema, an awful thing to see, I remember her telling me that if only she knew how it was going to affect her future she'd NEVER have started all those years ago. On oxygen all the time & oxygen mask at night, no quality of life. She gave them up the year before she died but it was too late, damage had been done & the disease advanced very fast. She was from a generation where it was glamorous to smoke, 1940/50′s. Ive just had a baby girl and wouldve loved it if she was here to see her granddaughter …I've never smoked but my heart goes out to anyone who does & wants to give up, that's nearly 99% of people who smoke I think. It isn't easy…. So best of luck to anyone who's off the cigarettes or going to try give them up.. Don't be too hard on yourself and avoid places where people smoke for awhile.. If you do light up don't feel bad, try again…. It's worth it for you & your family…
We couldn't do comments of the week this week without mentioning the story of Lisa and Barry. Here's the short version: On Wednesday, commenter Lisa Coyne responded to an article asking people if they fancied anyone in their office by posting about how she had a crush on someone in her workplace. Other commenters suggested she ask him out. She laughed it out. The more romantic commenters persisted. Eventually Lisa said that she would – and the two ended up going out for a drink on Thursday evening.
The last we heard from Lisa was just before the date…:
An hour and a half to go, taxi here at 8, so sick with nerves, Valium please :)
… but we still don't know what happened next. Did they meet? How did it go? Could this be the first ever Journal commenter couple? So many questions. Bryan N had this nice suggestion:
The Journal should pay for drinks and a meal somewhere nice… C'mon :)
(We promise to get them a wedding present if it comes to it)
5 of the comments which received the most thumbs up
Jeff Swords got more than 1,380 thumbs up for this brief comment on the article about how Fianna Fáil are now officially the most popular party in the country:
So the Irish electorate are officially idiots?
Donncha O'Callaghan spoke to TheScore.ie about the Ireland versus England rugby match ten years ago where English captain Martin Johnson refused to move from Ireland's side of the red carpet. Nicky Power got 1071 thumbs up for this:
There are some moments in a sports persons career that define them, that incident was Martin Johnson's. It will forever last as a monument to his character. He is a dick. An absolute dick.
There was an unexpectedly huge amount of interest in the birth of Amy Huberman and Brian O'Driscoll's first child this week. Joan Featherstone got 924 thumbs up here:
Ah that's brilliant, she looked fab at the awards…best of luck to them all, BOD is lovely very unassuming!
There seems to be no end in sight to the saga of horsemeat masquerading as other meat. Peter Connolly got 812 thumbs up for this comment:
Get back to you local butcher folks,
And this is just beef that's being tested.
This is a wake up call that we all need to be more aware if what we eat in every regard , if this can happen just imagine where its going to end ?
Watch this space !
Finally, we asked for your worst date stories. People shared – and in some cases overshared – tales of supreme awkwardness, rudeness, injuries and lateness, but Paul Minogue topped the list with 809 thumbs up for his story:
Second date. After a few too many drinks we're in a taxi heading home. I'm half asleep on his lap in the back. Next thing I know I'm covered in vomit. He was so hammered he puked on me. Morto. I forgave him and we got married just over a year ago:-)
Spot any good comments during the week? Let us know: mail christine@thejournal.ie with any suggestions for comments of the week.