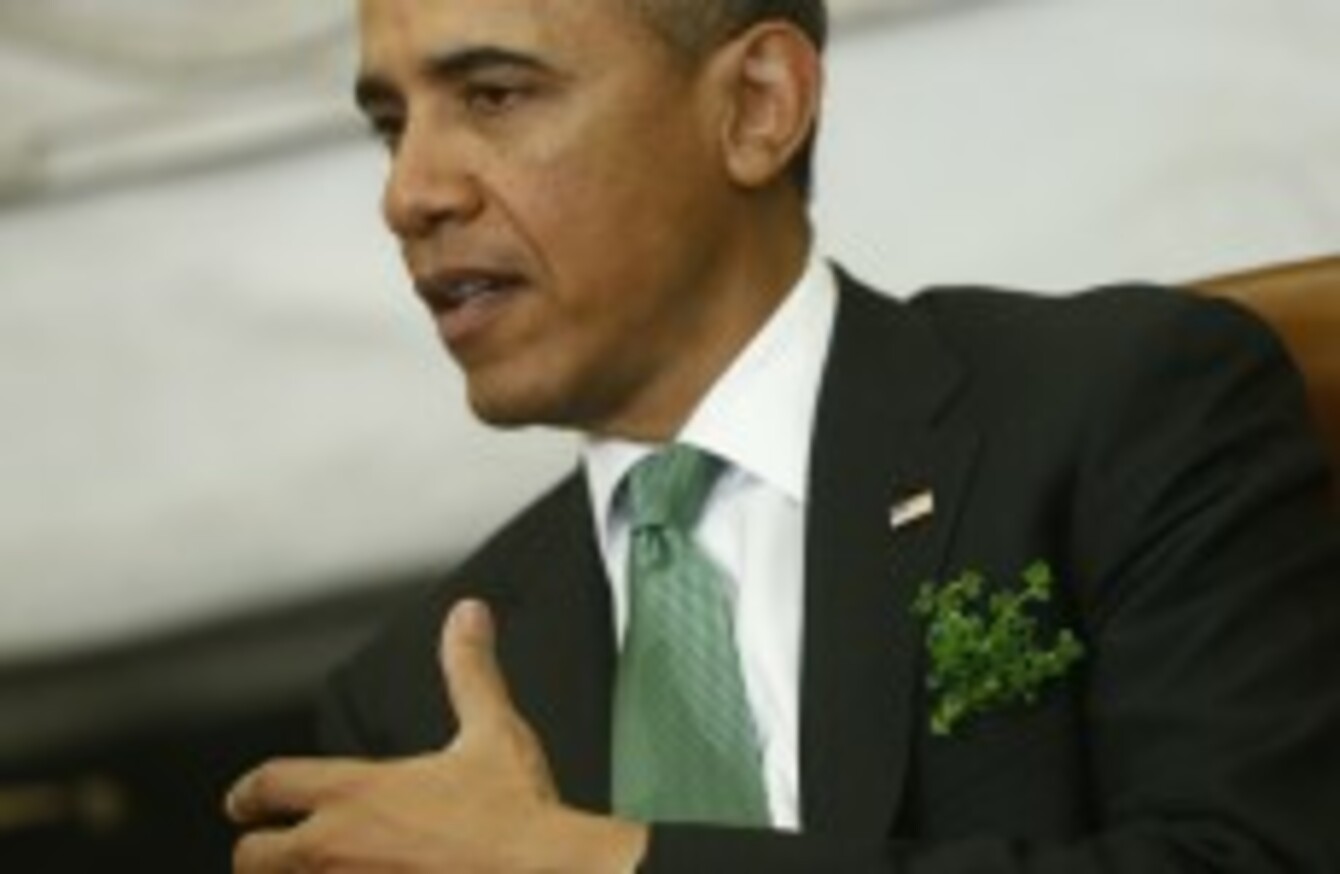 Barack Obama wears a green tie and a shamrock as he meets with Enda Kenny in the Oval Office
Image: AP Photo/Charles Dharapak
Barack Obama wears a green tie and a shamrock as he meets with Enda Kenny in the Oval Office
Image: AP Photo/Charles Dharapak
EVERY SATURDAY MORNING, we like to take a look at all the best comments left on the site by you lot over the past week.
This week there was a lot of talk about the flooding which hit parts of the country on Thursday and Friday, Cyprus's increasingly desperate attempts to patch together its bailout, and exemptions to the property tax, as well as the issue of teaching Irish in schools, and some of the most mortifying moments you can ever experience.
So here, in no particular order, are the standout comments from the week that was.
The top 5 articles which received the most comments this week
1. Poll: Should Irish be a compulsory subject in secondary schools? (225 comments)
2. Poll: Is Cyprus right to tax people's savings? (192 comments)
3. Column: Gaeilge is a part of our culture – how it's taught matters (183 comments)
4. Column: Keeping my faith can be challenging at times, but it's my safe haven (175 comments)
5. Poll: Have you ever reported a racist incident? (182 comments)
Some of the best comments left on the site this week
Good deed of the week came from the person who put flowers on a Dublin grave for a relative of the deceased living in Canada. Pingu Paws described a similarly good-hearted gesture by her own mother:
Well I'll definitely raise a glass to the person who went out of their way to place a flower there. What a top guy, or girl :)

As a side note, my mum went to put some flowers on my dads grave soon after he died, the headstone had not been put in yet, and she wasn't sure of the exact location, a huge graveyard, she walked around for 1 hour unable to find it. It was getting dark, so not wanting to waste the flowers, she found a grave that looked like it hadn't been tended to by anyone in a while, and placed them there. Ahh, I love Irish mammies.
This column about the differences between American English and Hiberno English kicked off a lot of discussion about how Irish people speak. From Shane Ellis:
For months, god love her, my Canadian girlfriend thought my crazy next door neighbour's name was 'Yerwan'. I was always giving out about your one living next door. True story.
How do we go about reforming how the Irish language is taught? Damien Murphy had a suggestion about how teachers – and students – can change:
You can't teach people who don't want to learn. So the first challenge is to get people interested in the language. This was my dad's philosophy as an Irish teacher. The big problem was that many Irish teachers are also products of an education system that made no attempt to make it an interesting subject. My dad found that most of his Irish teaching colleagues had a "Let's get through this if we must" attitude to Irish classes, and are as reluctant about it now as they were when they were pupils themselves. It's no wonder there's no enthusiam for it, and that no one uses it in that case. For all of that, then, I think the suggestions in this article could well be a very positive step forward for reenergising the language – but it has to be accompanied by an attitude sea change amongst teachers as much as students.
Here's what happens in your brain when you fancy someone – and here's a similar approach from Joe O'Shea on how to end it:
Could be a useful breakup approach – "It's not you, its the impairment of the activation of my dorsomedial prefrontal cortex and down regulation of my dopamine reward cascade."
Celtic Lady got almost two hundred thumbs up for her comment about the problems with home births in Ireland:
The emergency back up for home births is just not robust enough in Ireland. It's all well and good when everything goes according to plan , but when it goes wrong through no fault of mother or midwife , it is a matter of life and death. And our emergency services and other backups are too thin on the ground and probably not trained to deal with advanced obstetrical emergencies. Having said that , our maternity hospitals are so understaffed, those midwives working there are for the most part doing the job of three people. They are not able to provide all of the care that women need. The basics are done but much is lacking and the midwives are frustrated and angry that they haven't the time or staff cover to do their jobs as they should be done.
Readers had lots of suggestions for things you're never too old for beneath this article – including Candy Kennedy's story about a 60-year-old bear:
And what about Teddy? Still love mine, got him on my first Xmas from an uncle (now deceased). My dad put him out for the bin when I was living in Dublin for a few years….mom saw him on top of the bin and rescued him. Bless her! (would probs have murdered dad!) Teddy had to have a makeover in the Doll's Hospital a few years ago (when it was still open), he got patched up and new eyes (other one's fell off years ago).Bought him a babygro to keep him well. So I still have him and he will be 60 next Xmas.
Good news, people with fat fingers: a new app is here to help you out when trying to type on a keyboard. Brian Horton was looking forward to getting to use it:
Brullant nows. Camt waot to get thus.
The 5 comments which received the most thumbs up
1. This is unprecedented: 4 of the top 5 most popular comments this week all came from the same article. The one which received the most thumbs up over the past seven days comes from Paul, with more than 1,550 thumbs up – and it's excellent:
I was driving my fathers car, saw an identical car coming round the bend. I said "look theres dad" and flashed and waved at the other driver (my father was beside in the passemger seat).
2. The second most popular comment this week was on the Steubenville rape case where two high school students were convicted of an assault on a 16-year-old girl. Nik got more than 1,000 thumbs up for this:
The actual 'apology' by Trent Mays which I'm quoting here to make sure everyone sees it – "I would truly like to apologize to ****, her family, my family and the community. No pictures should have been sent around, let alone been taken. That's all, sir. Thank you."

Sorry I got caught basically, no apology for the rape.
3.Back to the article about the most mortifying moments of your life. Jamie McCormack had the third most popular comment this week with more than 880 thumbs up for this. Awkward:
If you were watching tele with your parents as a kid and some sexy scene would come on..
4. Meanwhile this from Conor Walsh got more than 820 thumbs up:
Calling your female teacher Mam instead of Miss!
5.And finally there was this from mister:
On the way into a job interview in a hotel in Dublin once I bumped very hard into somebody when I walked around a corner. I went 'Oh I'm so sorry, are you ok?' Turns out I'd bumped into myself in a floor-to-ceiling mirror…mortification doesn't begin to describe it!
Spot any comments which you think were particularly good? Let us know: mail christine@thejournal.ie with any suggestions.