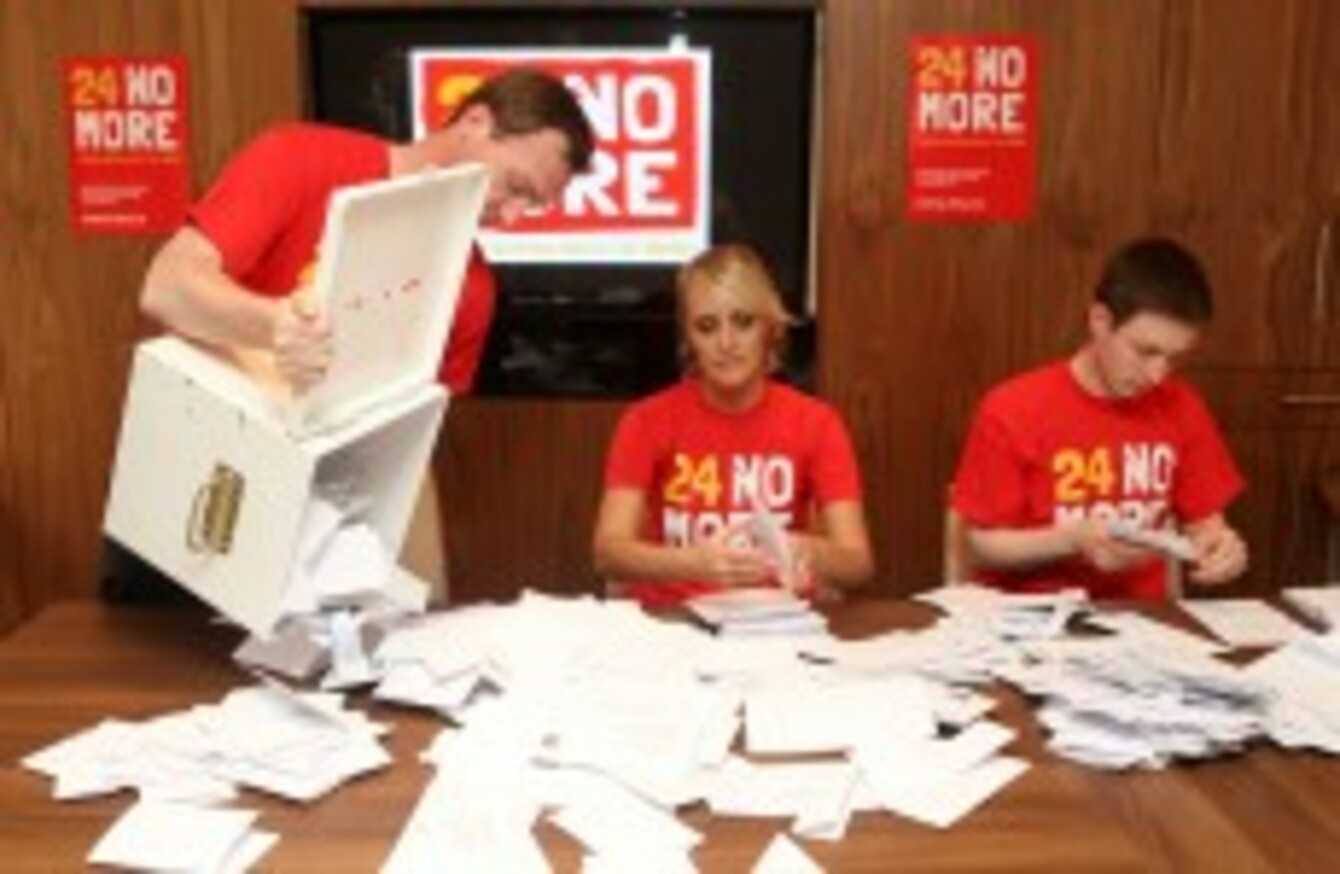 Junior doctors count the ballots from IMO members this week. NCHDs voted for strike action beginning on 25 September over chaotic working hours.
Image: Sam Boal/Photocall Ireland
Junior doctors count the ballots from IMO members this week. NCHDs voted for strike action beginning on 25 September over chaotic working hours.
Image: Sam Boal/Photocall Ireland
EVERY SATURDAY MORNING we take a look at all the best comments left on the site by our readers over the past seven days.
This week there was a lot of talk about junior doctors going on strike, intervention in Syria, Priory Hall, Ariel Castro, John Waters, and little things that strike fear into your heart.
So here, in no particular order, are the standout comments from the week that was.
The top 5 articles which received the most comments this week
1. Poll: Would you welcome a Fine Gael/Fianna Fáil coalition? (344 comments)
2. Pics: 250 locals take back Kildare stud farm from receivers and lock them out (308 comments)
3. Woman in home birth case faced with €10,000 legal bill (225 comments)
4. Bus Éireann passengers terrorised by 'rowdy' youths throwing urine around coach (214 comments)
5. Fianna Fáil and Sinn Féin the most popular coalition option (207 comments)
Some of the best comments left on the site this week
First up: what advice would you give your teenage self? Lots of people had suggestions,  but Denise Houlihan's post rang a bell with a lot of people:
Study, study, study – it's only a few months of your life and will open up more possibilities.

Travel more – just get off your butt and do it.

Stop covering yourself up in baggy jumpers and Doc Martens and start showing off that body – it won't last for long.

Oh and on that day in 1991 when you bought that first pack of Marlboro in Holland, give yourself a good hard slap and, tell yourself to cop on and walk away. It was never cool.
Speaking of teenager years, Alanna J Nic Dhiarmada just missed out on the top 5 most popular comments with this suggestion for a secondary school memory, which got 952 thumbs up and is clearly a universal experience:
Someone, without fail, saying "orgasm" instead of organism.
There were a LOT of suggestions for the most infuriating things people have heard in an office. Alan Barry's contribution wins for sheer weirdness:
Used to work in a multinational where the phrase "We need to solidify the drumbeat on this" was bandied about regularly.. As in, we need to come together and work from the same page. Solidify the drumbeat.. I mean, please!
Tipping hairdressers can be an etiquette nightmare. Deekelli explained why she has ended up not doing it at all:
Despite my regular appt costing around €120, I usually end up with one person doing my colour, one person (usually an apprentice) washing my hair, and then a stylist cutting etc. Do I tip all three? I always feel like I should tip the apprentice, they're on basic wage as it is but then feel guilty about the others, and the fact I'm shelling out enough as it is. This is why I've now started to not tip at all despite the horrible judgement I feel for not doing so. Headmelt!
Many readers supported the upcoming strike by junior doctors, but some questioned the amount of hours that they work. Claire O'Loughlin explained how overtime – which is not always paid – can mount up:
I can tell how these unrostered hours might happen for me. It's 5 to 5 and I'm covering the labour ward, I get an urgent call to see a patient, the baby's heartbeat is dangerously low and they are in distress, I examine the woman and make the decision she needs an emergency c-section to deliver the baby. There is no time to wait for the doctor coming to relieve me at 5pm so I can go home. We race to theatre. By the time I finish the c-section, speak at length to the parents, paediatric team and complete all the necessary documentation it might be 7pm. I may or may not get paid for those two hours depending in the mood of the medical manpower and salaries department. Mostly I won't.
In middle of all this I've had to arrange someone to pick my child up from the creche. My husband works 250km away as we are expected to move to hospitals all around the country every 6-12 months. She'll be in bed by the time I get home and I'll have missed seeing her for a few precious hours yet again. Hope that answers your question.
Budget cuts mean some people with illnesses haven't been able to get the changes that their need to their homes. Sinead Taaffe explained the difference it had made for her dad:
My dad is in the last stage of emphysema and had to give up work about 5 years ago (he worked hard ad a shuttering carpenter all his life) and for years he had to sleep in the armchair in our sitting room because he physically couldn't get up the stairs, we got the grant 2 years ago and was the best thing that ever happened to him, there's now a downstairs toilet and bedroom for him. It's horrible to think that many people who need this can't get it because money is being spent on the bloated wages of our politicians, it's an utter disgrace!!
This column about adoption provoked a lot of responses from readers. Fiona Farrell-Ryan told her own story about the difficulties she had encountered in tracing her birth parents – and how it all worked out in the end:
The system for reuniting adopted children with birth parents is pathetic, I spent nearly nine years going back and forth to the adoption agency and they kept saying we'll do this now, oh, maybe wait a while and have a think about, nearly nine years asking for information about me!!! Eventually got suck of them and wrote a very emotional letter to the Gerry Ryan show on 2fm, I was then interviewed by Gerry for what turned into the whole show, I was honest about my search, my fears, about the million little traits I didn't get from my adoptive parents, within a short period of time my natural mother contacted the adoption agency, another nine years later and we're still in contact, I can close my eyes and picture her, I know what she sounds likes, laughs like, all the questions you ask yourself, I have met all her family, and they are my family as well, my adoptive family and birth family are all a part of me, my parents supported me through every step of my search, when people in my dads work talked about the woman on Gerry Ryan looking for her birth mum my dad proudly told people it was his daughter who was on Gerry Ryan that morning, they jumped for joy with me when I got the news my birth mum wanted to meet me, and even now they will say how I was never fully happy within my life till I found my birth mum, I play the first time I met her over in my head again and again, each time I smile and adopted people should be given every help in their journey back to the beginning
The 6 most popular comments this week
(Laura Hutton/Photocall Ireland)
1. The most popular comment this week comes from stonedwalled, who got 2,585 thumbs up for this comment on the article about anti-social behaviour on a Bus Éireann bus travelling from Letterkenny to Dublin:
It's the bus drivers responsibility for his passengers.

All he had to do was ring the guards on the quiet and have them meet the bus at the next town.
2. Rotundjocularity got 1,287 thumbs up for this comment on the worst things about weddings:
I saw an invite that specified:
No dresses from 'coast'
Minimum cash gift €250
The cheek
3. Shaun the Sheep got 1,279 thumbs up for this comment on the article about the costs awarded in a recent High Court case about home births:
So not only was she unwilling to pay the midwifes insurance herself (which was the HSEs concern as there are limited public funds) but now she expects others to pay her legal bill? This case was about money, nothing more. The 'state' did not refuse her a home birth, and did not infringe on her rights, but simply said they could not afford the insurance premium which was high given the history of huge payments arising out of births where negligence has been proven.
4. Rísteard Ó Muineacháin got 1,233 thumbs up for his response to stonedwalled on the Bus Éireann article:
Yeah, sounds like a fairly simple solution.
5. In fourth place was Aimee Kavanagh with 1,216 green thumbs for this brief comment on the article about the man who died at Electric Picnic last weekend:
His poor family :-(
6. Finally, Chopstix got 1,061 thumbs up for his comment about the 21-year-old graduate who was asked to dance to Daft Punk's Around the World at a job interview:
Disgraceful , just because people are having a hard time looking for work employers think they can humiliate them.