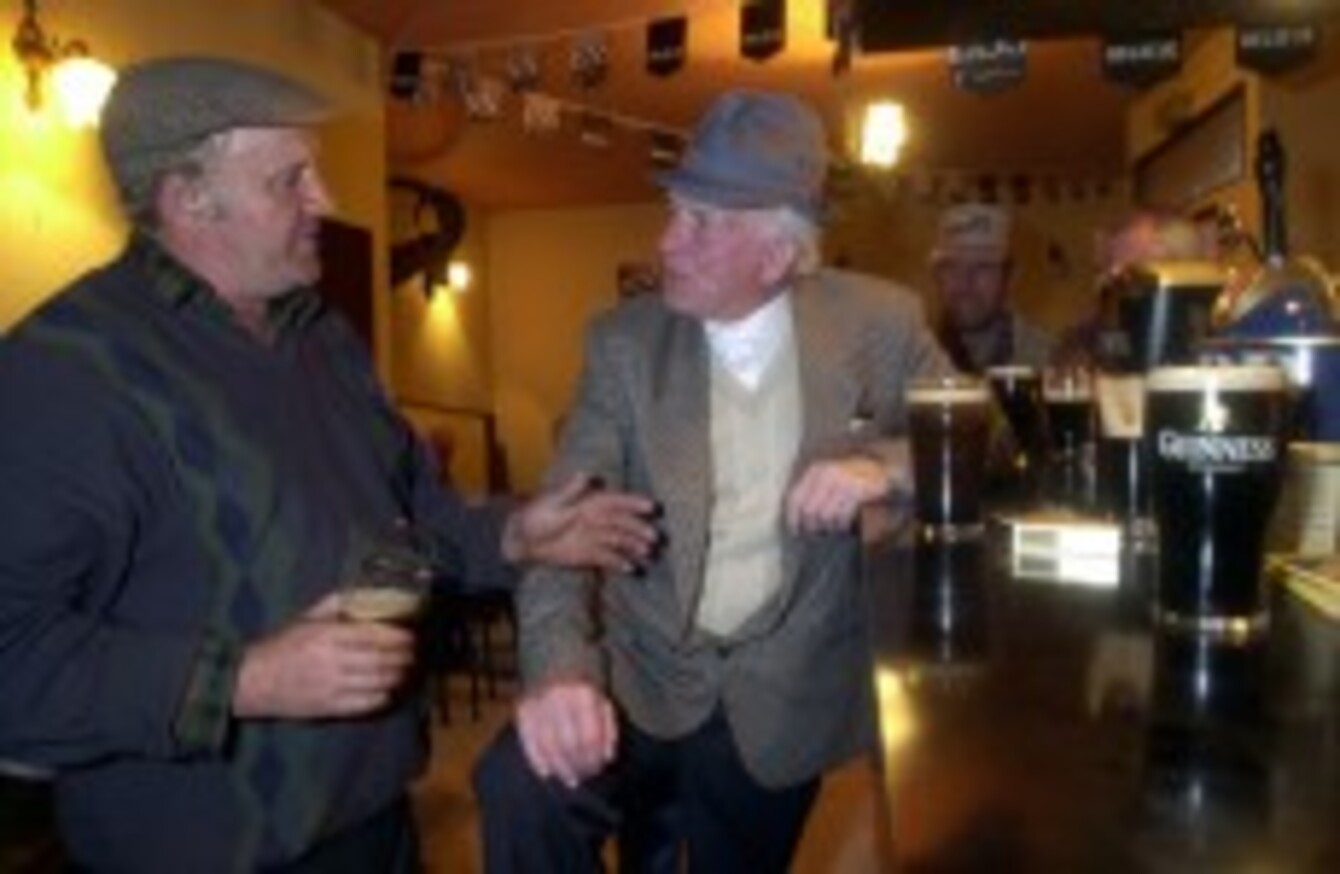 You can be sure these lads in O'Shea's of Killorglin, Co Kerry knew their round system
Image: Photocall Ireland archive - 2002
You can be sure these lads in O'Shea's of Killorglin, Co Kerry knew their round system
Image: Photocall Ireland archive - 2002
EVERY SATURDAY MORNING we like to take a look at all the best comments left on the site by you lot over the past week.
The utterings of Cardinal Seán Brady, the identity struggle of young men in Ireland, pub rounds and how to get back a stolen bike were all topics that preoccupied you – and these were some of your standout reactions:
Let's kick off with a mass shoutout. The subject of same-sex marriage and the place of children in a same-sex union is consistently a contentious issue. It was refreshing to see a whole swathe of TheJournal.ie's commenting community debating in a (for the most part) reasonable, constructive way on this article about Cardinal Seán Brady's comments on the topic.
Nice work, folks. Patrick Dempsey's comment seemed most popular among you:
Most reports would actually suggest that having two loving parents, regardless of gender is the most important thing for a child. I was brought up simply by my mother alone, and if I had two of her, I would have delighted!
Not feeling the love, however, was LittleSparrowC who had this reaction to the latest wedding photography fad to hit the States – the wedding morning (after) photoshoot:
Great idea. Panda eyes. Patchy false tan. Missing a couple of chicken fillets from the bra. Feet in bits from dancing stains on the hire suits. Embarrassed bridesmaid and best man. Overnight stay in the hotel, too much alcohol, lethal combination. Look on face when you get the mini bar bill. Oh yes I would love to see those morning after photos…
One of the most read opinion pieces of the week on the site was Lisa McInerney's column on the difficulties young men still face in being allowed to express themselves. It prompted a discussion of what should constitute the definition of a 'real' man and Dave Kavanagh had this touching reminiscence about his own father:
My father was born in 1916 in North Co Dublin. He was a subsistence farmer on a small holding and worked 10/12 hours a day. I have several superb photos of him with me and my elder brother where he is holding us or walking with us holding hands. He was a real man, an outstanding Father and never afraid to show his love or affection.
Still on the topic of supermen (and women), we apologise for raising Claire Hennessy's hopes a little too high for a moment on Twitter:
We tried to explain the 'round' system this week to those unfamiliar with Irish pub etiquette. Everyone had their opinion, but we were simultaneously appalled and slightly admiring by iBob101's system to get the best of his drinking buddies. Tut tut, Bob:
It's all about timing. First you make sure it's a big group. Then you make sure you go up last. Then, when it is your turn, you time when you finish your own pint so that the maximum number of people have loads left. Bingo! 15 pints bought for you, only 3 pints bought by you, a nice profit on the night of 12 pints! Small potatoes, but potatoes none the less…
You may have more sympathy for Olympic gold medal cyclist Philip Hindes who had his bike stolen this week in England. Bilbo Baggins gave a useful tip for others (not just Olympians) in the case of bicycle theft:
It's a huge problem here too bike theft. A useful nugget I picked up was make a note of the serial number of your bike and take pictures of it, cause if u don't have them and the bike is stolen, and the guards find/recover it you have no way of proving it's yours and you might not get it back (from experience) .
Creamy Hamstrings, despite the odd sign-in name, had an important point to make about the increasing number of people renting homes rather than buying in Ireland:
I'd love to own a home and could repay the mortgage, but they won't give me a mortgage. My repayments would be 70% of what I'm paying in rent which is frustrating!

Also, unless the banks start loaning and people start owning property, there's going to be a serious problem when this generation retires as the mortgage should be paid off by then (but you can't afford to keep renting when you retire!)
Finally, we do like when our commenting community self-regulates. Jim Walsh picked up the baton this week. He called time on another reader who veered off topic on the story of an amateur Irish astronomer's second discovery of a supernova:
Yaaay! The inevitable "link any story back to a politician comment". We'll have to call it Journal's Law, our version of Godwin's Law.
We're right behind you, Jim.