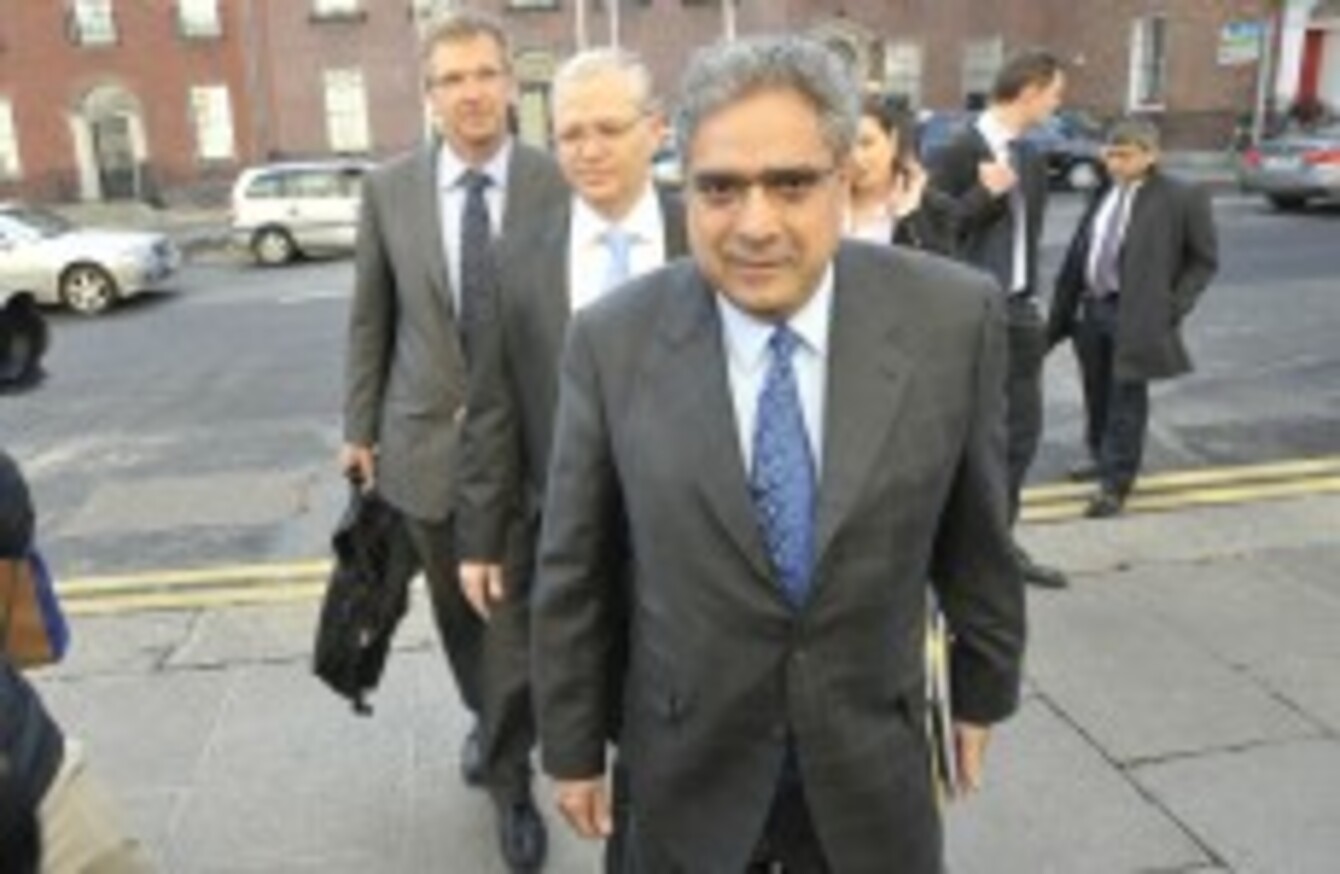 The troika were back in town this week. Yay.
Image: Sasko Lazarov/Photocall Ireland
The troika were back in town this week. Yay.
Image: Sasko Lazarov/Photocall Ireland
EVERY SATURDAY HERE at TheJournal.ie, we like to look back at all the best comments left on the site by you lot over the past week.
This week has been pretty lively in the comments sections. The case of the couple evicted from their home in Killiney kicked off a huge discussion, as did the abortion legislation brought before the Dáil by Clare Daly (and subsequently voted down). Then there was the fornication furore, the latest words of wisdom from Michael O'Leary, water charges, and bad news for the government in the latest opinion poll.
So here, in no particular order, are the standout comments from the week.
The burning question about where people stand on major issues (ahem) this week tackled whether drivers hover on the outside lane of a dual carriage. Rob explained why he's not impressed with motorway driving in this country:
Motorway driving in general is just so so bad in ireland!!

a) hovering in outside lane
b) aggressively tail gating (albeit due to a above)
c) failing to move out a lane to allow traffic to merge
d) overtaking in inside lanes (albeit due to a above)
e) randomly hogging the middle lane cos you think you're driving at an average speed.
f) failing to maintain a consistent speed – ie overtaking and then randomly slowing down and forcing me to overtake you again – only for you to wake up and overtake me again!!

theres more i'm sure but if we could fix this i'd be happy enough!
The coverage of the trail of Anders Behring Breivik raised a lot of questions during the week. Sinead O'Carroll wrote this explainer about how the Norwegian courts operate and how different they are to Irish courts. Mart_n had praise for the prosecutors:
You've got to admire how the police and prosecutors have handled this thing throughout. They really are a credit to their country. Other nations should take example from them.

People in Norway were asked if the death penalty should be reintroduced just for this case.. only 15% of respondents said yes. They have shown a degree of level-headedness and patience of due-process that is far greater than that shown by other nations even in far less severe cases.
Water charges haven't been introduced yet but they're already proving unpopular. Snuffbox was unimpressed with the latest round of austerity:
Back to everyone sharing the bathwater. It's come full circle!
It was the end of Ceefax this week. Sob. But never fear – Aertel is still alive and kicking, and will be for the forseeable future. A lot of readers still rely on it, judging by the reaction to the poll. Stephanie Fleming explained why she likes it so much:
I use it online. There are particular pages I find very handy, the one that lists all the movies being shown on terrestrial channels, the one that shows what's on now and next as well as some of the sports pages for fixtures. And there's always a nice competition or two going on there. My aunt won a car from it! And my Mum still uses it as her source of news, and this is a woman with an iPad and an iPhone like.
Meanwhile Sheena went for brevity:
Aertel is the internet for OAPs!
Eoin O'Hagan had this practical advice for how to save money before the water charges kick in:
To save money install a rainwater harvesting system. The cheapest would be a barrel under the down spout of the gutter , which you can then take out with a bucket for watering plants, washing cars, filling your cistern. Several steps up is a underground system which is connected to your storage tank. A small pump refills the storage tank from the reserve in the harvester. Seeing that you only need public water for drinking you would use a lot less and would only have the standing charge every year. Stop giving out about the rain and do something positive with it.
A group of cows wandered into a cabin in the Rocky Mountains in the US – and then died and froze solid when they couldn't get out again. Alan Mulvey was quick off the mark with:
Must be a steak house
Driving while using a mobile phone may be difficult (and illegal) but Dec Rowe had other concerns:
Has anyone ever tried eating a breakfast roll and driving at the same time? Compared to using a phone this is much harder and more dangerous, is it illegal? Hmmmm!
It was a bad week for Nokia. The mobile phone company posted a lost of almost €1 billion in the first three months of this year – which got some commenters reminiscing about their first Nokia phone. Brian O'Reilly remembered his:
R. I. P Nokia
Remember the 5110 it was the first mobile phone I got. I got it in 1998 it was a great phone I dropped it off a building when I was working on a building site and it was still working perfectly I just had to put on the spare yellow back I got with it. I had hours of fun playing snake. Then I got the
Nokia 3310 in 2001 loved that phone even more put after that I started buying every different manufacturer I had an Ericsson yes people an Ericsson then I had 3 different SonyEricssons great cameras and great music players then back to Nokia again with the E63 but now I have the iPhone I'll never go back so thanks Nokia for the memories
The State is going to have responsibility for any legal cases taken against the companies who made the swine flu vaccine, it was revealed this week. Dermot McLoughlin was not impressed:
"That means that any compensation bill will be footed by the taxpayer,"

Well why bother breaking the general rule here, so far we've bailed out banks, the euro, the catholic church so why should pharmaceutical companies be exempt from our generosity.
Technically this was on a thread about how a cat woke his owner up every day but Begrudgy made this point about common complaints made by other commenters:
Everyday you always get some tool complaining about the same things.

-why the red thumbs?
-why is this news?
-bringing the econonic problem into every story.
-blaming the journal for not covering a story they feel is more important
-blaming the journal for biased journalism against some organisation.
-trolls like yourself looking to stir sh.t with staff at journal.ie like you have done here.

If you dont like it here and feel another online media place is better, stay there.
What's Ireland's favourite painting? A show started on RTE this week to narrow down a shortlist of ten to one eventual winner – and readers proved they knew their stuff in the thread about it. Niamh Byrne had this to say about the Harry Clarke windows:
Its harry clarke, sean of keefe and john lavery for me although I agree with lawlord, its a pointless exercise. Paintings are a very personal experience. Harry clarkes windows in bewleys are so beautiful. I loved them as a kid, my mam loved them when she was a child and now my children love them. All those peacocks and butterflies. But the harry clarke room in the hugh lane was always my favourite room, it was pitch dark but the colour that came through those windows was beautiful.
And on the same subject, Kevin had this to say about some of the selections:
Very interesting if slightly unfair as I don't think even the greatest Irish artists are in the same league as Vermeer or Carravagio.
Also thought some of the selections odd. Le Brocquys 'heads' series or Táin illustrations are much better and the Jack Yeats choice is very pedestrian when so much of his work is vibrant and exciting.
And not to be parochial but where is Seán Keating's 'Men of the West' surely one of the most iconic Irish works of the 20th century.
DogTV, a new television station which offers programming aimed at dogs launched this week. Yes, really. Most comments criticised it for being a waste of money while Brian McCabe wondered about the programming:
Will they have their Jeremy Kyle show confessional equivilant with mongrels on the edge, and poodles that get down with cats??
This is either genius or gross. This video of someone assembling a  labour-intensive flatpack hamburger (which apparently is really candy) is pretty divisive. Alan Quinn was interested – kind of:
I want to buy this. It takes way more effort to make this the an stew and it probably tastes a lot worse. Incredible waste of time and i've got time to waste.
What do you think – would you eat this?

Spot a good comment which you think should make it in for next week? Mail christine@thejournal.ie