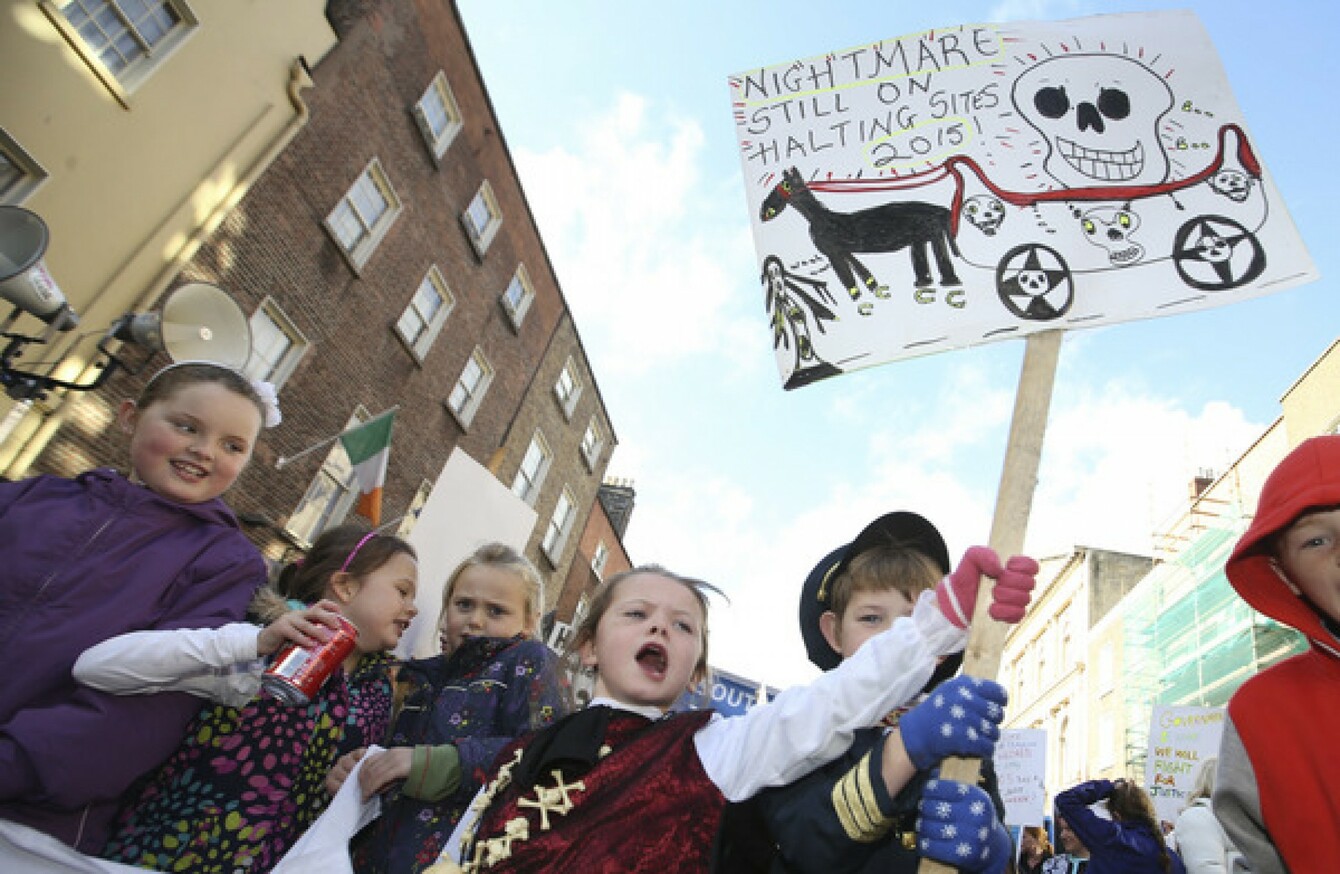 Travellers protest outside Leinster House in 2015.
Travellers protest outside Leinster House in 2015.
PAVEE POINT SPOKESPERSON Martin Collins said he is confident Traveller ethnicity will be recognised by the Irish government in a matter of weeks.
In November last year, Taoiseach Enda Kenny said the State would support the Traveller community's formal recognition as an ethnic group.
Today, the Joint Committee on Justice and Equality published a report on the issue and called on the State to formally acknowledge Traveller ethnicity.
The report finds that Travellers are, de facto, a separate ethnic group.
"This is not a gift to be bestowed upon them, but a fact the State ought to formally acknowledge, preferably by way of a statement by the Taoiseach to Dáil Éireann," said Sinn Féin's Caoimhghín Ó Caoláin.
Collins said he is "quite confident" there will be a "historic" announcement made in relation to Traveller ethnicity in the coming weeks.
"We are on the cusp of something truly historic for our community," said Collins.
He said the campaign had been hard-fought over the last number of decades, adding that there have been numerous reports published over the years.
However, he said formal recognition of the community will go some way in dealing with the "internalised shame" that many Travellers feel.
Maria Joyce of the National Traveller Women's Forum said recognising the Travelling community is about "respect and inclusion".
She said it will help address some of the issues being experienced by Travellers, particularly young Travellers, who she said are dealing with a lack of self-esteem and a lack of pride about who they are.
#Open journalism No news is bad news Support The Journal

Your contributions will help us continue to deliver the stories that are important to you

Support us now
Joyce said she is rarely surprised, but that last week's ESRI report which found that Travellers were worse off, education-wise than they were in the 1960s, shocked her.
Highlighting the committee's cross-party support, Ó Caoláin strongly encouraged recognition be given at the earliest date possible in 2017.
The Sinn Féin TD said being recognised as an ethnic group will not be a "magic wand" over all the issues the Travelling community deal with, but he said it is a first step.
The report, which follows on from a similar committee report published in 2014, also calls on the government to conduct a review, in consultation with Traveller representative groups, of any legislative or policy changes required on foot of the recognition of Traveller ethnicity.
Ó Caoláin said the committee was very keen that this issue would remain firmly on the political agenda.
It is given greater poignancy by the Carrickmines tragedy of 2015 that resulted in the death of ten members of the Traveller community.