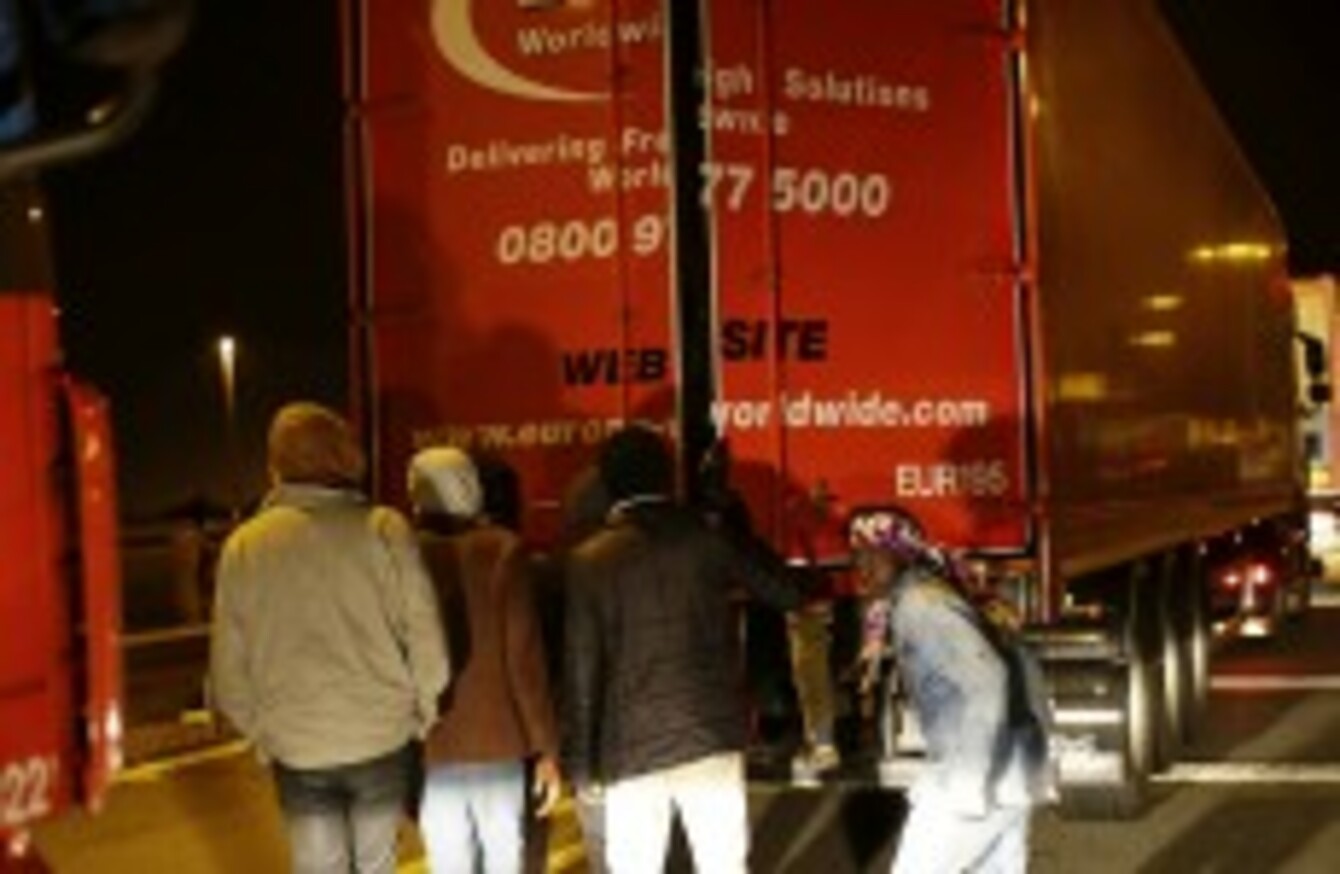 Image: Thibault Camus/PA
Image: Thibault Camus/PA
Updated 3.50pm
IRISH TRUCK DRIVERS are coming up against threats from migrants who want to stow away in their trailers to get to the UK, an organisation representing them has said today.
Verona Murphy, president of the Irish Road Haulage Association (IRHA), told RTÉ's Morning Ireland that this is something that has been happening for a long time but it has definitely escalated in the last 12 months.
Her comments come after a ferry strike in France caused major traffic disruption and large numbers of migrants took advantage of the opportunity to board trucks waiting to get through the Channel Tunnel. Truck drivers have been told in recent months not to stop within 60 miles of Calais and to padlock their doors.
However Murphy said this is not always possible as drivers have to stop for various reasons along the way.
If he needs to go to the toilet, what's he supposed to do?
"This is a problem that's been heaped upon us and we haven't had anybody listening to how it's affecting the Irish as much as anybody else."
Drivers face "serious threats" and are told that if they inform other drivers about the migrants on board "they will be killed", she claimed.
Just last week, one driver told her he was waved through to a secure area by the French and when he returned from the toilets there were three migrants in his trailer.
These are not your normal refugees who are seeking asylum. Many of these are very, very, what I suppose the word is vicious, for want of a better word and you can see that from YouTube videos that are being filmed by holidaymakers from all over the world.
"They have absolutely nothing"
One driver, Billy Deverell from Wexford, told Today With Seán O'Rourke that he once found a group of migrants in his truck.
"I had Iraqis in the back of the trailer, I had 24 of them in the back of the trailer and a baby. I didn't realise were in it until I got up to Liverpool where I was unloading my load," he said.
The migrants had broken into his truck somewhere in Calais and managed to avoid detection by French authorities when they did their checks. When the Irishman arrived in Liverpool, he heard banging in the trailer as the migrants tried to break their way out.
At this stage they had been in the container for almost 24 hours and were highly dehydrated as it had to be kept above 20 degrees because it was carrying pharmaceuticals. They had no food or water with them.
These people have nowhere to go, they're after giving everything they have to human traffickers to get them there and they suddenly materialise in Calais, you know. They have no money no food they have absolutely nothing and the people around Calais itself are being robbed, their trucks are being stopped on the road and they get into the back of the trailers.
While the migrants were taken to be looked over medically and then assisted by social services, the truck driver was brought to a police station where he was questioned for six hours. The pharmaceuticals in the back of the trailer, which he said cost "an awful lot of money" had to be destroyed. Deverell now also faces more stringent checks when he arrives in the UK each week in his truck.
'Somebody is going to have blood on their hands'
If a driver arrives in the UK and is found to have migrants in their trailer, they can also face massive fines and Verona Murphy has accused authorities of punishing drivers for what essentially boils down to "lazy and lack of policing" there and in France.
She warned "somebody is going to have blood on their hands" if serious measures are not taken to address the issue, which she said has become hugely costly to the industry.
The Irish Times also reports today that Justice Minister Frances Fitzgerald is concerned about increased immigration in the country the past number of months, with large numbers believed to be arriving from England and across the border from Northern Ireland.