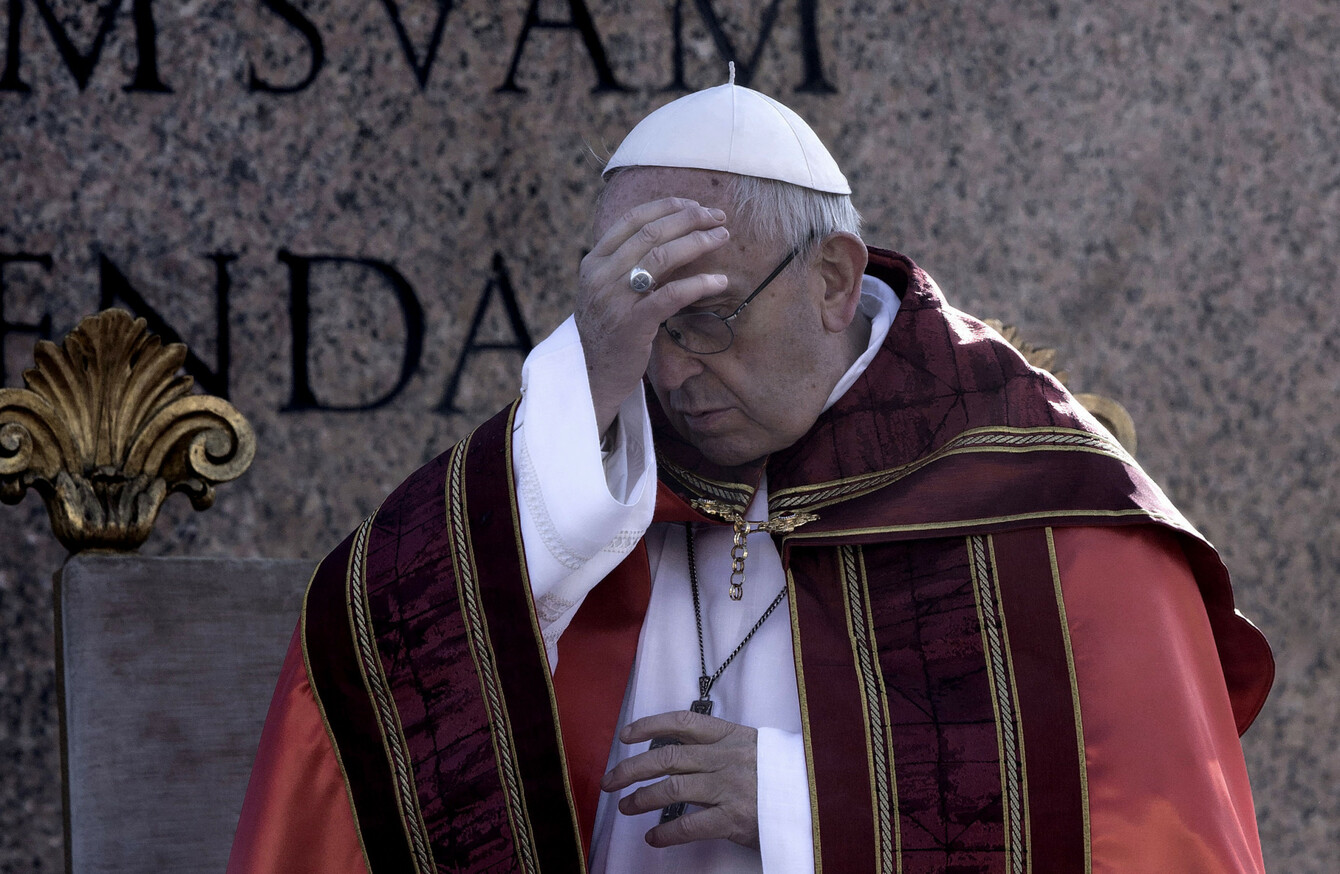 Pope Francis celebrates mass on Palm Sunday in St Peter's Square.
Image: Evandro Inetti via PA
Pope Francis celebrates mass on Palm Sunday in St Peter's Square.
Image: Evandro Inetti via PA
GARDAI FEAR THEY do not have the equipment or staff to adequately police the visit of the Pope and potential arrival of Donald Trump this year.
Sergeant Will Dempsey of the Dublin Metropolitan Region (DMR) south central proposed a motion that the Garda Commissioner personally ensures that the public order unit is properly equipped on a national basis.
Sergeant Dempsey said that the equipment which the public order unit is currently using is not fit for purpose. For example, the shields which they use are 14 years old – despite the manufacturer only giving a five year warranty. The vans which are used are commercial goods vehicles which have been refitted for use by gardai.
Dempsey said that serious changes are needed with regards to resourcing before big events such as the visit of the Pope, the proposed visit of President Trump and two matches Dublin will host as part of the Euro 2020 tournament.
"As a member of the public order unit there are a number of issues between policy and what is happening in reality. In particular, I want to talk about our equipment and lack of vehicles. Public order units are tasked with carrying out duties where it is unsafe for other units to venture and where normal policing is no longer possible.
Our current issue of protective equipment is not for purpose. In particular body armour and shields are in need of replacement. They were last purchased in 2004 and are only guaranteed for five years. They are still in use 14 years later. In a recent training exercise a shield broke after being hit by a wooden block. But what would have happened if it was a concrete block and in a real situation.
"It is imperative that the national public order unit is retained with a minimum of 12 vans in the DMR and these vans are made available as a matter of urgency especially in light of the European Championships in 2020 and the impending visits of foreign dignitaries such as the Pope and President Trump."
Sergeant Christy Morrison from the AGSI's National Executive echoed Demspey's concerns and described the fact that the protective equipment used by public order gardai is effectively out-of-date as "ridiculous".
He said: "To use shields which are nine years out of their manufacturing warranty is absolutely ridiculous. Budget cutbacks should not put members' safety at risk.
Even the vans we use are converted goods vehicles – they are not specifically purposely built public order vans. We at the National Executive are calling on management to buy and equip us with purpose built public order vans not goods vehicles converted.
"When events are pre-planned it is regular for members to traverse the length and breadth of the country to collect vans to set themselves up for the pre-planned incident.
"But when most public order incidents are spontaneous in their nature – that is absolutely ridiculous. To have lads driving from Donegal and Sligo coming down to Dublin to pick up vans – that shouldn't happen. There should be enough vans in each public order unit in each rural region to equip their own units with vans."