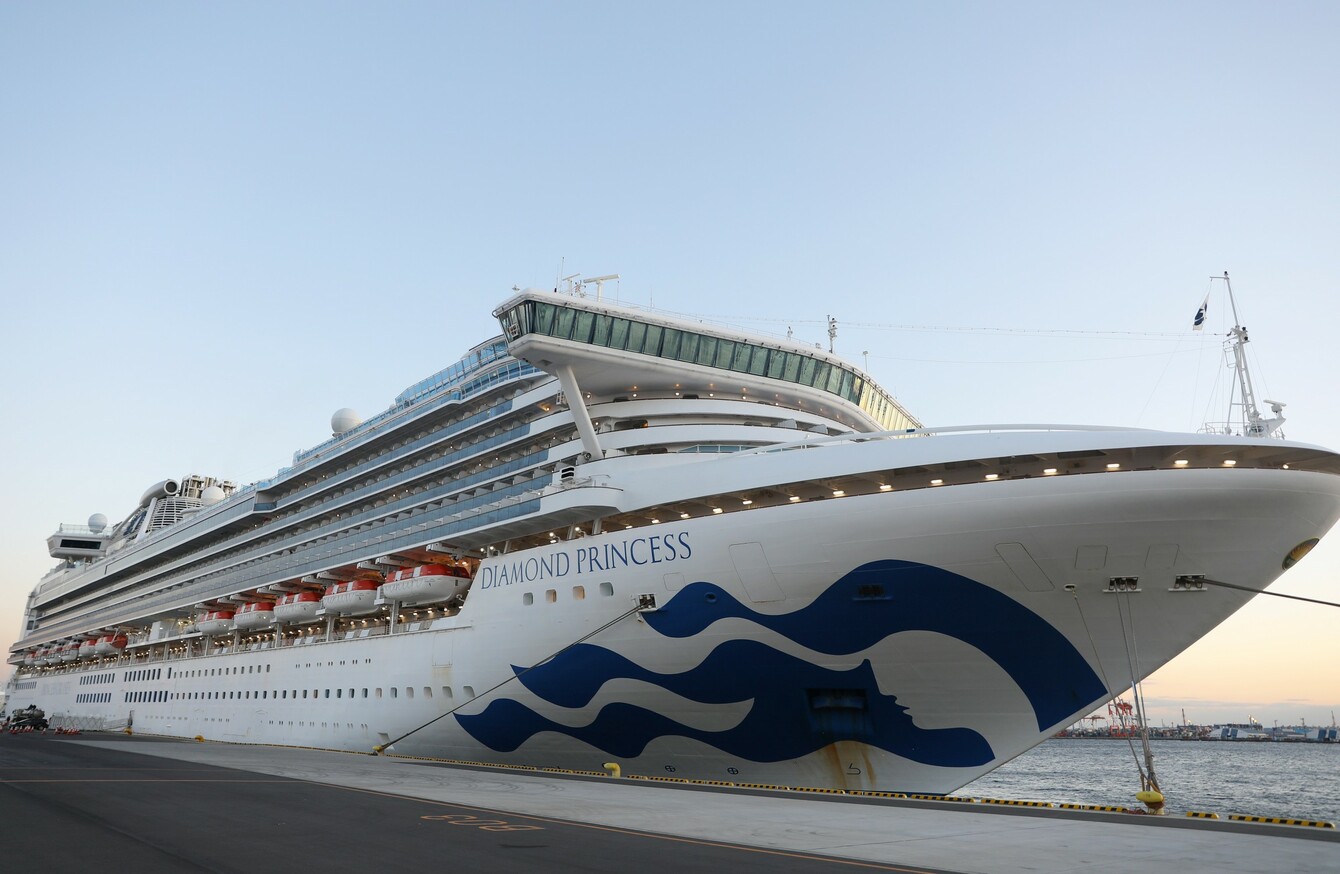 Image: Xinhua News Agency/PA Images
Image: Xinhua News Agency/PA Images
Updated Feb 20th 2020, 10:10 AM
TWO ELDERLY JAPANESE passengers who contracted the Covid-19 virus onboard the Diamond Princess cruise ship in Japan have died. 
Japan's NHK public television said both were Japanese and in their 80s. A Health Ministry official only confirmed that they had been previously taken to hospital in serious condition and had existing chronic diseases.
Hundreds of passengers began leaving the ship yesterday after the end of a much-criticised two-week quarantine that failed to stop the spread the coronavirus among passengers and crew.
Results were still pending for some passengers who had been tested for the coronavirus that has infected tens of thousands of people in China and more than 540 on the ship.
Some passengers said on Twitter they received health check forms asking if they had symptoms such as a headache, fever or coughing.
Passengers who tested negative and had no symptoms still had to have their body temperature checked before leaving.
Two Irish citizens have tested positive for the virus. The couple, who have dual citizenship with another EU country, were moved from the ship to a hospital in Japan where they are currently being treated.
Tanáiste and Minister for Foreign Affairs Simon Coveney confirmed that six Irish citizens were on board the Diamond Princess cruise ship. 
Britain, meanwhile, is preparing to evacuate passengers stuck on the ship docked off the coast of Japan, Foreign Secretary Dominic Raab has said.
Raab said information has been provided to those registered for the flight, due to leave tomorrow, but he urged "other British nationals still seeking to leave to contact us".
He added: "We will continue to support British nationals who wish to stay in Japan."
There were 78 British passengers on the cruise liner when cases of the coronavirus strain known as Covid-19 started to emerge.
Four British cases have since been confirmed by the Foreign Office.
It is understood only healthy passengers with no symptoms of the virus will have a seat on the plane, with all to spend 14 days in quarantine. 
Japan's government has been questioned over its decision to keep people on the ship, which some experts have called a perfect virus incubator. Some medical experts who observed the quarantine process on board also raised caution over lax protective measures on the ship.
Kentaro Iwata, an infectious diseases expert at Kobe University Hospital who boarded the ship as part of a medical relief team earlier this week, said in a YouTube video that he was alarmed by the lack of control measures, including distinction between clean and contaminated zones, and the inadequate use of protective gear.
He called it "chaotic" and said it made him scared of getting infected himself.
Iwata, currently in self-imposed quarantine at a hotel, said the Japanese Health Ministry-led operation implemented some measures, but "to me it was not good enough, because there were exchanges of dirty and clean".
He said Japan should follow the example of the US and other countries requiring an additional two-week quarantine for passengers brought home from the ship.
Meanwhile, South Korea has reported its first death from coronavirus, as officials in one major city urged its 2.5 million residents to avoid going outside as cases spiked.
The Korea Centres for Disease Control and Prevention did not immediately provide details of the death, but authorities earlier said the country had confirmed a total of 82 cases of the Covid-19 virus.
The death was reported as the mayor of Daegu asked all citizens to stay indoors and pleaded for help from the central government.
Kwon Young-jin made the request in a televised news conference after the south-eastern city and nearby towns reported 35 additional cases of infection with Covid-19 today. 
Kwon also asked Daegu citizens to wear masks even indoors if possible. He expressed fears that the rising infections will soon overwhelm the city's health infrastructure and called for urgent help from the central government in Seoul.
According to reports from mainland China there have been 2,004 deaths and 74,185 confirmed infections of the virus.
New cases have fallen to less than 2,000 per day for the past two days but officials and analysts have warned that the threat of a more serious outbreak remains as people gradually return to work following a prolonged Lunar New Year holiday.
While the overall spread of the virus has been slowing, the situation remains severe in Hubei province where the virus is thought to have originated.
Meanwhile, the European Commission has announced the EU will be financing the repatriation of citizens from any of the EU27 still stuck on the Diamond Princess.