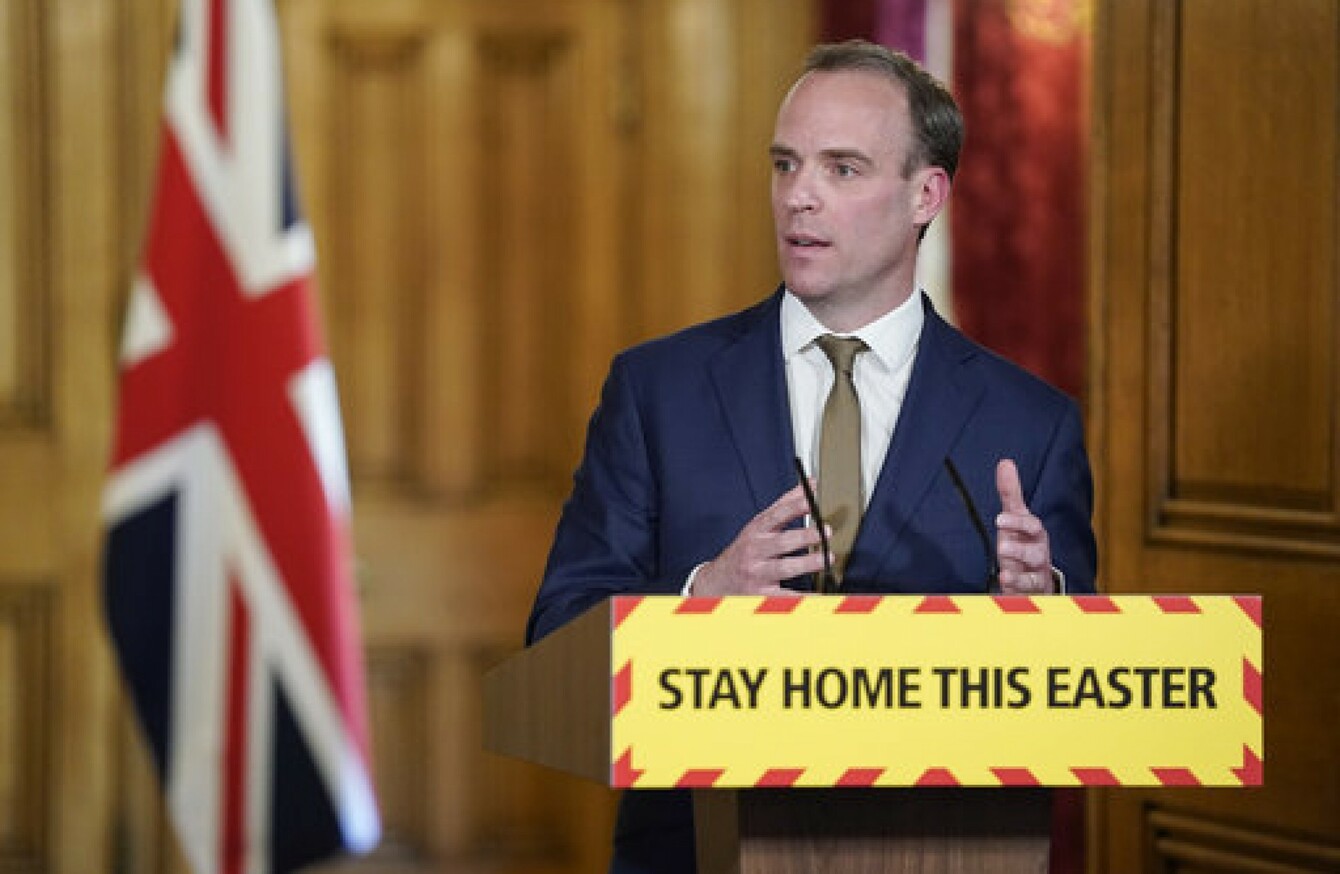 UK Foreign Secretary Dominic Raab at a press conference yesterday.
Image: Andrew Parsons/DPA/PA Images
UK Foreign Secretary Dominic Raab at a press conference yesterday.
Image: Andrew Parsons/DPA/PA Images
Updated Apr 14th 2020, 7:12 PM
THE UK HAS recorded another 778 deaths from Covid-19, bringing the total number of people to have died from the virus to 12,107. 
The country has been badly hit by the virus, with the total number of cases now at 93,873 according to Department of Health figures. 
Earlier today, the UK's office for National Statistics said that new data shows that the death toll in England from the coronavirus outbreak was 15% higher than NHS figures.
Overall, 382,650 tests have been carried out in the UK, with 14,982 tests carried out on Sunday, excluding data from Northern Ireland.
'Plateau'
The UK government has insisted its plan to tackle the coronavirus pandemic "is working" but warned the nationwide lockdown will not be lifted this week.
Speaking at the daily press briefing today, NHS England's medical director Professor Stephen Powis said there is "increasing evidence" that the number of hospital admissions for Covid-19 are stabilising. 
Powis urged people to keep up social distancing, which was impacting on the infection rate.
"This is evidence that is now accumulating that the benefit of that social distancing and reducing transmission is now beginning to be manifest in a stabilisation in hospital admissions," Powis said. 
"We are beginning to see the benefits of the undoubted hardship that we have all been asked to go through in terms of social distancing, in terms of not meeting with friends and family," he said. 
"It's really important that those benefits are maintained, that we continue to follow the instructions that we have all been given and we will then get on top of this virus."
Powis urged the public not to become complacent, adding that lockdown compliance levels among the public are "very high".
He added: "We need to keep it that way. We absolutely need to make sure that we keep the benefits of this going forward and we don't take a foot off the pedal, we don't become complacent."
He said testing figures also suggest a "plateauing in the number of new cases", though deaths will continue to rise due to the time lag between first onset of symptoms and patients dying.
The country has more recorded deaths than any country except the US, Italy, Spain and France.
Prime Minster Boris Johnson, who was admitted to hospital after contracting Covid-19, is now recovering from the virus in Chequers. 
Northern Ireland confirmed that it had recorded 10 deaths from Covid-19, bringing the total deaths there to 134. 
The total number of cases there now stands at 1,967. 
Includes reporting by Press Association