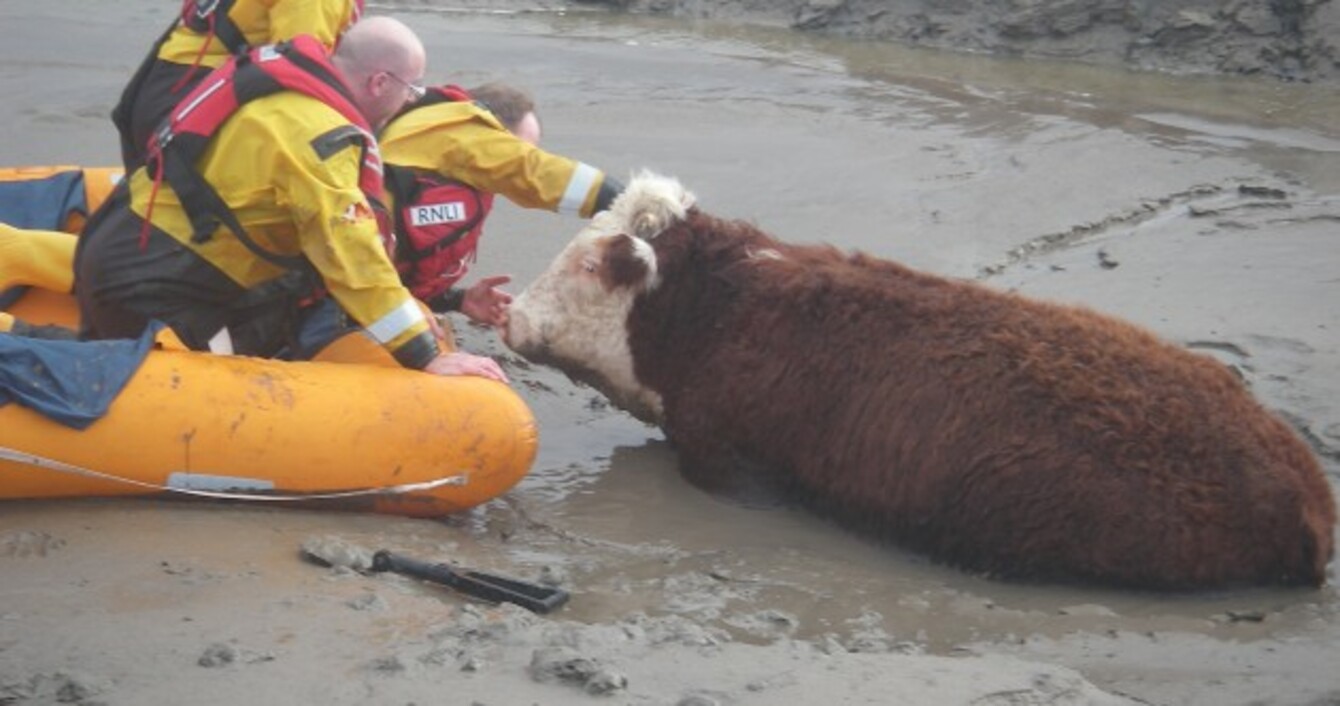 RNLIL rescue a cow reported as stuck in mud on the river bank.
Image: RNLI/Morecambe
RNLIL rescue a cow reported as stuck in mud on the river bank.
Image: RNLI/Morecambe
WHILE THERE SEEMS to be some respite from the constant cycle of stormy weather for Ireland, the UK is facing another fresh storm forecast that is set to batter much of Britain tonight and early tomorrow.
With the River Thames reaching one of its highest levels in over 30 years, homes along the river have been told to prepare for significant flooding.
Flood warnings
The Environment Agency in the UK has issued 14 severe flood warnings and the Met office said the Thames warnings stretched from Datchet to Shepperton Green, including Ham Court and Chertsey.
Swans on South Parade in Worcester this morning. (PA Images)
Last night David Cameron chaired a meeting of Cobra – the government's emergency committee – which focussed on the threat to householders along the Thames.
In Somerset, an area particularly badly affected, 20,000 sandbags are ready to be deployed to communities at risk of flooding on the Somerset Levels.
Soldiers
Hundreds of soldiers have been put on standby to protect threatened communities by building up sea and river defences in some areas.
The Guardian reports that the a spokesperson for the Ministry of Defence said that military personnel, mostly Royal Marines, are continuing to provide support in Somerset in areas affected by floods "as part of cross-government and multi-agency relief efforts".
They added that they had put 1,600 personnel on six hours notice to help in the south of England.
Over the weekend, Morecambe's RNLI Inshore rescue hovercraft launched onto the River Lune after a request from the coastguard to locate and rescue a cow reported as stuck in mud on the river bank.
Morecambe's volunteer RNLI lifeboat crew in animal mud rescue. (RNLI/Morecambe)
The frightened animal had sunk deep into thick mud following the floods and was unable to move anything but its head.
The RNLI said it was immediately apparent that the four man hovercraft crew might have difficulty in freeing the cow without assistance and Hovercraft Commander Harry Roberts requested support from Bay Rescue with their specialist lifting gear.
In the meantime, the hovercraft crew began working to free the animal using their own mud rescue equipment.
With minutes to spare, due to the rapidly rising tide, the combined teams were able to finally free the animal from the mud.
Morecambe RNLI hovercraft crew member Colin Midwinter said:
This operation was an excellent example in demonstrating how the combined resources and expertise of the various rescue organisations can achieve successful outcomes under challenging circumstances.