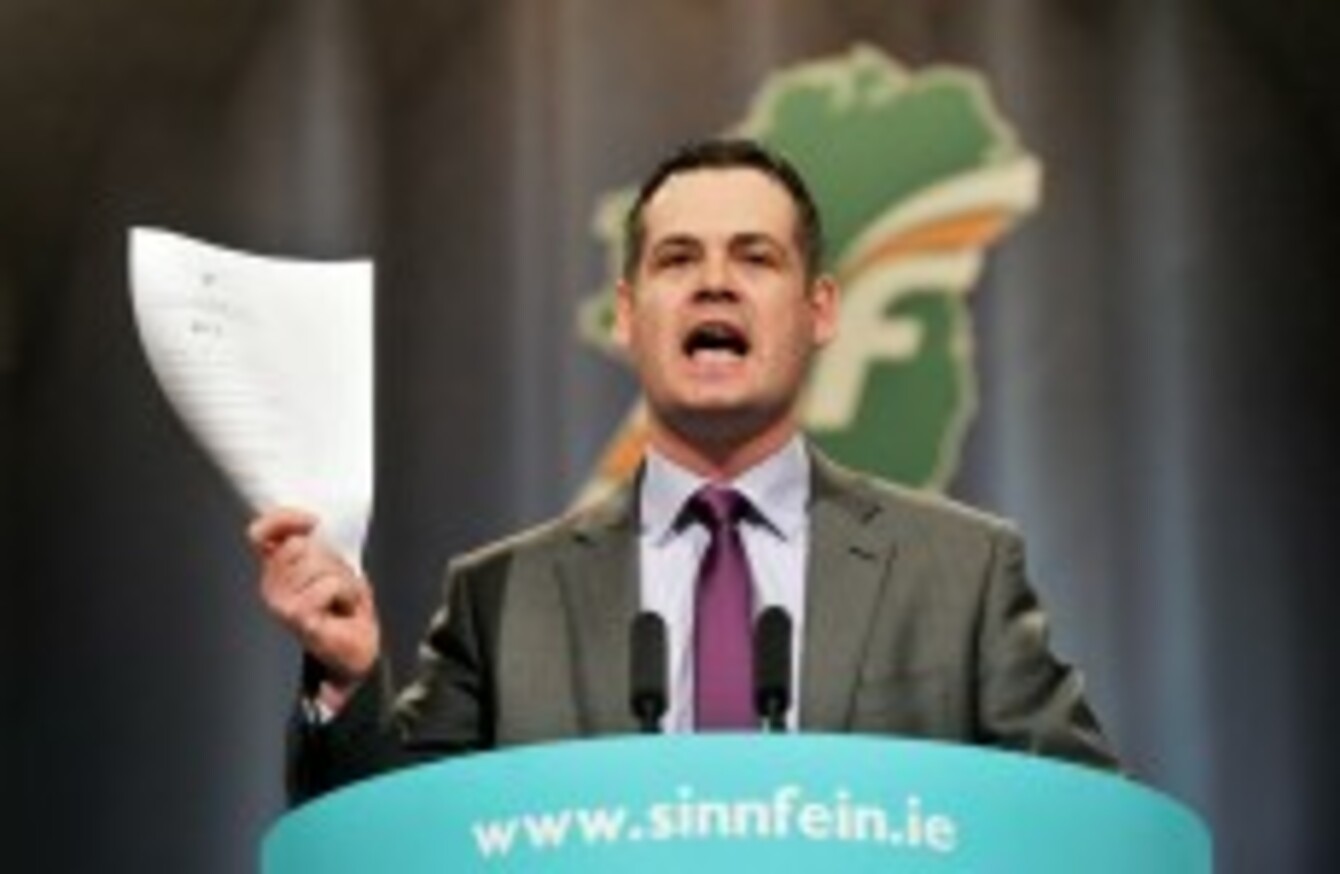 Pearse Doherty
Image: Laura Hutton/Photocall Ireland
Pearse Doherty
Image: Laura Hutton/Photocall Ireland
SINN FÉIN FINANCE spokesperson Pearse Doherty has claimed that Ireland would have a better economy if it united with the North and has said there is a significant amount of misinformation about the level of subsidy to Northern Ireland.
Speaking in a wide-ranging interview with TheJournal.ie this week, the Donegal South-West TD  said that while a border poll should not take place in the lifetime of the current Northern Assembly – which will run to 2016 – it should go ahead in the following term.
"The idea is and the belief is that there is a potential in an all-Ireland situation, with larger economies of scale, with a population of six-and-a-half million people, with all of the different transaction costs being eliminated, that you will actually have a better economy," he claimed.
He said the Irish government needs to support the demand for a border poll to be held in the coming years so as that there can be a proper debate on the benefits and the drawbacks of uniting the two countries.
Taoiseach Enda Kenny told the Dáíl last October that there were other issues that needed to be prioritised over any referendum but predicted in a separate event that same month that the North and south would eventually be united.
Subvention
Doherty claims the economic arguments on uniting Ireland are full of misinformation saying that the Irish State would not automatically have to replace the €10 billion subvention that the Northern executive gets from central government in London.
"If you peel back the figures, and this is something that we've been doing for quite a period of time, the €10 billion is made up of €6 billion that you wouldn't actually be spending in an all-Ireland economy," he said.
"You wouldn't be funding the British army, you wouldn't be funding museums in Scotland and Wales, you wouldn't be funding other areas that are simply to do with the British establishment."
Even if you did remove €6 billion it would still leave around €4 billion of a shortfall but Doherty claims this could be made up if there was proper scrutiny of how much the North raises in corporation tax and VAT returns.
He continued: "If you have a company located in Belfast or Derry where its headquarters is in London then its profits are recorded in London, and not in the North.
"So there is a big, big gap there in terms of the actual amount of taxation that is raised in the North that would stay in Ireland in the context of a united Ireland."
Public sector
On the North's high level of public sector employment, Doherty claims that it "doesn't have any more public sector workers than any other part of Britain".
Official statistics show overall (including the North) about a fifth of the workforce in the UK works in the public sector with the number running at around 30 per cent in the North.
Uniting Ireland would theoretically create a public sector workforce of over 500,000 people within a workforce of 2.8 million people on the island of Ireland.
This means about a fifth of the workforce would be classed as public sector in comparison to the around 13 per cent of the workforce which works in the public sector in the south – a number which the Irish government is attempting to reduce.
But despite this, Doherty says there would be no redundancies, claiming that redeployment would happen where roles are duplicated.
Asked if he would be happy with such a high level of public sector employment – in comparison to other countries – he said: "I think that we need to look at is what type of public service we want."
"I would like to see better services provided in the public sector for people the length and breadth of this island."
Property Tax
Doherty also insists there is no contradiction between Sinn Féin's opposition to the property tax in the south of Ireland and its involvement in an administration which levies local charges in the North.
"The argument in relation to the rates system in the North is not similar and we've made that point time and time again. In the rates system in the North there are services provided," he insisted.
He would not be prescriptive on whether a local authority charge would be levied in a United Ireland but hinted that a tax in the region of €300 could be considered if "everybody gets their bins collected for free, you get free education and you get your septic tank emptied and you get emergency services free".
But, he insisted: "We have to have the fiscal powers first in relatin to the property tax."
On the overall issue of taxation in a Untied Ireland, Doherty said that the party favours levies on income over any other form of taxation , saying that a "third rate of tax" is something the party believes in in the south and the North.
"We believe that companies should pay their proper effective rate of tax," he said. "We believe that some of the tax reductions that are available in terms of pension contributions, which are basically being absorbed by the highest earners in this State, should be limited.
"Those areas need to be exhausted before we look at any other type of taxation."