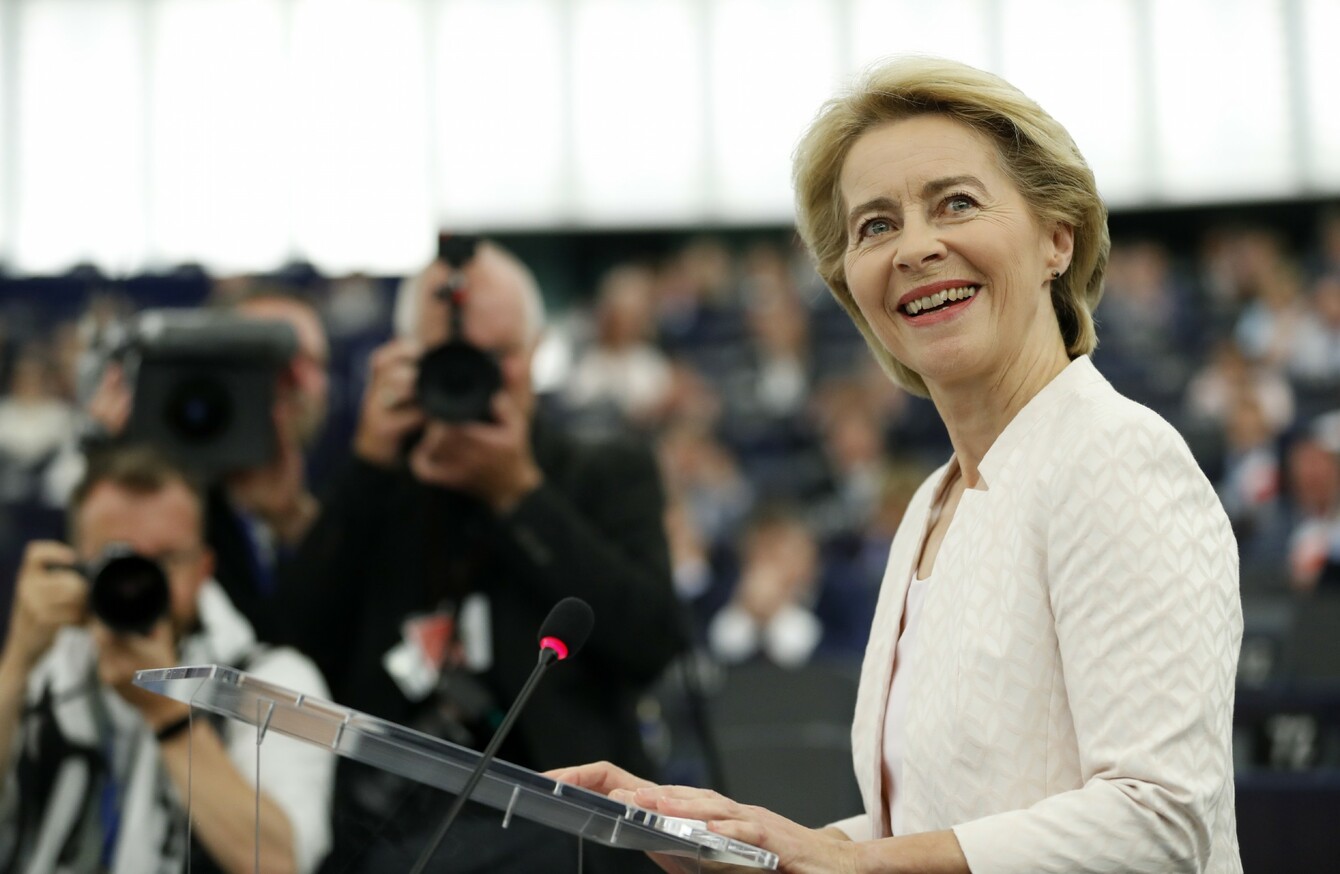 Germany's Ursula von der Leyen delivers her speech this afternoon
Image: Jean-Francois BADIAS/PA Images
Germany's Ursula von der Leyen delivers her speech this afternoon
Image: Jean-Francois BADIAS/PA Images
Updated Jul 16th 2019, 9:41 PM
GERMAN DEFENCE MINISTER Ursula von der Leyen has narrowly been elected as president of the European Commission.
The 60-year-old was nominated to become the first woman to hold Brussels' top job last month by the leaders of the bloc's 28 member states.
The Strasbourg parliament would have preferred a candidate chosen by one of its political groups, but in the end a small majority – 383 members of the 751-member assembly – voted for her.
She will replace Jean-Claude Juncker as head of the EU executive on 1 November, a day after Britain is set to leave the European Union, and will serve a five-year term.
"The task ahead of us humbles me. It's a big responsibility and my work starts now," von der Leyen said, thanking those who voted for her.
"My message to all of you is let us work together constructively, because the endeavour is a united and strong Europe."
If von der Leyen had lost, Brussels faced a summer of infighting instead of preparing for Brexit, battling Italy over its debt and confronting Hungary and Poland over threats to democratic values.
'A majority is a majority'
At a news conference after the vote, von der Leyen played down the narrowness of her win, noting that a "majority is a majority" and acknowledging that some members had opposed the nomination process.
"Two weeks ago I didn't have a majority because no one knew me. There was a lot of resentment because I wasn't a lead candidate," she admitted, adding that she was happy to build a majority so quickly.
"It's a good base to start with."
The veteran minister will head to Berlin briefly on Wednesday to prepare to leave the country's government and armed forces, then return to work on building an administration.
In Berlin, Chancellor Angela Merkel praised her long-time ally as a "committed and convincing European" who would "tackle with great vigour the challenges facing us as the European Union".
The president of the European Council of EU leaders, Donald Tusk, also congratulated von der Leyen, having previously declared "she will be a passionate fighter for Europe's unity".
From the left, Spanish Prime Minister Pedro Sanchez also offered his congratulations, but said von der Leyen must push for "a more social, fair, sustainable and feminist Europe".
Von der Leyen has had only a short time since the 28 EU leaders nominated her to win over the main centre-right EPP, socialist S&D and liberal Renew Europe blocs she hoped would get her the necessary 374 votes.
The election was by secret ballot, but the tight margin of victory suggested that she had only won over the pro-European centre – and that several mainstream members abstained.
With reporting from - © AFP 2019.