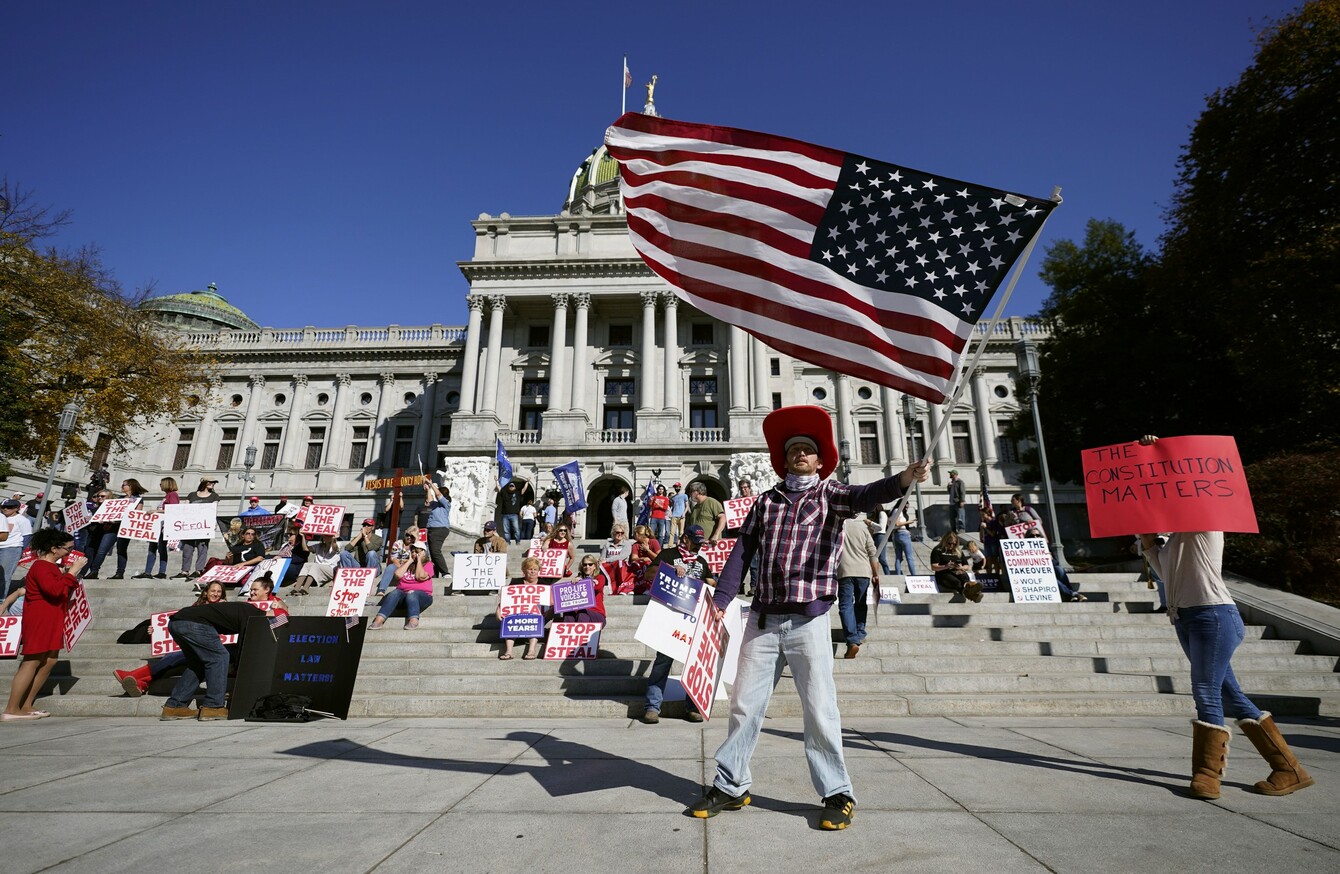 People protesting outside the Pennsylvania state capitol as vote counting continues today.
Image: Julio Cortez
People protesting outside the Pennsylvania state capitol as vote counting continues today.
Image: Julio Cortez
IT'S HEATING UP. 
After a tense 24 hours, former vice president Joe Biden is within touching distance of the US presidency even as current president Donald Trump claims the election is being stolen from him. 
Without providing any evidence, Trump last night claimed that there had been "historic election interference by big media, big money and big tech" in the 2020 election.
Counting is still ongoing in Pennsylvania, Georgia, Arizona and Nevada. The president needs to win all four of those states to win a second term, but his path to victory has increasingly narrowed today. 
Biden, meanwhile, has urged calm as the final tallies come in saying that he "no doubt" that he was going to become the 46th president of the United States. 
Here's a rundown of the key things to know from the results so far:
Counting continues in the key states of Georgia, Arizona, Pennsylvania and Nevada. 
Biden now leads in Pennsylvania by more than 14,000 votes.
He also leads in Georgia by more than 1,500 votes. The Georgia Secretary of State has said there will be a recount.
Biden is also ahead by more than 39,000 votes in Arizona and over 20,000 in Nevada. 
Biden is set to give a speech from his base in Delaware some time later tonight – likely in the early hours in Irish time. 
Biden is on 264 electoral college votes – according to projections from the Associated Press that include the state of Arizona and its 11 electoral college votes.
Trump made a number of illogical and baseless remarks about how the election was conducted in a press conference at the White House. 
Biden has announced he has "no doubt" he is going to win the election. He also called on people to be calm and patient. 
Trump said in a statement this evening that he "will never give up fighting" and will "pursue this process through every aspect of the law to guarantee the American people have confidence in our government". 
So why is this taking so long? The pandemic, mainly. 
Some Republicans breaking with President Donald Trump's attempts to falsely declare victory in the election and claim without evidence that Democrats are trying to "steal" it from him.
Twitter has suspended an account belonging to former White House Chief Strategist Steve Bannon after he suggested that Dr Anthony Fauci and FBI Director Christopher Wray should be beheaded. 
Election officials in several US states have expressed fears about the safety of their workers amid a stream of threats and gatherings of angry protesters outside their doors.
US police have arrested one man in Philadelphia, Pennsylvania, over what US media has said was a plan to attack a count centre. 
A former astronaut has taken a Senate seat previously held by John McCain. 
Meanwhile, Colorado has voted to reintroduce wolves to its western mountains. 
Here are the state result projections at the moment.
We'll be continuing to update our liveblog here with all the latest as it happens throughout the day.
You can also follow us on Twitter @thejournal_ie. 
Ahead of the vote, The Explainer podcast looked at what Trump's legacy could be – win or lose. You can listen back to our panel of Larry Donnelly, Seana Davies and Daniel Geary here.
With reporting by Orla Dwyer  
#Open journalism No news is bad news Support The Journal

Your contributions will help us continue to deliver the stories that are important to you

Support us now