Image: Mark Stedman/Photocall Ireland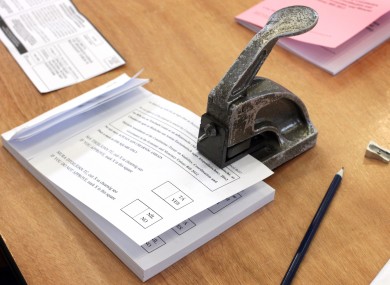 Image: Mark Stedman/Photocall Ireland
VOTING IN THE Children's Referendum begins this morning, with voters giving their say on whether they do or don't want the proposed changes to the constitution enacted.
The proposed amendment would insert article 42.A into the Constitution.
There are 3.1 million people in Ireland who are registered to vote. Before you cast your vote, you might have a few questions:
Am I registered to vote?
To check the register, visit ChecktheRegister.ie. If you are not registered, why not register yourself in time for the next election?
According to Citizen's Information:
If you are qualified to vote but have missed the deadline to include your name on the register, you can apply to be included in a Supplement to the Register, which will allow you to vote at any election or referendum held during the year. You can apply for inclusion on the Supplemental Register at least 15 days before polling day (Sundays, public holidays and Good Friday are not counted as days for this purpose).
If you are unsure whether you have the right to vote, the Citizens Information website has lots of information on who exactly can vote in Ireland. For starters, you must be at least 18 years of age on 15 February of this year, which is the date the register came into force. Irish citizens may vote at every election and referendum, but other citizens can vote on specific elections and referenda.
Where do I  vote?
You can vote at your local polling station – its address will be on your polling card. If you don't have a polling card, and are registered to vote, look up your details on ChecktheRegister.ie – it will tell you what polling station to go to, and what your entitlement to vote is.
Voting began on Ireland's islands on Thursday, with up to 2,000 people voting.
What should  I bring with me?
Official photo identification and your polling card, if you have the latter. It is sent to people's homes but some people may not have received one, if they have moved house and not updated their address for example.
Photo ID includes:
An employee identity card containing a photograph
A student identity card issued by an educational institution and with a photograph
A travel document containing a name and photograph
A bank or savings or credit union book containing your address in the constituency.
It's also acceptable to show a cheque book, a cheque card, a credit card, a birth certificate or a marriage certificate, as long as it is accompanied by another document which confirms your address in the constituency.
But I didn't receive a polling card. Can I still vote?
It depends. If you're an Irish citizen, aged at least 18 and living in Ireland then you are entitled to vote, but you have to be on the electoral register. You can check whether you are or not on the aforementioned checktheregister.ie.
If for some reason you didn't receive a polling card, don't worry. You'll still be allowed to vote as long as your name is on the register and you bring along identification.
Do I really need ID?
Yes. It isn't enough to bring your polling card with you. Bring valid photo ID such as a passport or Garda ID – see above for more information on types of ID that will be accepted. You will be asked for this when you give your name at the polls, so that your name can be looked for on the register or supplement to the register.
How do I vote?
The ballot paper should be punched before it is given to you. Clearly mark an X in the box next to 'Yes' OR 'No'. Don't write anything on the paper, or it will spoil the vote.
Voters with disabilities
The government says there are a variety of special arrangements in place to assist those with certain disabilities to exercise their right to vote.
These include:
Voting at an alternative polling station if the local station is inaccessible
Postal voting
Assistance in voting at the polling station by a companion or the presiding officer
Vote at a hospital, nursing home or similar institution for people who reside there and can't go to a polling station
Here is the information leaflet – Information for People with Disabilities (pdf, 124kb) and more information on the Citizens Information website, including information on companion voting and assistance with voting.
What time do the polls open and close at?
The polling stations open today, Saturday 10 November 2012, from 9am to 10pm.
When will the votes be counted?
Vote counting will begin on Sunday morning at 9am at various count centres around the country. TheJournal.ie will cover the counting on the day.
There will be full coverage of the referendum result on TheJournal.ie from early on Sunday morning