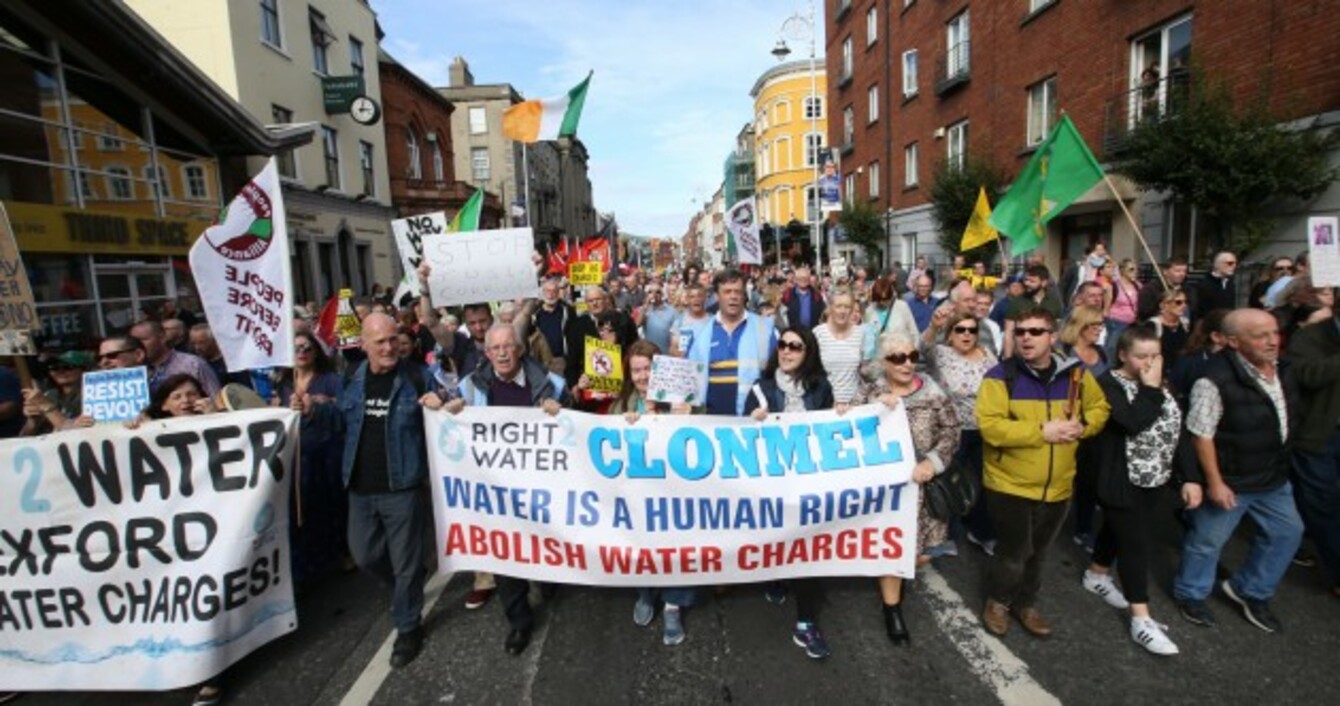 Image: Sam Boal/RollingNews.ie
Image: Sam Boal/RollingNews.ie
THOUSANDS OF PEOPLE marched through the streets of Dublin today calling for the abolition of water charges.
Protesters marched in two separate groups from Heuston and Connolly stations before meeting at St Stephen's Green where speeches were held.
The action got underway at about 2pm, with thousands travelling into the city centre to take part in the action.
People also marched on the headquarters of international technology firm Apple, in protest over the government's decision to appeal the European Commission ruling for the company to pay €13 billion it says it owes in taxes.
Right2Water put the numbers at today's march in the region of 80,000, while RTÉ reports sources saying that about 15,000 people turned out.
The protesters were marching for the abolition of water charges, which are currently suspended.
A commission has been set up to address the issue in the wake of the general election and has been accepting submissions on how water services should be paid for.
Right2Water, an umbrella group made up of unions, left-wing political parties and community organisations, has been holding anti-charges rallies since late 2014.
Addressing a press conference earlier this week, organiser Brendan Ogle said there was a "wrong perception" that, as water charges had been suspended, the issue had gone away – adding that "we don't see it like that at all".
Ogle also mentioned the anger people had over the government's decision to appeal the European Commission's ruling that Ireland granted the Apple €13 billion in illegal state aid.
There was "a lot of anger" over the decision. Ogle said, insisting the issue had "connected with people that I've met in a way that I haven't heard or read about in the media".
Sinn Féin and the AAA-PBP, which are also part of Right2Water, submitted Dáil motions calling for the government to drop its appeal against the Commission ruling last week, but both were rejected by the chamber.
Speaking at the demonstration today, Sinn Féin MEP Lynn Boylan said abolition of water charges was "the loud, clear and unequivocal demand of the Irish people".
"We have had eight marches in two years and we have delivered blow after blow to Irish Water and its supporters," said. Boylan.
"The pillars of the establishment have lined up to smother this movement and protect the water charges regime."
Yet here we are again – undaunted, energised and continuing the fight for the right to water.
With reporting from Cormac Fitzgerald