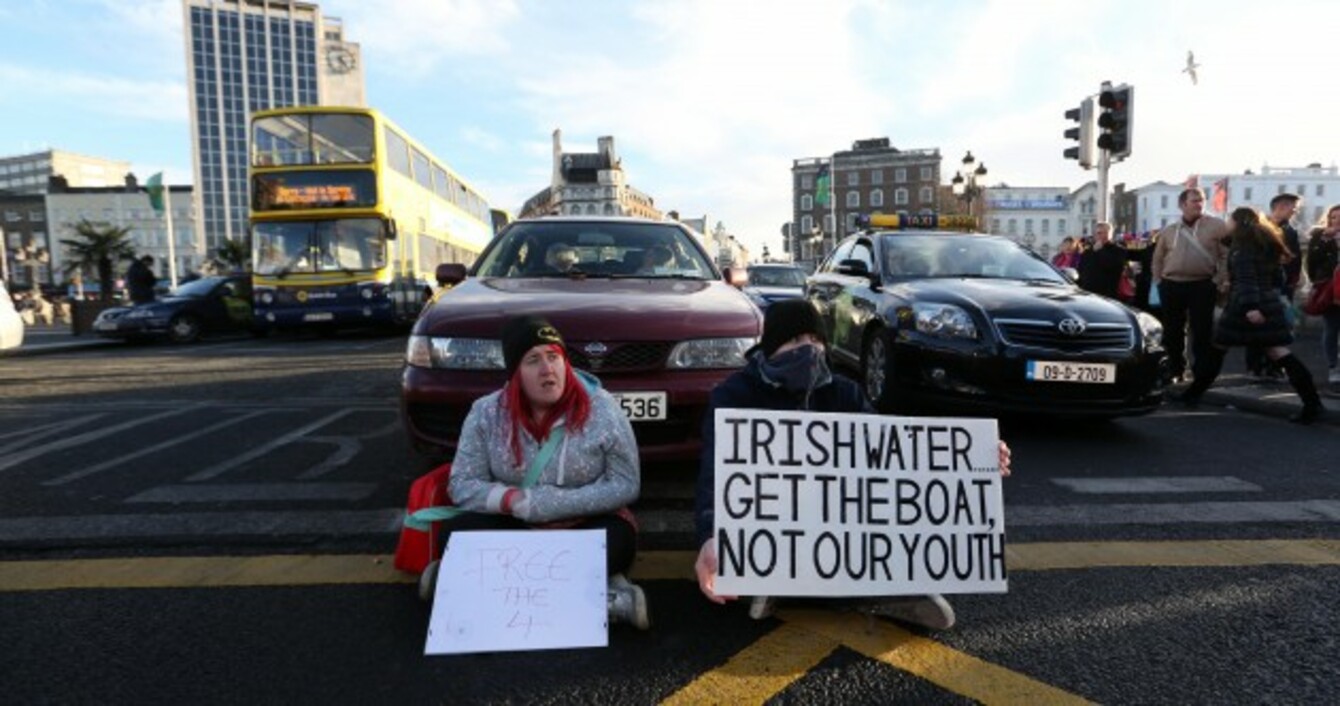 Water protesters on O'Connell Bridge on Thursday
Image: Sam Boal/Photocall Ireland
Water protesters on O'Connell Bridge on Thursday
Image: Sam Boal/Photocall Ireland
IT'S THE ISSUE that just won't go away for the Government.
After a quiet few weeks at the start of the year, there'll be no escaping water charges and water charge protests for the next month – and beyond.
The February 2nd Irish Water deadline (which turned out not to be a deadline at all, according to Environment Minister Alan Kelly) focused minds around the country on the fact that it would just be a few months before the first bills begin dropping through letterboxes.
Meanwhile – among the more active protest groups – the recent series of dawn arrests by gardaí investigating 'Jobstown' and last Thursday's jailing of four northside Dublin protesters will give organisers of the anti-charges movement a new impetus.
Two of the protesters sentenced this week – Derek Byne and Bernie Hughes – have been given 28 day sentences in prison (although they're likely to get out earlier than that, once remission is taken into account). Others have been handed 56-day sentences.
Their imprisonment will provide a focal point for Dublin-based activists – particularly the left-wing groups based in Dublin 5/13 and the wider Tallaght area.
That means we can expect more scenes like last Thursday's in the coming weeks — florescent bib-wearing demonstrators marching through the city centre, and vigils outside prisons and garda stations.
And if Byrne and Hughes serve the expected 21 days in jail, we'll likely have a high-profile release rally (or two) in the run-up to Saint Patrick's Day.
Support for the sort of direct-action groups involved in demonstrations targeting meter-installations is limited. However, social media-savvy groups like Dublin Says No, Tallaght Says No (etc) have shown they can organise 'flash' demonstrations of hundreds of people within hours, in reaction to a specific event.
Similarly, the large turnout for the 31 January Dublin marches - which were organised mostly online by grassroots groups, rather than the umbrella unions-and-left-wing-led 'Right2Water' – confounded the expectations of many.
The protests three weeks ago showed there are still huge numbers of people willing to turn out to voice their opposition to water charges (specifically) and Government policy (in general).
The next large-scale demo, on 21 March, will be organised by Right2Water.
A turnout in excess of the January actions is all-but-guaranteed — as the group's professional PR team roll-out a days-long pre-publicity campaign, with Dáíl-adjacent press conferences, TV and radio appearances etc. etc.
With the first bills set to arrive in April — they're almost certain to convince many of the 'soft supporters' the coalition hoped would be placated by last November's Irish Water relaunch to take to the streets again.
#Open journalism No news is bad news Support The Journal

Your contributions will help us continue to deliver the stories that are important to you

Support us now
Of course, the fact that the Dublin demonstration is taking place just days after Paddy's Day is no coincidence… Already, online campaigners are urging people to bring their placards to the parade (and even, in one case, to 'hijack' it).
Meantime, we can expect a sizeable protest in Dublin city centre again later — starting at the Central Bank, at 2pm.
According to an Anti-Austerity Alliance press release:
"This protest, originally called by arrested Jobstown protesters against political policing has now been extended to call for the release of the five sentenced to jail [...] for going within 20 metres of water meter installation.
It is being supported by a wide range of organisations involved in campaigning against the water charges and water meter installation.
And in Castlebar, where Fine Gael is holding its national conference, it's reported a 'wall of security' has been put in place in advance of a Right2Water/People Before Profit/Mayo Says No march to the event centre at the Royal Theatre.