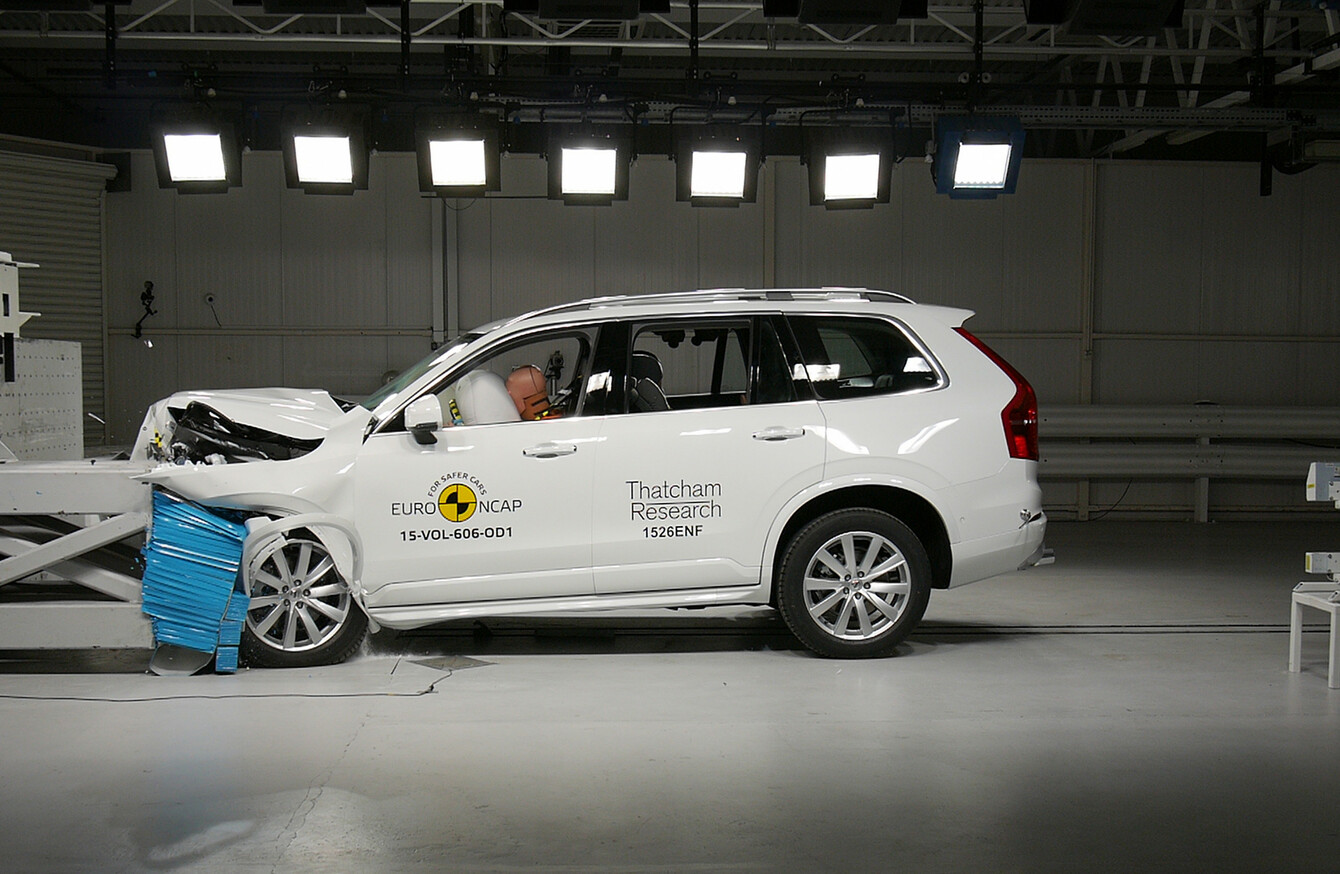 Image: Newspress
Image: Newspress
CARS ARE GETTING safer thanks to new engineering techniques, safety features and safety assist technologies.
The structural integrity of the vehicles we drive has improved significantly compared with the cars built even just a decade ago, thanks to improvements in manufacturing materials.
And most new cars now offer a bewildering array of acronym-led features – from the now-standard ABS to the more advanced AEB, BSW and LKA. (That's automatic emergency braking, blind spot warning and lane-keeping assist).
Some safety tech is only available as an optional extra and at an additional cost to the buyer. So how do you know which ones to tick on the options list?
Well, based on years of testing these technologies out in real world driving situations, the two that I would choose are a reversing camera and autonomous emergency braking (AEB).
Reversing Camera:
I learned how to reverse and parallel park a car without a camera, therefore I very rarely use a camera for parking. But what I do use it for is checking that there is nothing behind the car before I reverse. Backing-up accidents are very common and they happen more to people driving SUVs and larger vehicles – and we all know that crossovers and SUVs are popular right now.
Statistics show that young children and adults over the age of 70 are the ones most likely to be hit and killed by someone reversing a car and that this is most likely to occur on a driveway and in a car park. Having a reversing camera or at the minimum reversing sensors helps reduce the likelihood of reversing into someone you didn't know was there.
Between 2006 and 2011, rollovers accounted for the deaths of 13 children in Ireland. Most of these accidents occurred in residential driveways by a relative of the child.
In the US, from 2018 all new cars will have to have reversing cameras as standard, and this will probably happen in Europe too.
Of course, the camera is just a driving aid and you do still have to be vigilant when reversing and look around you and check your blind spots. You should also reverse into driveways and parking spaces to make getting out of them safer and easier. But overall, reversing cameras and parking sensors can save lives, prevent injuries and prevent damage to your car.
#Open journalism No news is bad news Support The Journal

Your contributions will help us continue to deliver the stories that are important to you

Support us now
Autonomous Emergency Braking (AEB)
Front collision systems use cameras and radars to scan the road ahead. In slow-moving traffic – usually up to 50km/h – the system will automatically apply the brakes if it senses that your car is going to hit the vehicle in front. These systems usually consist of a suite of technologies including advanced emergency braking system (AEBS) or autonomous emergency braking (AEB), forward collision warning and adaptive cruise control.
Research from America shows that cars with front crash prevention are much less likely to rear-end other vehicles than the same models without the technology, and those systems with forward collision warning and autonomous braking cut rear-end crashes in half and greatly reduce rear-end crashes involving injury.
One such system is Volvo's City Safety. Research has found this system reduces rear-end crashes by 43 per cent and rear-end crashes with injury by nearly half when compared with similar cars without a standard front crash prevention system.
However, autonomous emergency braking (AEB) on its own can reduce rear-end collisions by 38 per cent according to research based on real-world data. So if I could pick one other safety option box to tick on a new car, it would be AEB. It really has been shown to reduce accidents and research has also shown that cars fitted with AEB reduce insurance claims for damage to other vehicles and for injuries to people in other vehicles.