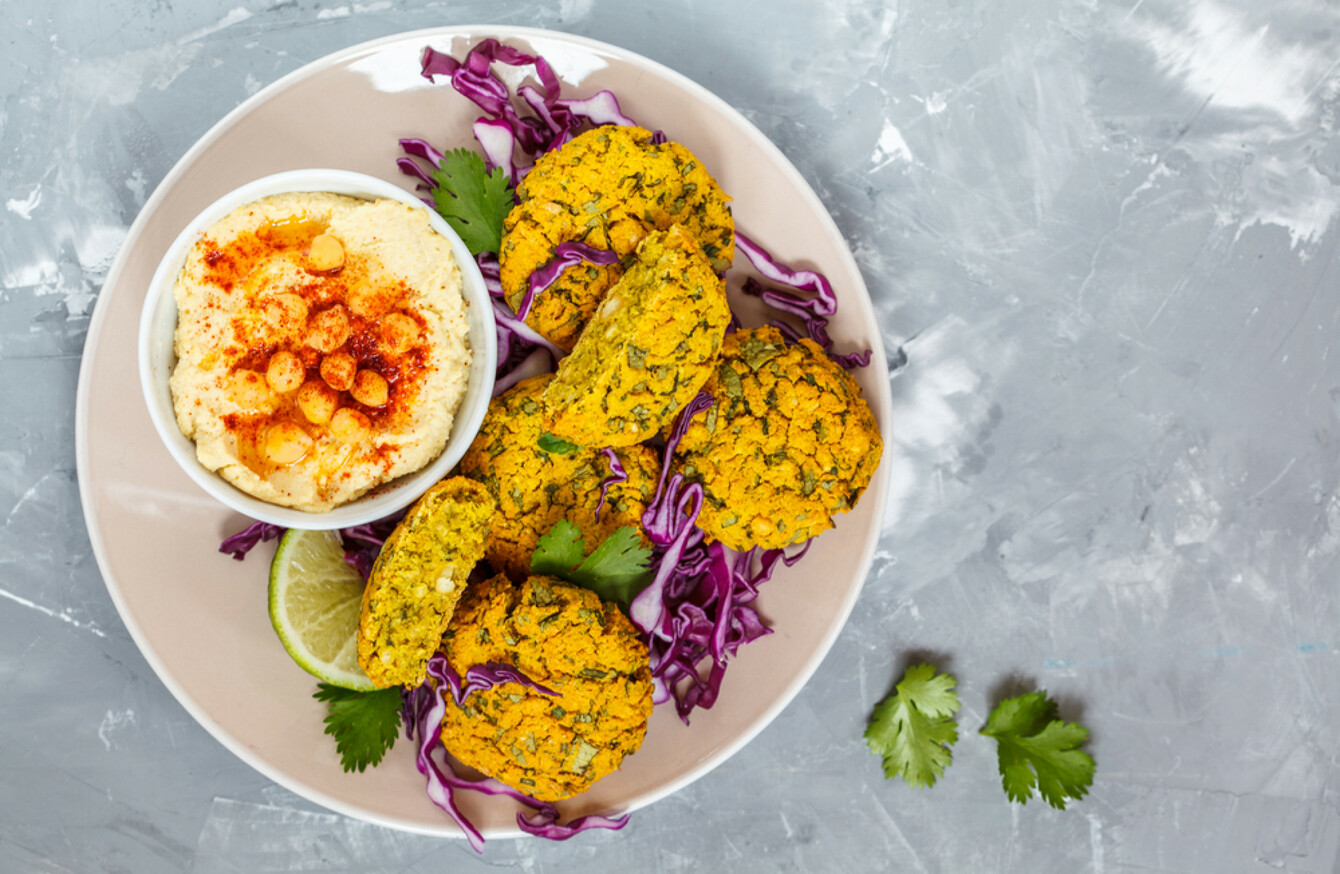 Baked falafel with hummus.
Image: Shutterstock/Nina Firsova
Baked falafel with hummus.
Image: Shutterstock/Nina Firsova
LIKE A TIN of chopped tomatoes or a tin of beans, chickpeas are one canned good that always seems to be present at the back of the cupboard.
Not only are they a nutritious staple to have on hand, they're very economical too, and make a great addition to a salad, a base for a curry, or a mix-in to any casserole or stew.
While the chickpeas themselves usually get all of the love and attention, we must not forget about the chickpea liquid, which is usually thrown away, but can actually be used as an egg white substitute in meringues and other baked goods.
A bit of a wonder food, eh? Here are a few of my favourite ways with chickpeas…
1. A chickpea, cauliflower and spinach curry
This is one of my favourite weeknight recipes, and I always make sure I prepare enough to enjoy for lunch the following day. Firstly, sauté some onion, garlic and ginger in a saucepan until soft. Stir in a heaped tablespoon of curry powder, a tin of tomatoes, a dash of vegetable stock and some chopped cauliflower. Simmer until the cauliflower is almost soft, then add in a tin of drained chickpeas and some spinach leaves and cook for a further five minutes. Serve with rice, flatbread and a dollop of mango chutney!
2. A Greek salad with added protein
I love Greek salad, but sometimes feel like it needs something extra to make it a filling meal. Chickpeas make a great addition to this delicious salad of feta, tomatoes, cucumber, olives and greens. There's no cooking required here; all you need to do is chop the veggies and toss everything together in a dressing of olive oil and lemon juice. Fresh, zingy and delicious.
3. DIY baked falafel
Making falafel from scratch is much easier than you might think. Fry some onion and garlic in a pan and once cooked, transfer to a large bowl. Add a drained tin of chickpeas, cumin, coriander, parsley, lemon zest and seasoning.
Mash together using a potato masher, and finally add a beaten egg to bind. A coarse texture is key to ensure the falafels don't become too dense, so make sure you don't go overboard with this step. Divide into patties and bake in a hot oven for 30 minutes. Falafel is incredibly versatile and can be used to add some protein to a salad or enjoyed in a pita pocket with green salad and hummus.
4. A chickpea and chorizo stew
This is a really hearty and delicious stew, and very easy on the pocket too. Start by sautéing chopped onion, garlic, chorizo, carrots and celery in a pot. Once the vegetables are soft, add a tin of tomatoes and a pint of chicken stock. Bring to a simmer and add a tin of chickpeas. This is delicious served with some fresh from the oven crusty bread.
5. Spicy roasted chickpeas
Once roasted in the oven, that tin of chickpeas at the back of the press is transformed into a seriously tasty, high protein snack. This recipe is as easy as it gets; toss drained chickpeas in a generous dash of olive oil and roast in a hot oven for 20 minutes. Once cooked, toss the chickpeas with salt, pepper, cumin and chilli powder. Delicious on their own or as a salad topping.
Tip: It's really important to make sure the chickpeas are thoroughly drained and dried to get the crunchiest result possible.