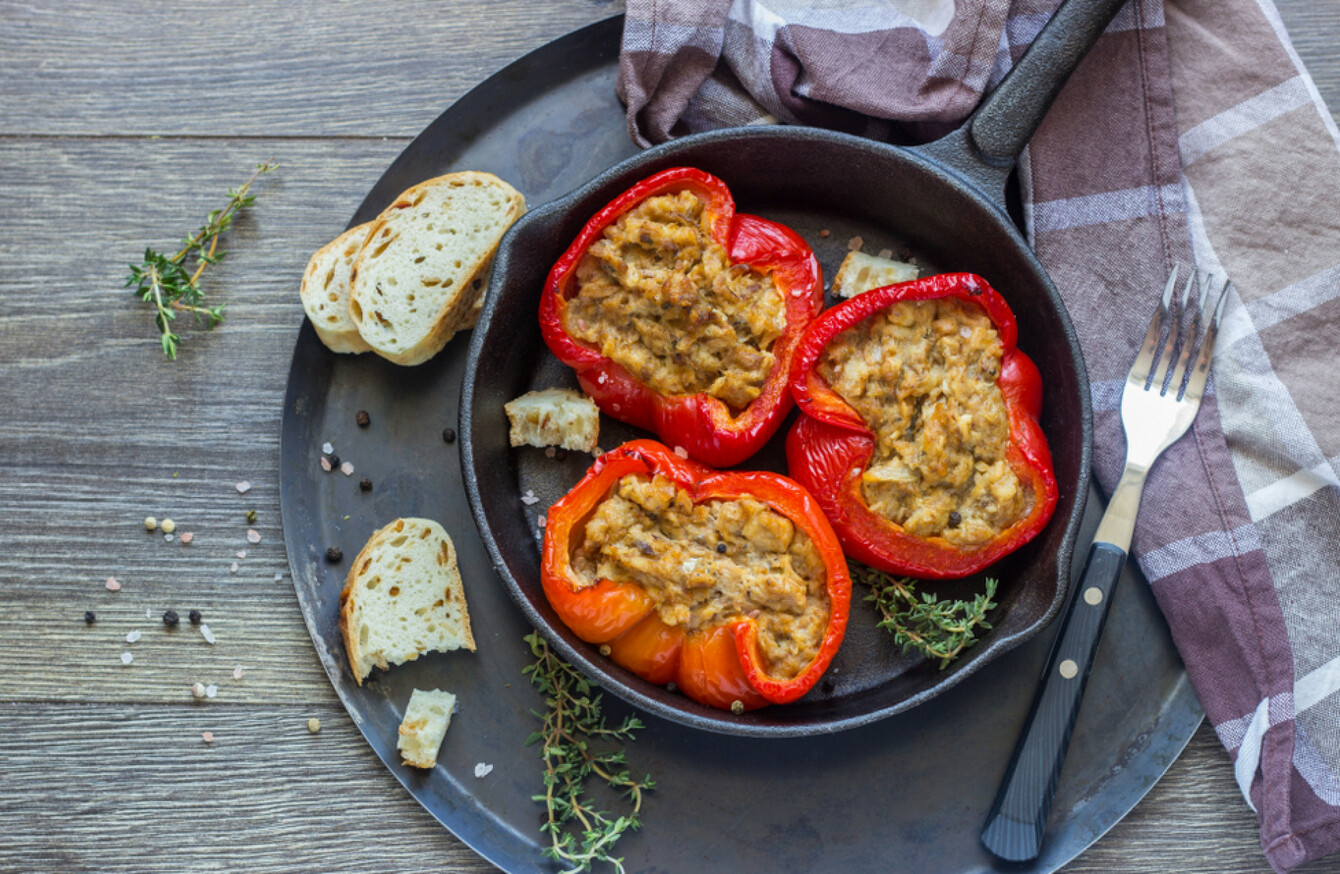 Stuffed peppers with tuna
Image: Shutterstock/Maslova Valentina
Stuffed peppers with tuna
Image: Shutterstock/Maslova Valentina
IS THERE A household in Ireland that doesn't have at least one spare tin of tuna in the cupboard?
After all, they can be a real lifesaver when you haven't yet done the weekly food shop and need to whip something up quickly. While there is nothing wrong with a failsafe tuna sandwich or tuna filled jacket potato, there are so many ways that the humble tin of tuna can be transformed into a wholesome and delicious meal.
As well as being a good source of protein, healthy fats like omega 3, and vitamin D, tuna is one of the most versatile ingredients you can keep in the press, not to mention a very economical staple to have to hand. Whether it's a tasty lunch or a satisfying dinner you're looking for, read our favourite tuna recipes below.
Tuna pasta bake: This is a classic family favourite! The best thing about this recipe is that it requires very little prep and washing up. Simply boil your pasta of choice (we love fusilli or conchiglie/pasta shells) and drain, then stir in a large tin of tuna, some sweetcorn, a tin of chopped tomatoes and whatever veggies you have in the house.
If you like your sauce creamy, a spoonful of cream cheese or crème fraiche works really well! Season, top with a little grated cheese, and bake in a hot oven for 20 minutes. Delicious served with a side salad and some crusty garlic bread!
Tuna Melt Nachos: Loaded Tex Mex nachos make for a light and tasty Friday night supper; mix a tin of tuna with chopped green peppers, onion, chopped tomatoes and hot sauce. From here it's all about layering – first up are tortilla chips, followed with the tuna mix and a sprinkle of grated cheese. Bake in the oven for about 10-15 minutes until the cheese melts, and top with avocado and sour cream. A really inexpensive meal that tastes great!
Fishcakes: While traditional fishcakes tend to be made with cod or salmon, tuna makes a great fuss free alternative. These are also a great way to use up leftover cooked potatoes!
Mash a few cooked potatoes and add tuna, herbs, some Dijon mustard and seasoning. Form into cake shapes and dip in a beaten egg followed by some breadcrumbs. These are delicious served on their own with some tartare sauce or can easily be made into a hearty meal by serving alongside steamed green beans and salad or sweet potato fries.
Stuffed peppers: Every time I make these, I mix things up depending on what mood I'm in. Start off by stirring together some cooked rice or quinoa, chopped red onions, chopped tomatoes and tuna. Now is the time to get creative; a dash of hot sauce adds a delicious spicy kick, while some pesto and mozzarella can transform these into a tasty Italian-style lunch – the possibilities are endless! Bake for 20 minutes until piping hot and serve on a bed of salad leaves.
Tuna and bean salad: This hearty lunch can be whipped up in minutes and will last in the fridge for three days, so, if you want to be prepped and ready for the week, it's a great one to make on a Sunday night.
Mix a tin of beans (butter beans are our favourite) with tuna, chopped red onion, sliced peppers, tomatoes and a spoonful of pesto, and your salad is ready to go! While this is a great base, feel free to mix things up to use whatever leftovers you have in the fridge. As well as tasting great, nutritionally this is also a very well-rounded lunch and packed with protein.