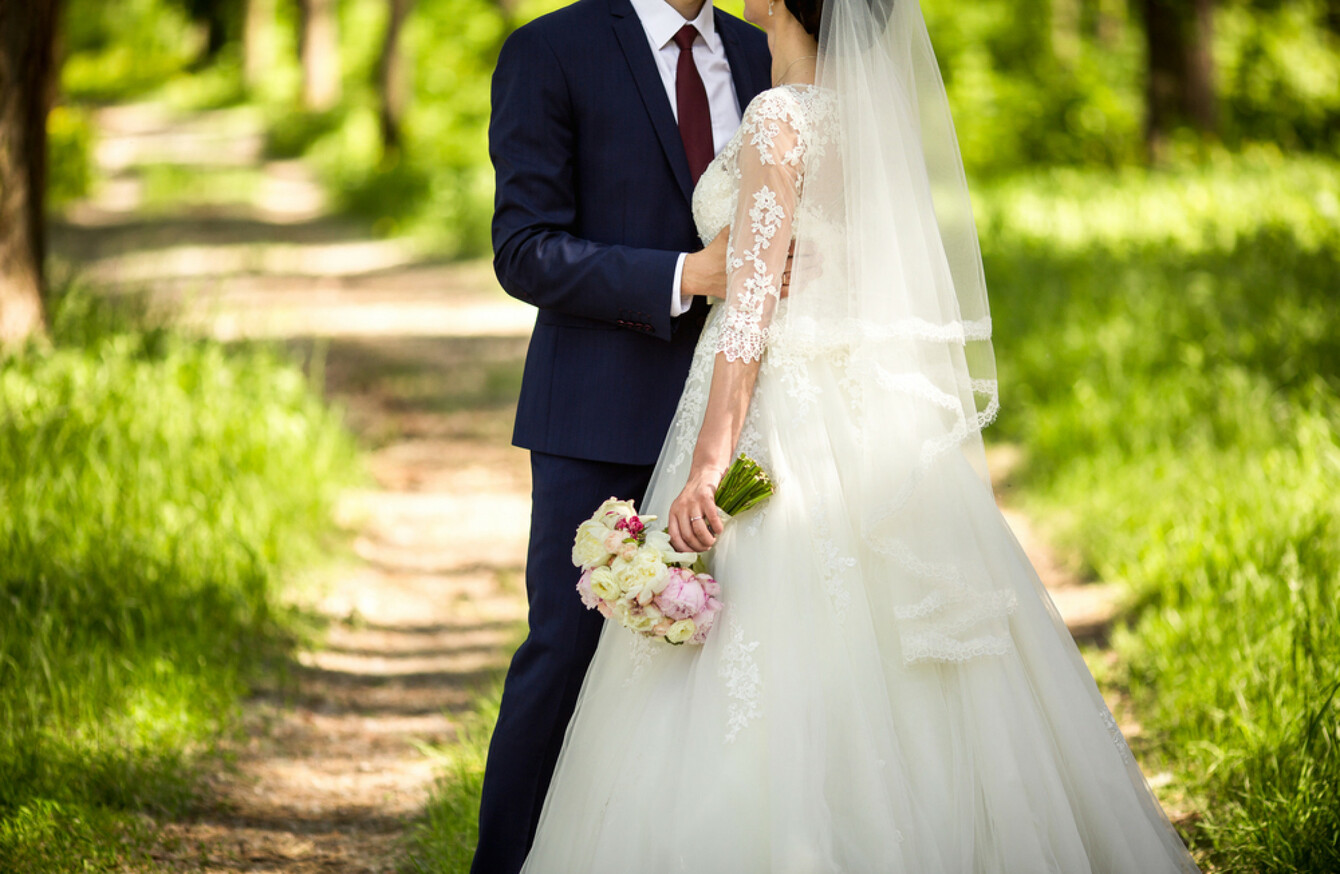 File photo
Image: Shutterstock/Wedding photography
File photo
Image: Shutterstock/Wedding photography
A WOMAN WHO entered a competition to win her dream wedding has described how she is "devastated" after the sudden closure of the company behind it.
A number of couples who also entered competitions through Win Our Wedding have been speaking out after the company shut down last week.
The company, which is based in Dublin, ran competitions offering weddings worth €20,000.
Some couples spent hundreds or thousands of euro buying raffle tickets to enter the competitions, getting support from their family, friends and wider community.
Couples recently received an email telling them the company was closing "with immediate effect". The email, seen by TheJournal.ie, was sent by the company's CEO Elaine Whitney.
In it, Whitney stated that the company had been "struggling for quite some time" financially "despite my best efforts". She wrote that she had invested "personal funds" into the company in a bid to keep it afloat.
Meanwhile, Make-A-Wish Ireland – which was previously a charity partner of Win Our Wedding - has distanced itself from the company, saying it only received a fraction of the money it was due to get.
RTÉ Radio 1′s Liveline has been speaking to couples affected by the company's closure in recent days.
Peggy O'Callaghan, one half of a couple who were told they had won a wedding worth €20,000, told Joe Duffy she and her Irish fiancé Keith and their family and friends had spent about €8,000 on the competition.
O'Callaghan, who lives in Australia and is hoping to move to Ireland, told TheJournal.ie she and others affected are "all absolutely devastated and have no idea what to do from here".
Speaking to Liveline today, another bride-to be Kim McMahon said she and her fiancé had spent over €800 on the competition, with family, friends and local businesses likely bringing this figure to over €1,000, making them strong contenders to win one of the prizes.
McMahon, from Finglas in Dublin, said she received an email from Whitney two days before the competition was due to close, telling her she had to back out due to the company's financial issues.
McMahon said: "For two days I didn't tell anyone, I was just so embarrassed. I didn't want anyone to think that I was trying to pull a scam or trying to, you know, rob people of money.
I was just so embarrassed I didn't know what to say to people … I was so embarrassed and ashamed.
McMahon said she has been refunded €485, which she will now give to the Jack & Jill Children's Foundation.
She said the whole experience has been "quite shocking and upsetting".
"There won't be a wedding, maybe one day but not anytime soon," she added.
Cynthia Geelan told TheJournal.ie that she and her fiancé Michael had put €800 of their own money into the competition, as well as campaigning for support from their friends and family.
"Every evening, I'd put up a post on Facebook asking people to please vote for us if they could. You'd get double or triple votes at the weekend that could put you ahead of the other couple."
At the end of the campaign, she was told that she had won a wedding worth €10,000, but so far has only received €1,250 of that. She says there were problems receiving payments for deposits from the beginning, and said that the way some people found out the news the company had ceased trading – through social media – was particularly upsetting.
Geelan's wedding is on 9 December this year; she says she won't change the date – which is on her grandfather's birthday.
"We'll cut numbers if we have to – we've bought a new house so we don't want to take out a loan, I don't want to have to [cut down numbers] but we're going to have to."
At the time of publication, Whitney told TheJournal.ie she would not be commenting on the issue. The company's Facebook and Twitter pages are no longer online.
#Open journalism No news is bad news Support The Journal

Your contributions will help us continue to deliver the stories that are important to you

Support us now
Make-A-Wish 
Make-A-Wish Ireland, which grants the wishes of children with life-threatening illnesses, was previously a charity partner of Win Our Wedding, but says it didn't receive all of the money it was due to.
A spokesperson for the charity told TheJournal.ie it entered a "partnership agreement" with Win Our Wedding on 18 December 2013.
In a statement they said: "It was proposed that the partnership would take the form of donations of a share of the voting revenues from competitions to be held at regular intervals throughout 2014.
Win Our Wedding agreed to donate a minimum of 5% of all voting revenues from each competition (a minimum of €5,000 in 2014). However, this minimum donation did not take place.
"During the Partnership Agreement, Make-A-Wish Ireland received two donations from Win Our Wedding totalling €2,684.58. The first donation of €1,217.02 was made on 10 September 2014. The second donation of €1,467.56 was made on 1 July 2015."
The agreement ended on 31 December 2015 and the spokesperson said Make-A-Wish Ireland "has received no donations from Win Our Wedding since 1 July 2015″.
"If the Make-A-Wish Ireland logo appeared on any Win Our Wedding literature since 31 December 2015 it was without the approval of Make-A-Wish Ireland," the statement added.
- With reporting from Gráinne Ní Aodha.