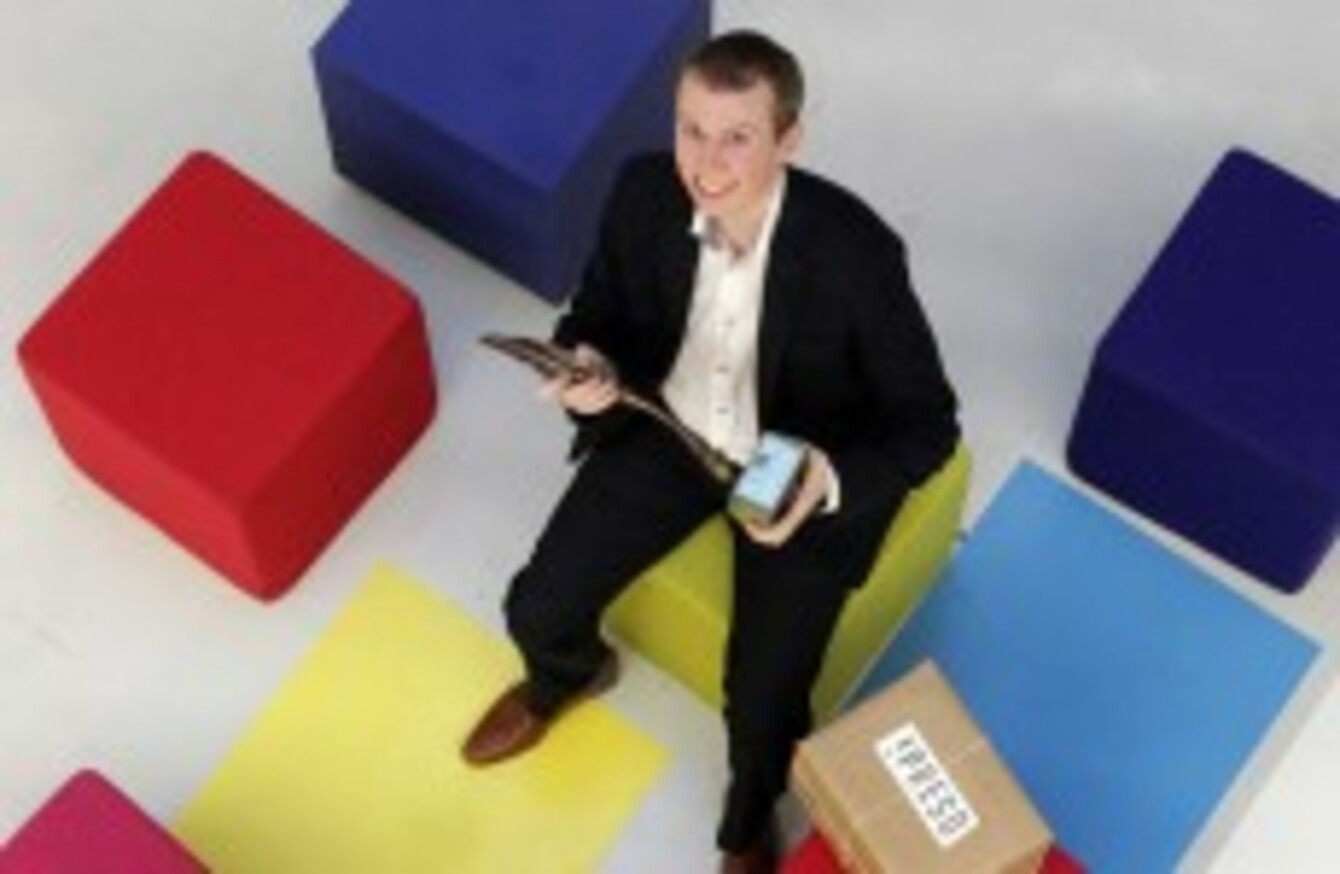 Eamon Keane from Xpreso, Ireland's Best Young Entrepreneur
Image: Mark Stedman/Photocall Ireland
Eamon Keane from Xpreso, Ireland's Best Young Entrepreneur
Image: Mark Stedman/Photocall Ireland
LESS THAN 2 years after launch it counts Ireland's biggest courier chain as a client and has raised $1 million in funding.
That would be Xpreso, the company whose 28-year-old co-founder Eamon Keane beat over 1,100 entries from across the country to be crowned Ireland's Best Young Entrepreneur (IBYE) yesterday.
The Dublin-based startup was launched in early 2013 to solve the "last-mile problem" for clients in the delivery chain – how to feed quick, accurate information between couriers and customers.
Keane told TheJournal.ie there were 3 core elements to Xpreso – a tablet app for courier drivers, a tracking dashboard for retailers and courier companies, and a website or app for customers.
"It's a lot more real-time, it's modern and it's low cost," he said.
The app sends customers an initial 1-hour time estimate when a driver collects a delivery, then provide live data on a courier's location throughout the day while allowing clients to feed on information like fresh drop-off instructions.
While many logistics firms have developed their own systems with some of the same features, Keane said one of Xpreso's key selling points was that it worked across all courier companies.
Customers often don't know what courier is delivering on purchase of goods from a retailer," he said.
App going places
Xpreso has already been rolling out with Nightline couriers, Ireland's biggest independent logistics firm, and it is expected that service will be live early next year.
Keane, who dropped his PhD studies to start the business, said the company was also in talks with big UK retailers about signing them on to the app and it was discussing European trials with a "large, global player" in the industry.
He said Xpreso was also finishing its round of seed, or early-stage, funding and it was expected to have some $1 million (€816,000) finalised through the investment drive within weeks.
The company recently exhibited at the Dublin Web Summit and Keane said it was a useful experience for meeting potential collaborators from Europe, but the IBYE award was a much bigger boost to "get (their) message out there".
It is definitely beneficial when we are talking to overseas clients as an indicator that we are a company worth talking to," he said.
Keane and Xpreso won an extra investment of €50,000 as both the best entrepreneur and best startup at the national IBYE competition.
He said he planned to use the competition prize towards recruiting another software developer for the fast-growing company, which has hired 4 people in the past month and now has a staff of 10.
Other winners at the awards were:
Phillip Martin from Blanco Niño, in Tipperary – €20,000 for "best new idea"
Dean Gammell from The Group System, in Westmeath – €30,000 for "best established business with add-on"
Padraig O'Scanaill from Fund Recs, in Waterford - Google award for "best online promotion of a business"
Jobs Minister Richard Bruton said he had been "personally massively inspired" by all 24 finalists as he congratulated Keane on the win.
"We are relying on these young entrepreneurs to create the jobs of tomorrow, and I am determined to ensure that government supports them in every way possible on their journey."