A Yezidi girl, photographed in Iraq in 2005
Image: JACOB SILBERBERG/AP/Press Association Images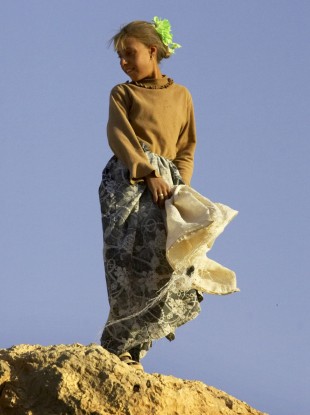 A Yezidi girl, photographed in Iraq in 2005
Image: JACOB SILBERBERG/AP/Press Association Images
ISLAMIC STATE EXTREMISTS have captured hundreds of women and girls from an ethnic minority in Iraq and handed them over as gifts or goods for sale to their fighters and supporters, according to Amnesty International.
In a move which the human-rights organisation said highlighted the savagery of the militant group, female captives from the Yezidi (or Yazidi) community had been subjected to rape and sexual slavery under IS rule.
Many of the victims caught up in the sexual violence - who potentially numbered in their thousands – were girls aged 14 or younger.
Amnesty International's Donatella Rovera, who spoke with over 40 former captives, said IS fighters were using rape as a weapon against the community and that amounted to a crime against humanity.
"The physical and psychological toll of the horrifying sexual violence these women have endured is catastrophic," she said.
Many of them have been tortured and treated as chattel. Even those who have managed to escape remain deeply traumatised."
About 500,000 Yezidis, who follow a distinct religion and culture from both the country's Arab and Kurdish population, live in the wartorn nation's northern region.
Amnesty said thousands of the minority group had been targeted since August in IS ethnic cleansing waves in the northwestern province of Sinjar. Many survivors had been forced to convert to Islam or be killed.
Jilan's story
One victim, 19-year-old Jilan, committed suicide in captivity rather than be handed over to one of the IS fighters, the organisation said.
A survivor who was held captive with the teenager said they had been held with 20 others – including girls aged 10 and 12 – who were told to put on outfits that looked like dance costumes.
"Jilan killed herself in the bathroom – she cut her wrists and hanged herself," the former captive, who later escaped, told Amnesty.
"She was very beautiful. I think she knew she was going to be taken away by a man and that is why she killed herself."
Another girl, Randa, 16, said she was abducted with several family members including her heavily-pregnant mother.
She was then "sold" or handed over as a "gift" to a man who was double her age. Later she was raped by her new "owner".
"It is so painful what they did to me and to my family. (IS) has ruined our lives."
More war crimes reported
IS fighters now control parts of Iraq as well as large swathes of neighbouring Syria in the country's north and east, where they have been accused of routinely murdering minority tribespeople and civilians.
The US and coalition partners have been bombarding IS fighters in Syria in a series of air strikes, but the middle-eastern nation's foreign minister has said the initiative would make little difference if Turkey didn't stop jihadists crossing its border into the country.