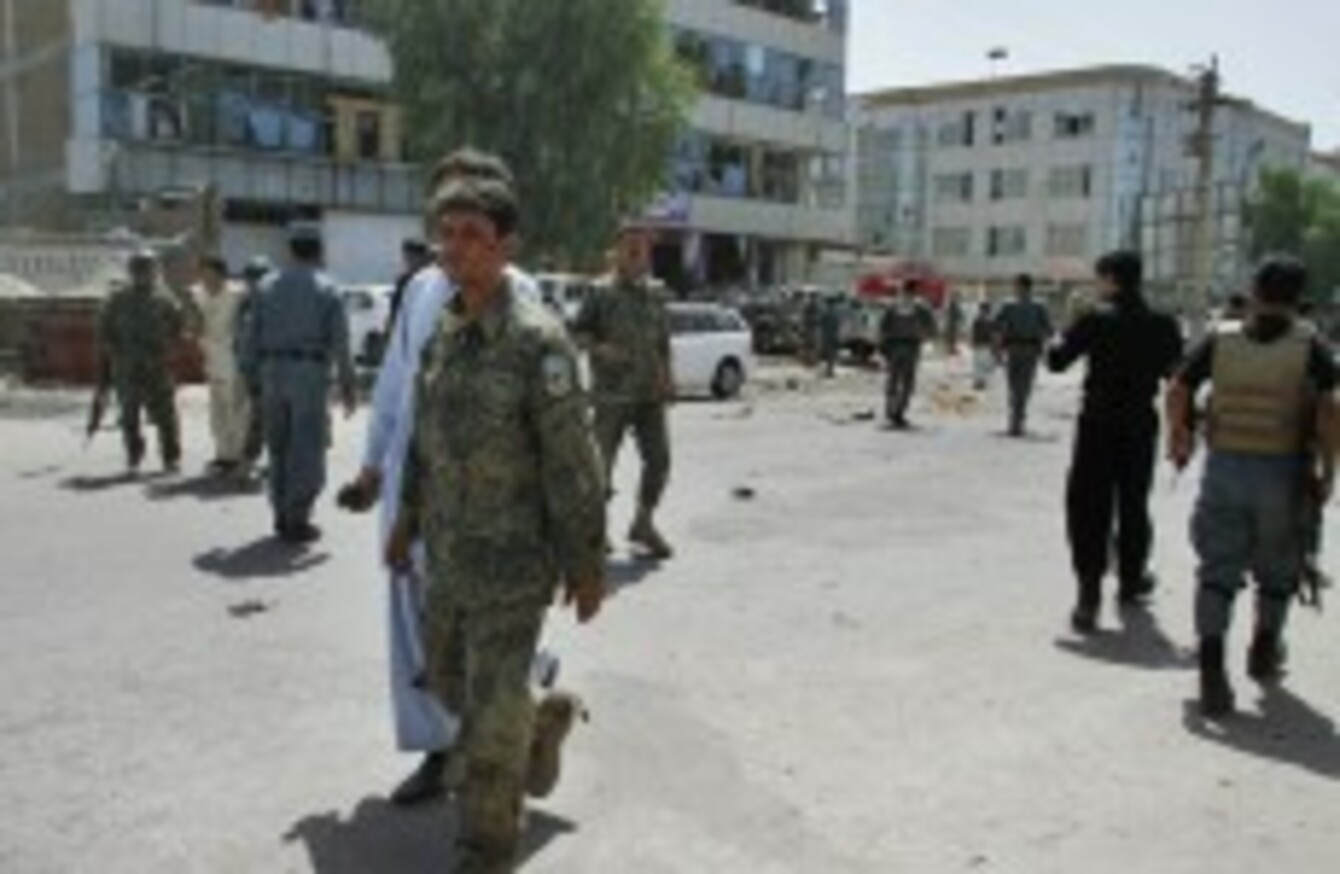 File photo after a suicide bomb explosion in Kandahar
Image: Allauddin Khan/AP/Press Association Images
File photo after a suicide bomb explosion in Kandahar
Image: Allauddin Khan/AP/Press Association Images
A GROUP OF Taliban suicide bombers and gunmen on Monday attacked a US base near the Pakistani border in eastern Afghanistan, sparking a three-hour shootout, officials said.
No member of the US-led NATO mission in Afghanistan was killed in the attack on a base in Nangarhar province, said a spokesman for the International Security Assistance Force (ISAF).
"There were a series of explosions that occurred in the vicinity of a forward operating base in Nangarhar province," an ISAF spokesman told AFP. "We are currently assessing the situation."
Troop withdrawal
NATO combat troops are gradually withdrawing from Afghanistan with the mission to formally finish at the end of 2014 after key Afghan presidential elections in April.
Afghan officials said Monday's attack took place in Torkham, which neighbours Pakistan and straddles a key NATO overland supply route into landlocked Afghanistan from the nearest sea port of Karachi.
Ahmad Zia Abdulzai, Nangarhar governor spokesman, said that insurgents first attacked NATO supply trucks.
"Today morning, Taliban insurgents attacked and burned supply trucks delivering supplies to NATO which belonged to foreign forces near the US base in Torkham," he told AFP.
Later, three armed suicide bombers started gunfire and clashes with Afghan forces and US forces, and they were killed after three hours of fighting. "At the moment, the stand-off is over, and the situation is under control.
Zabihullah Mujahid, a spokesman for the Taliban, which is leading a 12-year insurgency against Western troops and the Afghan government, claimed responsibility for the attack in a statement sent to the media.
The Taliban have launched a spate of attacks across Afghanistan in recent days, with scores killed in suicide bombings, ambushes and rocket attacks, and also executed five aid workers in the west.
Yesterday, the bullet-riddled bodies of seven civilians kidnapped one week ago by the Taliban were found in Ghazni province, just south of the capital.
Elections
Also yesterday, Afghanistan's ambassador to Pakistan and potential candidate for next year's presidential elections, Omar Daudzai, was appointed acting interior minister.
President Hamid Karzai, who has led Afghanistan since the 2001 US-led invasion removed the Taliban from power, is barred from standing for a third term.
He has said he will not back anyone in the April 5 vote, but Daudzai is seen as one of his closest associates and loyalists.
Interior minister Mujtaba Patang was voted out by parliament in July over accusations that he had failed to thwart the threat from Taliban rebels.
Afghanistan's 350,000-strong security forces are suffering a steep rise in attacks as the NATO mission winds down, with police and army casualties said to have increased by 15-20 percent since 2011.
The election to succeed Karzai is seen as the key test of whether 12 years of massive international military and aid intervention has been worthwhile.