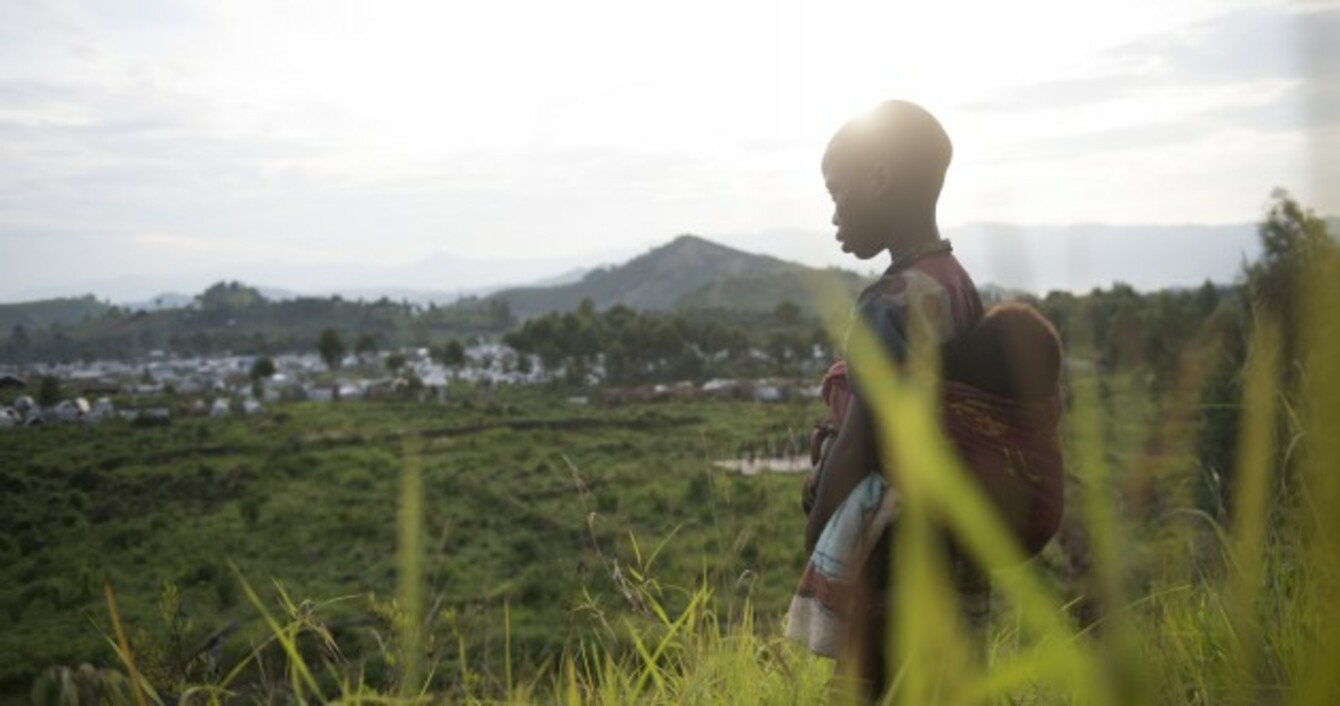 Oliva Noalla (6) with her younger sister on her back, Mugunga camp.
Image: Colin Delfosse/Oxfam
Oliva Noalla (6) with her younger sister on her back, Mugunga camp.
Image: Colin Delfosse/Oxfam
HUMANITARIAN WORKERS IN the Democratic Republic of Congo (DRC) have reported that civilians are being 'preyed upon' by both militia groups and government troops, as violence escalates within the country.
International agency Oxfam has highlighted a "vicious cycle of exploitation and abuse" in the DRC, which has seen civilians becoming victims of rape, kidnap, murder, and financial exploitation.
An Oxfam survey of more than 1,300 people in the provinces of North Kivu, South Kivu and Province Orientale reveals that government soldiers and civilian authorities, including the local police, and armed rebel groups are vying for control over local communities in order to extort them. The report claims that in some areas, such as northern Masisi and southern Lubero, vulnerable communities have become "one of the most important sources of income" for armed groups.
'Ruthless' exploitation
"Ruthless militias and government troops are both mercilessly exploiting local communities to help fund their war," said Oxfam Ireland's Humanitarian Programme Coordinator, Michael O'Riordan. "Preying on people has become an extractive industry in which armed groups plunder money, food and whatever other resources they can find. People are leaving their homes everyday to escape the terror of rebel rule and the relentless extortion that makes existence almost impossible as their lives and livelihoods are looted."
The current conflict was sparked in April 2012,when the recently formed 23 March rebel movement (M23) took issue with the Congolese Government for failing to implement effectively the March 2009 peace agreement signed by the Government and the CNDP (National Council for the Defence of the People).
General view of Kanyaruchinya IDP camp. Over 70,000 displaced people are now living in Kanyaruchinya IDP camp. Colin Delfosse/Oxfam.
Millions of people internally displaced
Meanwhile, Concern Worldwide yesterday announced it has evacuated staff in the country due to safety concerns – warning of a looming humanitarian disaster in the region.
Concern had approximately 45 local and international staff based in eastern DRC, but evacuated workers from the towns of Masisi and Goma in response to escalating violence.
According to the UN Office for the Coordination of Humanitarian Affairs (OCHA), there were an estimated 2.4 million internally displaced people in DRC in October and 1.6 million of these were in the two Kivu regions of DRC.
OCHA in the North Kivu area alone now believe there are 800,000 internally displaced people scattered across the territory with 70 per cent of these living  with "host families".
"I have seen houses being systematically burnt in various villages in Masisi in order to forcibly displace families, " said Concern's Overseas Director Paul O'Brien. "I have heard small arms fire including rocket propelled grenades on two successive days and nights and have witnessed families – mostly women and children – moving in various locations to escape from one armed group or another.
Explaining the decision to evacuate staff, O'Brien said:
We have evacuated Concern's staff for their own safety, but this in turn means they cannot help the people affected by this crisis. The rapidly deteriorating security situation has greatly impeded Concern's work with those who were already displaced since this most recent conflict began in April 2012.
Parties to the conflict are reminded of their duty not to target the civilian population while at the same time ensuring those in need have access to humanitarian assistance.