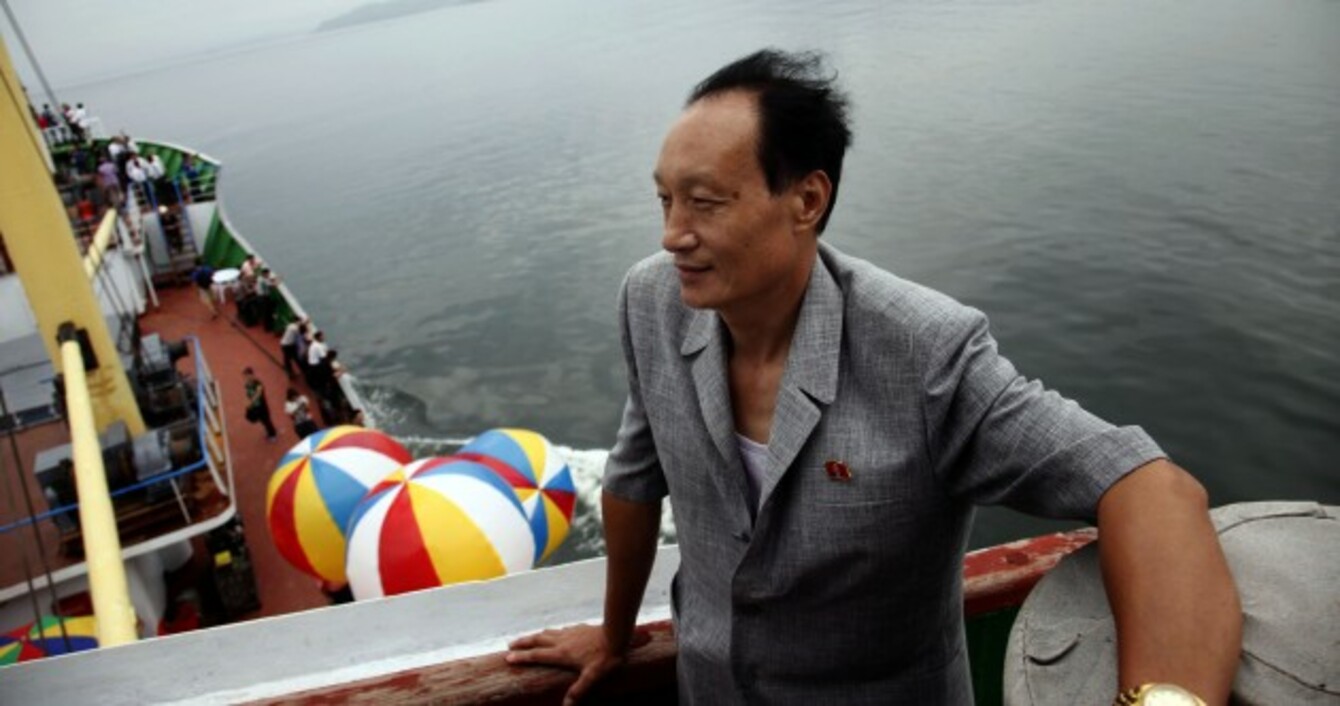 Image: Ng Han Guan/AP
Image: Ng Han Guan/AP
A RUSTY CARGO SHIP festooned with welcome banners today arrived at North Korea's Diamond Mountain resort – marking the launch of new tours from China, which snub Seoul and aim to replace suspended South Korean trips.
For a decade, the two Koreas jointly operated a golf resort ringed by Mount Kumgang's seaside vistas and jagged peaks just north of their border, but Seoul halted the reconciliation project in 2008 after a North Korean guard shot and killed a South Korean tourist.
With relations at a low point, the two sides have been unable to agree on terms for restarting the project. Instead, the cash-strapped North has now turned to China, seizing South Korea's assets at the site known familiarly abroad as Diamond Mountain and evicting its workers over Seoul's objections.
Now, North Korea is opening the site to other investors and welcoming tourists of all nationalities who will meet in the Chinese city of Yanji, drive three hours by road to the North Korean port city of Rason, and then go by cruise down the east coast by ship to Kumgang.
"We have opened the door, and it's open to the whole world," said Park Chol Su, vice-chairman of the Taepung International Investment Group, a North Korean government agency set up to attract foreign investment.
He said large-scale infrastructure projects were a priority and that discussions were under way with a few potential investors, though he wouldn't give specifics.
Seoul officials say they'll try to get foreign governments to boycott the plans, and it remains unclear how many non-Korean tourists will make their way to a resort that primarily drew nostalgic South Koreans.
The cruise would ferry tourists from Rason – a special, separately-administered economic zone in North Korea's far northeast, a few hours' drive from the Chinese city of Yanji – to Mount Kumgang, near the Demilitarised Zone dividing the Koreas.
The maiden voyage — a trial run — arrived today, carrying dozens of Chinese travel agents, international media and North Korean officials.
About 500 North Koreans lined up with military precision at the Rason port for a red carpet send-off yesterday, waving small flags and plastic flowers while revolutionary marches such as "Marshal Rides a White Horse" blared over the loudspeakers. Streamers swirled and balloons spiraled skyward.