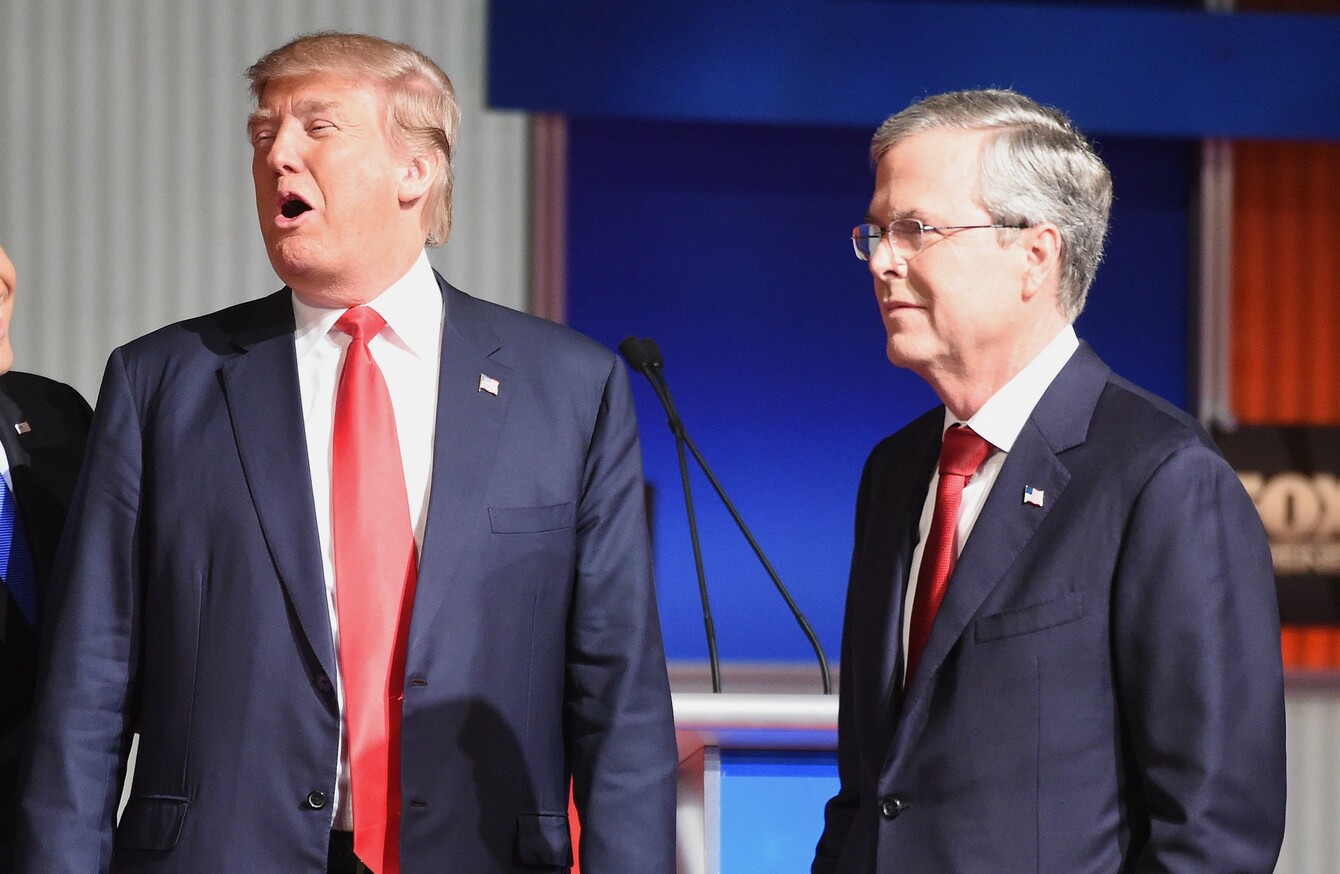 Image: Rainier Ehrhardt/PA Wire
Image: Rainier Ehrhardt/PA Wire
LAST NIGHT'S REPUBLICAN debate saw only one candidate come out strongly against Donald Trump's proposed ban on Muslims entering the United States.
Jeb Bush, brother of former US President George W. Bush, open slammed the policy proposal, saying that it would make it "impossible" to fight Isis and that the Kurds, who are Muslim, are America's strongest ally in the Middle East.
Others, including Ohio governor John Kasich and governor of New Jersey Chris Christie, said that while they were not behind a blanket ban on Muslims, they would favour temporarily not allowing Syrian refugees into the country.
Source: Jeb Bush/YouTube
The evening also saw Trump slammed by Ted Cruz, the man the polls are showing to be his biggest rival, for having 'New York values'.
With just 18 days to go before the Iowa caucuses take place, the two frontrunner were jockeying for position on a night that saw candidates vying to come off most hardline on the key issues of guns, foreign policy and immigration.
Previously, Trump and Cruz had maintained a unspoken truce as both men appeal for votes at the extreme end of the Republican spectrum.
Last night though Trump told CNN that the 'bromance' was over, with both men taking their most personal shots at each other yet.
Source: CNN/YouTube
Taking a side swipe at Trump, Cruz said:
I think most people know exactly what New York values are… everybody understands that the values in New York City are socially liberal, are pro-abortion, are pro-gay marriage and focus around money and the media. And I can frame it another way, not a lot of conservatives.
In response to this, the property magnate hit back by saying: "When the World Trade Centers came down, I saw something that nowhere on earth could have handled more beautifully, more humanely than New York".
During the debate Trump also hit out at Ted Cruz's eligibility to become President, due to his being born in Canada.
Growing tensions 
The debate among seven Republican candidates came as unease grows within the Republican party over Trump's frontrunner status.
The controversial celebrity has long led in national polls and his campaign shows no signs of collapsing before Iowa becomes the first state to vote in a long nominating process.
Trump has ridden a wave of populist anger with Washington, frustration over the nation's patchy economic recovery, and fear about a growing terrorism threat.
After months of tip-toeing around the frontrunner, the party establishment appears to be mustering its forces, believing his inflammatory message is more dangerous than the risk of him launching an independent run.
South Carolina's own Governor Nikki Haley fired the opening salvo against Trump during her rebuttal to President Barack Obama's State of the Union address Tuesday, calling on Republicans to ignore the "angriest voices" in their party.
Trump described Haley as a "friend," but the criticism brought into the open a struggle between a rebellious rank-and-file drawn to Trump's outsider populism and the party's conservative establishment.
- With reporting from AFP