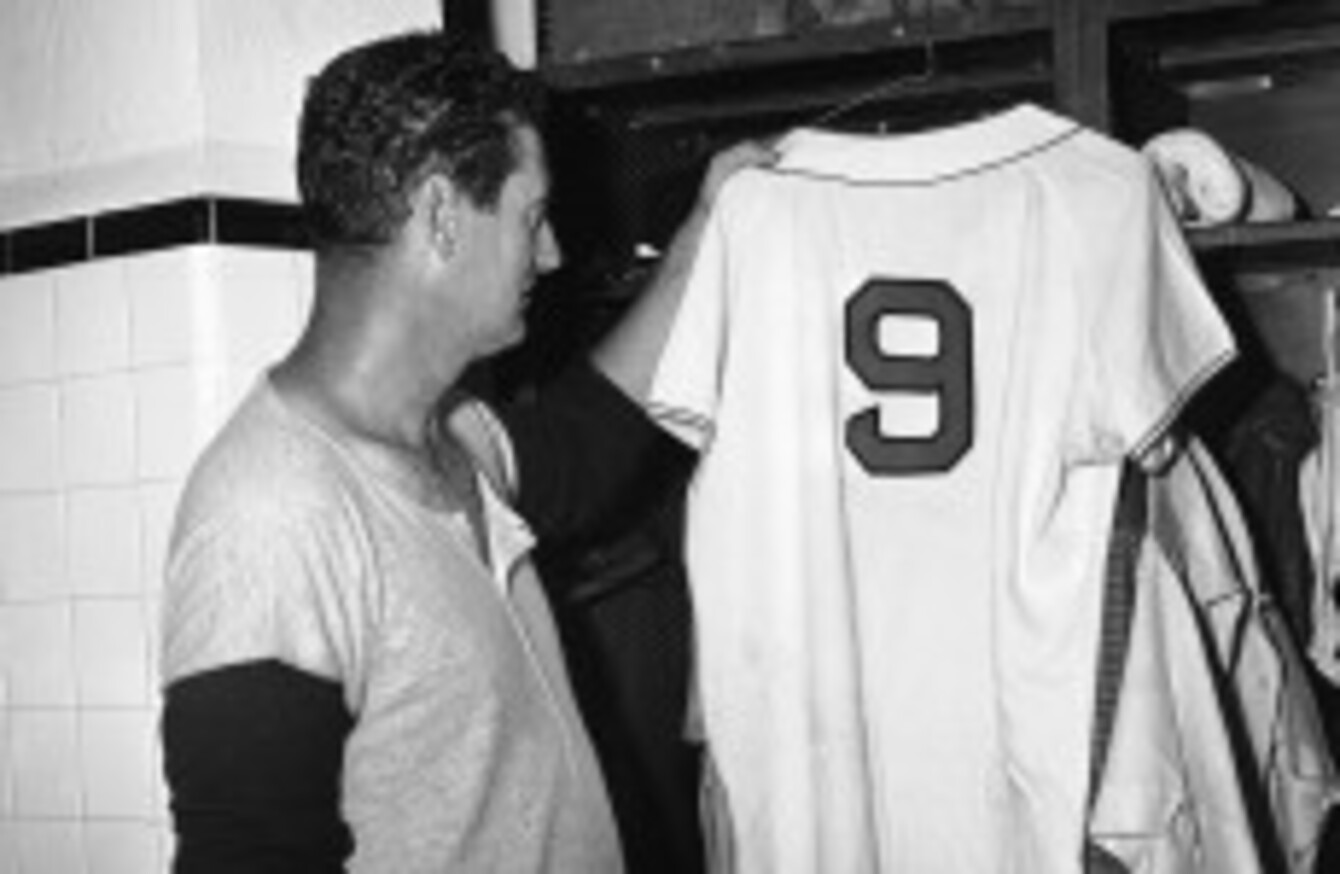 Ted Williams, Boston Red Sox slugger, hangs up his shirt with No 9 on it for the last time
Image: Frank C. Curtin/AP/Press Association Images
Ted Williams, Boston Red Sox slugger, hangs up his shirt with No 9 on it for the last time
Image: Frank C. Curtin/AP/Press Association Images
EVERY MORNING, TheJournal.ie brings you the nine things you need to know as you start your day.
1. #CAPTURED Boston police have captured the second Boston bombings suspect, finding Dzhokhar Tsarnaev (19) in a boat in a backyard in Watertown. He was wounded after a gun battle in which his accomplice brother was killed. There have been celebrations on the streets of Boston following the news. Police are now working to discover how and why the deadly bombings were carried out.
2. #TEXAS Officials have said that at least 12 people were killed and 60 people are still missing after the deadly blast that destroyed a Texas fertiliser factory earlier this week. Though authorities say it was likely caused by a fire, they are treating the blast site as a crime scene.
3. #WATER CHARGES The date for water charges could be decided next week, the Irish Examiner says. Minister for the Environment Phil Hogan  was speaking in University College Cork yesterday when he said that meetings will be taking place next week, after which the timing of when the charges will be imposed might be decided.
4. #DRUGS Gardaí have seized cannabis plants and herb with an estimated street value of €1.5 million. They were found during a search on a business premises last night in Kells, Co Meath, as part of an intelligence-led operation by the Kells Garda Drug Unit, assisted by the regional support unit. A man and woman were arrested at the scene.
5. #SAVITA Praveen Halappanavar is still asking how the life of his wife, Savita, 'ebbed away'. We take a look at how the inquest verdict yesterday will influence Ireland, while our timeline sets how how the death of Savita shocked a family, a hospital and a country.
6. #QUINN Junior Minister Brian Hayes has called for assets formerly owned by the Quinn family to be returned to the taxpayer, the Daily Mail reports. While in Kiev yesterday, he said that two of the assets had a market value of more than $100 million. According to Hayes, if returned to the IBRC they would help job creation by the Government.
7. #CHINA An earthquake measuring 6.6 on the Richter scale has struck China's southwestern Sichaun province, killing at least 56 people and injuring hundreds. It set off landslides, destroyed buildings and triggered a major rescue operation. Five years ago, the area was similarly struck by a quake.
8. #NEAR MISS Texan man Joe Berti completed last Monday's Boston Marathon, where a bomb exploded moments after he finished the race. Then, he returned to his home state of Texas, when he saw a fertiliser plant explode near Waco. He talks about how fortunate he feels to have left both tragedies unscathed.
9. #HSE The HSE is to monitor the SpunOut.ie website following the controversy over a 'threesomes' advice article. The Irish Independent says that articles due to appear on the site will be vetted more strictly by the Health Service Executive. The site was criticised by Deputy Michelle Mulherin for the information it gives to teenagers about sex.