2020 HAS PUT a dampener on all of our plans.
That includes Abba, who planned to release new music this year.
The Swedish group announced in 2018 that they were stepping back into the studio together for the first time in decades.
The new music was slated for 2020, but will instead be released in 2021 due to 'technical difficulties'. We won't hold it against them.
In light of the news this week, we've put together a quick quiz to test your knowledge of the group.
#Open journalism No news is bad news Support The Journal

Your contributions will help us continue to deliver the stories that are important to you

Support us now
TheJournal.ie's style guide dictates that acronyms commonly pronounced as a single word are written like that - so NASA is Nasa, NATO is Nato, and ABBA is Abba. What is ABBA an acronym of?
The first letter of the hometown of each member of the band.
The first letter of the first name of each member of the band.
I don't know, something in Swedish probably?


Where in Sweden was the band formed back in 1972?


The band's original name was a play on words, based on how the Swedish terms for "party people" and "engaged people" are quite similar. What was it?


The band didn't make it to Eurovision Song Contest with Ring Ring in 1973, but what song won it for them the following year?


What single was the band's only US number one?
I Ain't Nothin' But A Swedish Cowboy (God Bless The Flag)


Who divorced first?


In later years, the band's music began to portray the romantic and personal difficulties they were experiencing. When did they finally decide to call it a day?


The band's music saw a resurgence in popularity with the musical Mamma Mia. When did it open?
1965 - incredibly, it was released before the band were even formed.


How many new songs are the band releasing next year?


And finally, in Take A Chance on Me, how many times is 'chance' said? Answer all the questions to see your result!
PA Images
You scored out of !
You are a member of Abba.
There's no way you could have known all that without being Agnetha, Björn, Benny, or Anni-Frid.
You scored out of !
You know your pop!
You're a regular dancing queen, aren't you? Feel the beat from the tambourine etc.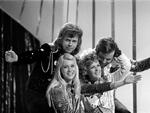 PA Images
You scored out of !
Not bad!
You must like your Abba, but it's impossible to know everything, right? Especially when you work all night, you work all day, to pay the bills you have to pay.
PA Images
You scored out of !
You took a chance on it, anyway.
Brush up a bit on your Abba knowledge. Perhaps if you've got no place to go? When you're feeling down?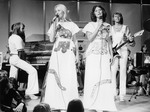 PA Images
You scored out of !
Swedish pop music not your strong suit, right?
You gave up on this quiz. Surrendered, perhaps, much like Napoleon at Waterloo did surrender.
You scored out of !
Ah here, had you not heard of Abba before now?
That's your only excuse.