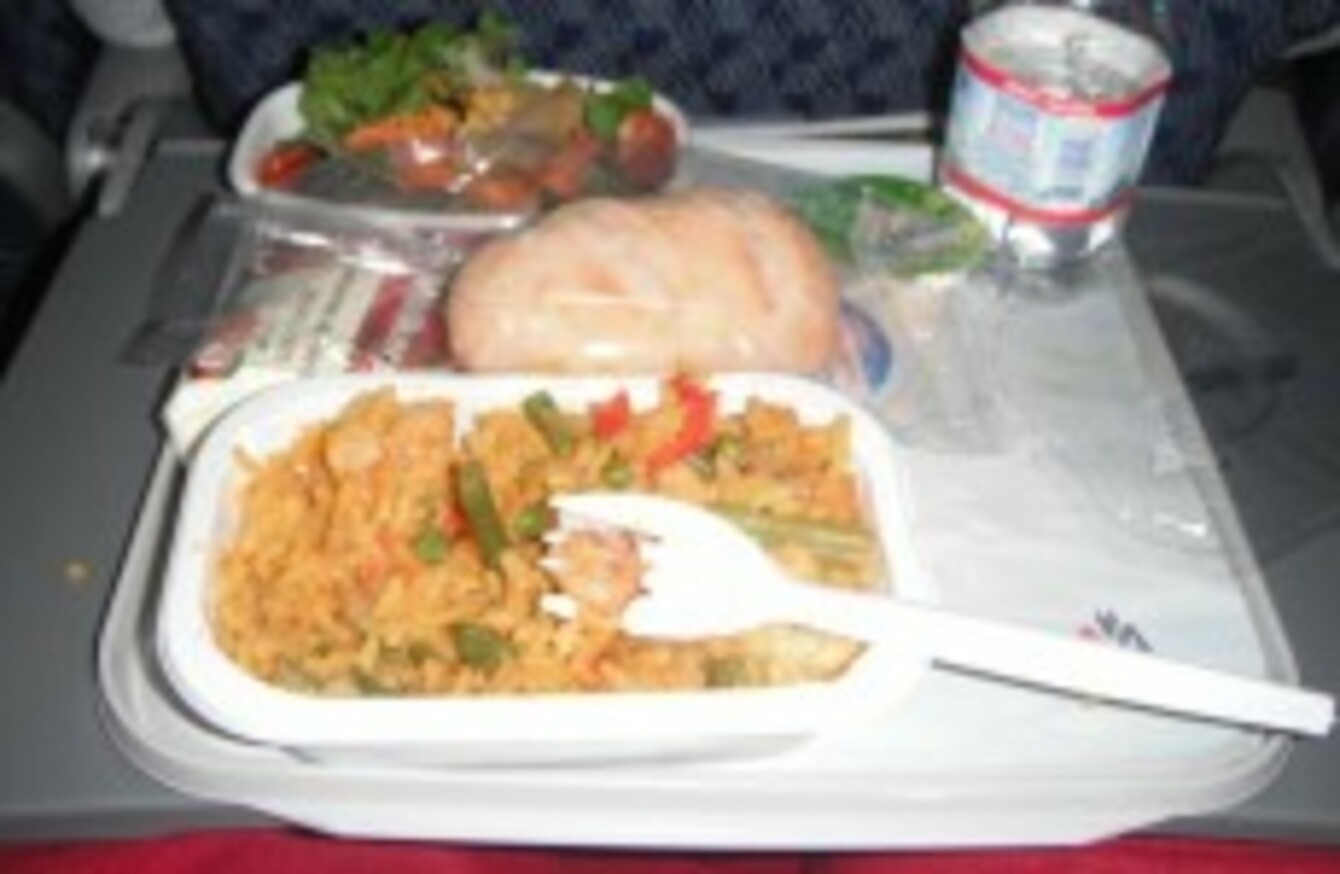 Yum.
Image: Paul Hosford
Yum.
Image: Paul Hosford
IF YOU'VE EVER flown any distance, you'll know all about the fear and anticipation that comes with the trolley rumbling its way to your seat.
If you're lucky, you're at the front of the plane and have a choice of dishes, but down the back – that's where you get what you're given.
The subject of aeroplane food has been the subject of thousands of hackneyed jokes and awkward conversations when you're just off a plane and wrecked tired. But, why hasn't it gotten any better in the last 20 years?
The answer is less to do with general rankness than it does to do with science.
The German research facility the Fraunhofer Institute tested why food that would be otherwise taste just fine, becomes hell in the skies.
What the tests show is that eating while above 8,000 feet (the point at which the cabin becomes pressurised) is like eating when you've a really bad cold.
"In the air, food and drink tastes as it does when we have a cold," says aroma chemist Dr. Andrea Burdack-Freitag, explaining the effects of reduced pressure in the aircraft cabin on our taste experience.
The tests carried out for German national carrier Lufthansa found that taste buds are dulled by up to 30% once the air is pressurised.
The results of previous experiments from this comprehensive series of tests had shown that salt is perceived to be between 20 and 30 percent less intense and sugar 15 to 20 percent less intense. The perception of fruity aromas and acids is by contrast more stable. This means for example that the flavour of Asian dishes, which have a very intense aroma anyway, remains stable at low pressure. Milder dishes such as fish or poultry, on the other hand, require much more seasoning with salt and herbs.
Added to this, cabin humidity is typically 20%, whereas most homes are around 30%. This dries out your nose and makes it harder to smell, and thus appreciate, food.
In response to those findings, the Lufthansa chefs added more and more flavouring, but Burdack-Freitag says that the results were subjective and it was only possible to adapt the results to the average tastes.
Changing tastes
That creates a problem for chefs: if you can't season your food to make it taste better, what can you do?
For Lufthansa, its a case of umami. The fifth taste – outside sweet, sour, salty and bitter – generally means pleasant savoury tastes.
By adding foods rich in umami, Lufthansa hope to create a "flavour profile", which will appeal to airborne diners.
This means more fish sauces, MSG and tomatoes on their flights.
Saucy
Because of the limited space on aeroplanes, the options for what you can and can't cook is limited. That is why when modern air travel evolved, it was suggested that three items be staples: beef bourguignoin, coq au vin and veal in cream sauce.
The theory that "wetter is better" still pervades the industry, meaning that most carriers will attempt to keep dishes, which undergo radical temperature changes pre-preparation, at least moist. Of course the pre-preparation makes the idea of tenderness in most meats a fantasy, but the moisture of a sauce at least keeps the food edible.
However, the key is to making sure that the sauce is full of umami.
There is an incentive for airlines in this: some research shows that there is a link between the makeup food and how much travellers enjoy their flight.
So, next time you're given a plastic and foil container, remember to ask how much umami is in it.