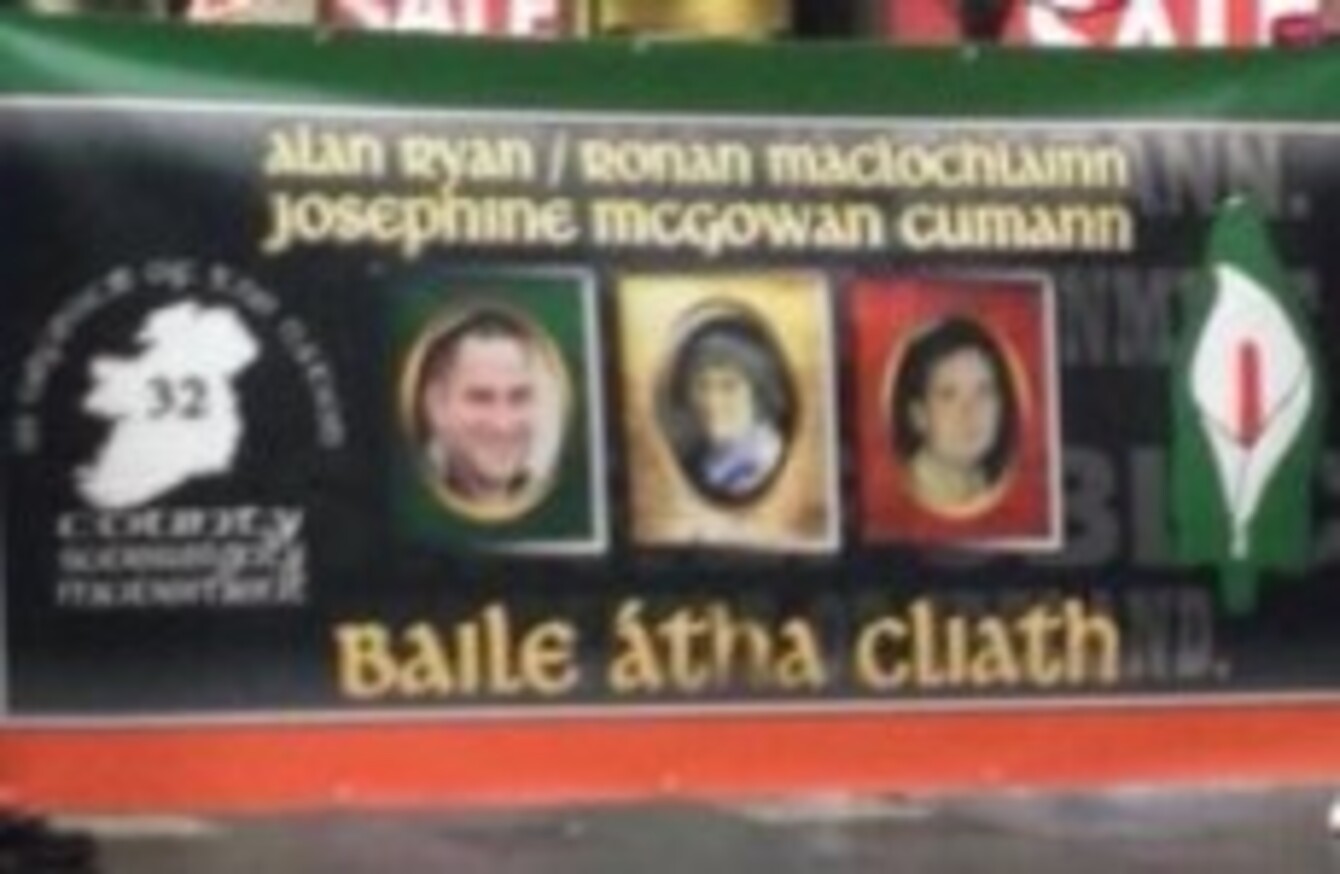 The banner featuring the face of Alan Ryan, left, on O'Connell Street today.
The banner featuring the face of Alan Ryan, left, on O'Connell Street today.
THIS WAS THE scene on O'Connell Street this afternoon in the midst of the bustle of Christmas shoppers and traffic.
A protest by a group called the 32 County Sovereignty Movement over the incarceration of "political prisoners" featured a banner celebrating three figures of the republican movement – including the recently-murdered dissident republican Alan Ryan.
Ryan, a leader of the Real IRA in Dublin, was shot dead in Clongriffin in Dublin in September this year. He had a conviction for taking part in a Real IRA training camp in 2001 and for firearms possession. His funeral featured a paramilitary-style gun salute and his cortege was attended by a number of republicans dressed in fatigues with faces hidden behind sunglasses and half-masks.
Ryan's appearance on a banner being held by the group of about 15 to 20 silent protestors appears to elevate him to the status of martyr.
The other two faces featured on the banner are Cumann na mBan volunteer Josephine McGowan who was stationed in Marrowbone Lane during the 1916 Easter Rising, and Ronan MacLochlainn, a Real IRA member who was shot by gardai during an attempted armed robbery in Ashford, Co Wicklow in May 1998.
Onlookers said the group of protestors, who held other banners claiming the  imprisonment of Marian Price as a breach of human rights, stayed silent throughout. They were lined up along the central traffic island on O'Connell Street, with shoppers rushing in and out of Clerys department store behind them and a group of Christmas carol singers fundraising for a homeless persons' charity on the other side of the street.
The case of Marian McGlinchey, also known as Price, is ongoing at the Magistrates Court in Derry. She was arrested in May of last year, charged with addressing a dissident republican rally. Sinn Féin President Gerry Adams and Stormont Deputy First Minister Martin McGuinness have written a joint letter to senior US political figures and others, as well as lobbied the Irish and British governments, urging for the release of Marian Price McGlinchey. They say that she has been held mostly in isolation and that her health is deteriorating swiftly.
© TheJournal.ie
© TheJournal.ie