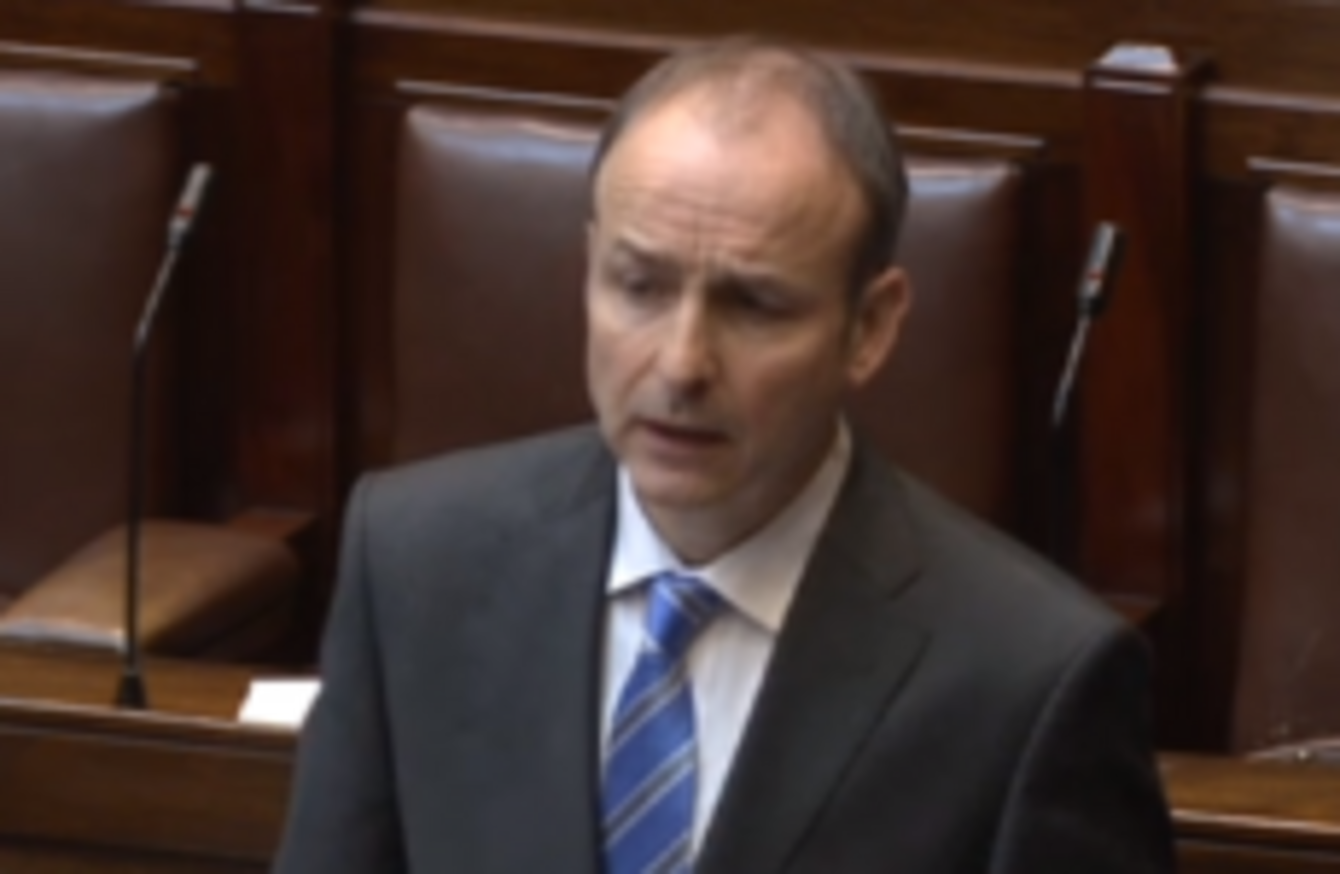 Micheál Martin speaking in the Dáil today.
Image: Screengrab via Oireachtas TV
Micheál Martin speaking in the Dáil today.
Image: Screengrab via Oireachtas TV
FIANNA FÁIL LEADER Micheál Martin said that it is "inconceviable" Justice Minister Alan Shatter was not briefed by members of his department on a letter sent to him by former Garda Commissioner Martin Callinan on phone tapping in Garda stations.
During Leaders' Questions, Martin added that it is "somewhat incredible and very difficult to comprehend" that Shatter was not made aware of the letter until last Tuesday, given the fact he met with the Taoiseach, the Attorney General and the General Secretaries of the Departments of the Taoiseach and Justice the day before.
Enda Kenny said he was "assured by the Minister of Justice that he was not so briefed [on the letter] … There was no discussion about the letter or about its contents at that meeting [on Monday, March 24]".
Garda Commissioner
Martin referred to section 41 of the Garda Síochána Act 2005 where it states that the Garda Commissioner of the day "shall keep the Minister and the Secretary General of the Department of Justice, Equality and Law Reform fully informed of … significant developments".
He added: "It's not the kind of letter the Minister gets every week."
Martin also queried when Kenny informed Eamon Gilmore of the situation, asking: "Where is the Tánaiste in all of this?"
Kenny confirmed that he did not call Gilmore to bring him up to speed until the morning of Tuesday, March 25.
Kenny said that "the letter is now in the public domain … so that everybody can read [it]."
Sinn Féin leader Gerry Adams stated that the government had dealt with recent issues with "amazing inefficiency" and said Shatter's handling of the various controversies relating to the Garda Síochána "marks him out as unsuitable for office".
He said that the government, the former commissioner and GSOC "are all working against each other".
Prisoners' conversations recorded
Kenny admitted that "very serious" matters had come to light following the revelation that Garda phone calls to two witnesses in the Sophie Toscan du Plantier murder investigation were recorded. Ian Bailey claims that Gardaí tried to frame him for the murder.
He noted that the number of Garda phone recordings "seem to be growing", adding that the Irish Prison Service has informed the Minister for Justice that conversations between dozens of prisoners and their solicitors were "inadvertently recorded".
He said that the Prison Service became aware last Wednesday, 26 March, that there was "an anomaly" whereby 84 prisoners who "had more than one solicitor in the system" had conversations with their solicitors taped.
Kenny said he has asked Shatter to get a report from the Prison Service on "how this happened".