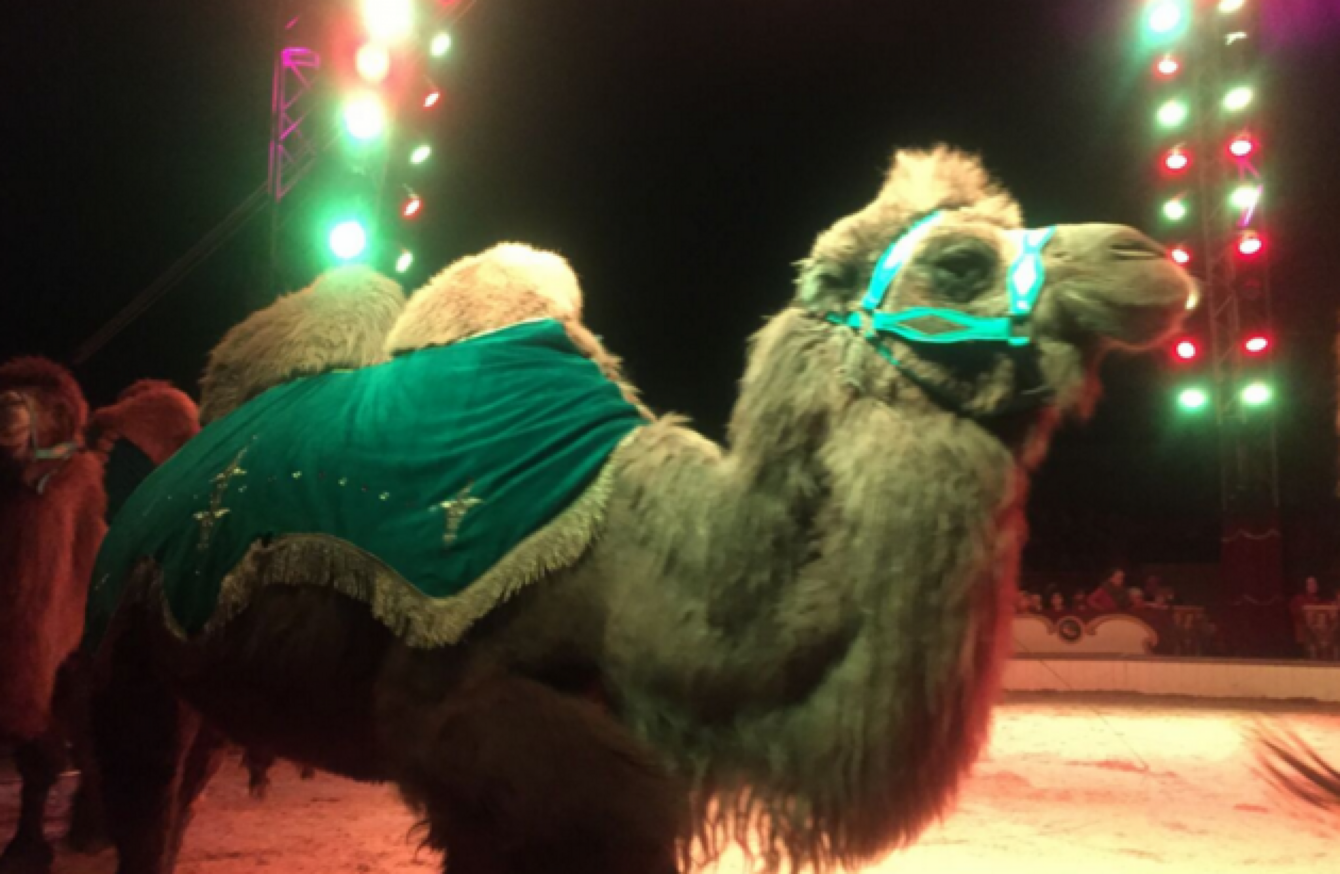 Image: ISPCA
Image: ISPCA
2016 HAS BEEN hailed as a year of victory for campaigners trying to put an end to the use of animals in Irish circuses.
Though the Department of Agriculture has been clear that it has no intention of introducing legislation prohibiting the use of animal acts, a number of councils across the country this year backed bans on animal circuses on public land.
This year saw a violent protest outside a circus in Tallaght, in south Dublin, with six people arrested by gardaí. The protesters were there to object to the presence of Circus Belly Wein, a formerly Netherlands-based circus that uses dozens of live animals including three elephants.
In response to parliamentary questions from Anti-Austerity Alliance TD Ruth Coppinger, Agriculture Minister Michael Creed said his department has received general complaints from members of the public about the welfare of circus animals.
Over the last year, four circuses were inspected by officials, but he said "no significant animal welfare issues were identified".
Speaking to TheJournal.ie, John Carmody of animal welfare group ARAN, described these inspections as "absolutely meaningless".
On paper they look fantastic, but when it comes to reality it's meaningless. They might go in for half an hour, 40 minutes or maybe even an hour and they write down their observations and send a file back to the department. Those inspectors are not following these animals around for the 365 days a year that they are being dragged from town to town, city to city, tethered up in chains while the circus is on the road.
The Department of Agriculture said in addition to inspecting the general health and welfare of animals, inspectors also examine the "competence of circus management, environmental conditions, including structures and facilities and number and species of animals present on holding(s)".
Responding to Coppinger's questions, the minister restated his Department's reluctance to ban the use of wild animals in circuses.
"My department continues to engage with stakeholders, including circus groups, animal welfare organisations, in relation to the welfare of wild animals in circuses," he commented. "According to the information available to my Department, there are in fact very few wild animals currently performing in Irish circuses."
However Carmody said the face that only a small number of circuses now use wild animals has been mostly due to the battle by campaigners to highlight animal neglect for the public and to push local councils into taking action.
"As it stands, Ireland should be hanging its head in shame," he said, noting that Scotland had recently pledged to ban animal circuses. "It is going to be European pressure that eventually forces us to do it here. Until then, animals will continue to suffer in Irish circuses."
He acknowledged that 2016 had been "a fantastic year of progress" for the campaign but said he was concerned circuses could "bring in new exotic acts for 2017."
"We've made so much progress now, I'm hoping they don't go back".