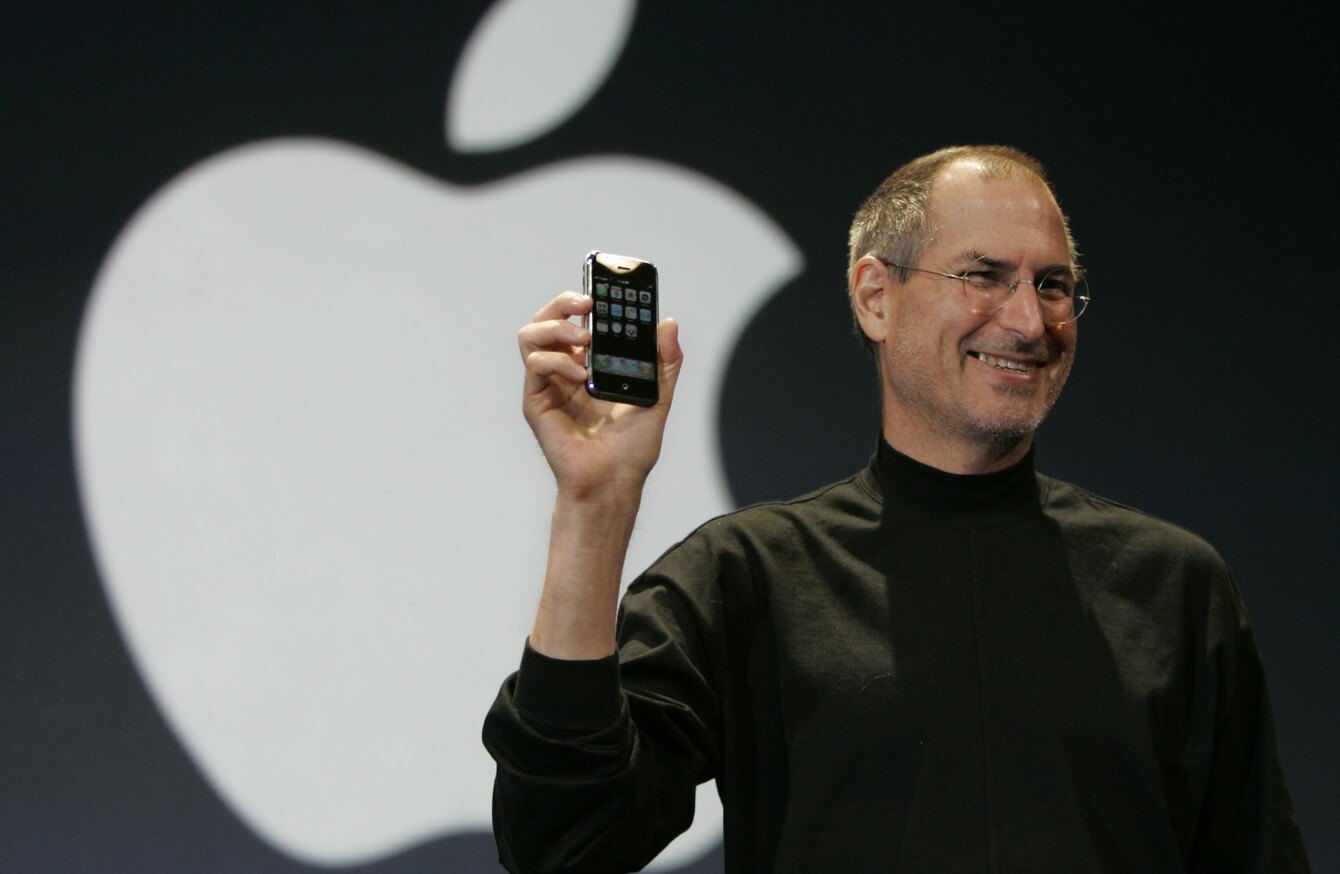 Image: AP Photo/Paul Sakuma
Image: AP Photo/Paul Sakuma
THIS DAY FORTY years ago, Steve Jobs, Steve Wozniak and Ronald Wayne founded a company designed to make and sell computers.
Apple didn't set the world alight with its first computer, but the years that followed saw it release a wide variety of products in its 40-year history. Some were successful, others not so much.
Here are some of the more noticeable successes and missteps from the company.
Successes 
Apple II (1977)
While the original Apple computer didn't make much of a dent, the Apple II was the company's first hit. A more commercial product, it was one of the first successful microcomputer products released and came with 4kB of RAM, colour graphics and an audio cassette for loading programs.
Macintosh 128k (1984)
This might be a controversial one but bear with us. While the Apple II range was aimed more at businesses, the Macintosh range was aimed at the personal computer market.
It had its problems, high pricing and underpowered specs were two, but it found its footing in education and desktop publishing thanks to it being bundled with the desktop publishing program Aldus Pagemaker (from the company now known as Adobe).
Its real success was the legacy it left. After it, Apple released the Macintosh Plus two years later, a better machine that was a hit with creatives, and it eventually led to what is now known as the Mac range.
iPod (2001)
It's hard to believe it's been 14 years since the first iPod was launched but 2001 would be a defining year for Apple.
Solely being in the computer business at the time, Steve Jobs announced the 5GB device (a 10GB arrived later) saying you could put "1,000 songs in your pocket". At that time, the market was taken up by a mismatch of MP3 players, but by 2004, the iPod dominated the digital music market.
iPhone (2007)
While it's easy to mock the range, the original iPhone is responsible for the type of smartphone you have in your hand. Before then, smartphones were lumbering, unintuitive devices designed only for tech-savvy users, but Apple changed that by creating a device that was simple to use thanks to a touchscreen interface.
While its sales may have plateaued now – and Apple is hoping the 4-inch iPhone SE will recapture some of the magic - every smartphone out there owes a great deal to the original version.
Missteps
Macintosh Performa (1992)
Effectively a renamed version of Apple's computers, the Performa was underpowered thanks to the cut-down hardware used to make it, putting it at a disadvantage against other rival companies.
Add to that a large number of models released between 92 and 97, which caused much confusion among consumers, and the Performa range is seen as the low point of the Macintosh range.
Apple Newton (1993)
Most people would likely know the Newton from a joke in The Simpsons and for good reason. Apple's first attempt at a tablet was riddled with problems. Bad battery life and an inability to recognise handwriting meant it was widely mocked. Newer versions fixed many of the original's problems but the damage was done.
Bandai Pippin (1996)
A games console that was probably a bit too far ahead of its time, the Pippin was designed for online play. The problem: it was released in 1996 meaning few people had a good enough connection to use it. The availability of better alternatives like the PlayStation, and the release of the Nintendo 64 the same year meant it was dead on arrival.
The U2 iPod (2004)
Apple's relationship with U2 had been mostly positive, thanks to its relationship with it and iTunes, but there had been a few missteps along the way. One of them was a U2-branded iPod which was more expensive than the normal iPod and the only real difference was cosmetic. The device was a flop
That wasn't the only time U2 was at the centre of Apple controversy. Back in 2014, U2′s album Songs of Innocence was added to the music library of every iTunes user automatically.
People weren't happy so Apple had to offer instructions about how to delete it.
So what's next?
While it's still one of the most valuable companies in the world – only recently overtaken by Google's parent company Alphabet – it does feel like Apple is at a crossroads.
iPhone sales are expected to fall and Apple is hoping that the SE will help correct that slide while other products like the iPad Pro and Apple Watch, which could help take some of the pressure off the iPhone range, are too new to say whether they're a success or failure.
One of the criticisms Apple received at last week's event was it didn't announce any new products, just old products with new hardware, and while that is true, it's unreasonable to expect it (or any company) to announce new products every year.
From the outside, the direction it's heading in might not be clear, but if it's moving into different areas like electric cars and VR as rumoured, then it's better for it not to rush it.
Sure the stakes are higher now than they were a few years ago, but if Apple has shown anything in its 40 years, it can continue holding on even when things aren't going well. Who knows whether it will need those skills this year or not.