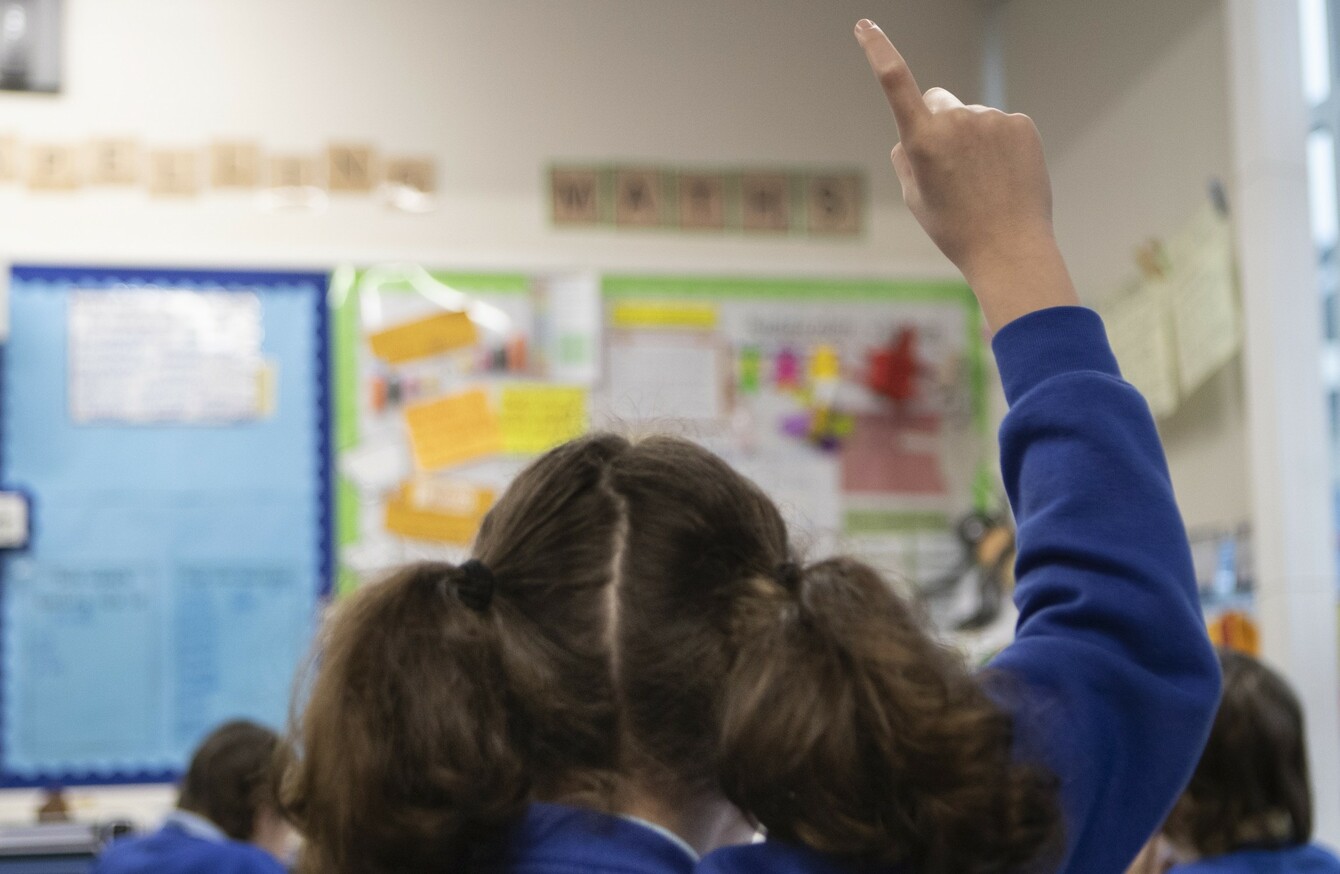 File photo
Image: PA Images
File photo
Image: PA Images
Updated Mar 18th 2020, 5:54 PM
SCHOOLS IN NORTHERN Ireland and England are set to close this week amid the Covid-19 crisis, it has been confirmed.
Schools across the UK will close from Friday until further notice for all pupils except children of key workers and the most vulnerable, Education Secretary Gavin Williamson has said.
As Williamson informed the House of Commons of the update, Prime Minister Boris Johnson explained the reason for the decision in his daily press conference this evening.
Johnson said part of the reason schools in the UK had remained open to date was to "reduce pressure on the NHS" as many healthcare workers would have to arrange childcare.
"We need schools to make provision for these key workers who would otherwise stay at home. They need to look after other vulnerable children. They're needed to slow the spread of the disease," Johnson said, asking nurseries and private schools to do the same.
Johnson asked schools to provide "financial support where it's needed" such as vouchers for children eligible for free school meals, saying the government will reimburse the cost.
The decision was welcomed by teachers' unions who have called for schools to be closed amid staff shortages – with some reported having a third of staff off sick or self-isolating because of Covid-19.
Johnson noted that the closure of most schools means exams will not take place as planned in May and June, stating: "We'll make sure pupils get the qualifications they deserve for their academic career."
He said the decision will be "frustrating" for many parents and it will "make it harder to go out to work". "That's why we're working on further measures to support businesses, and individuals and families, to keep our economy going," he said.
Johnson stressed that children should not be looked after by "older relatives who may be particularly vulnerable".
"I know that will be difficult too. I want to thank the whole country for efforts they're making to comply with these measures. All the support staff – making these exceptional measures work to the benefit of all.
"We will take the right steps at the right time guided by the science. The steps already taken are slowing the spread of the disease. We will not hesitate to go further and faster in the days ahead."
'Unprecedented' 
Schools in Northern Ireland will close to pupils from 5pm today, although teachers will attend for another two days, according to PA.
Stormont First Minister Arlene Foster confirmed schools would be closed from next week and could remain closed until the summer.
Foster said: "The societal and economic impact of this measure will be enormous." She added that the closures were "unplanned and long-term", saying: "This is unprecedented."
The decision relating to Northern Ireland and England was widely expected after it was earlier announced that schools in Scotland and Wales would close.
The Welsh government said all schools will close for an early Easter break by Friday at the latest, just minutes before First Minister Nicola Sturgeon announced schools in Scotland will also close by the end of the week.
The number of confirmed Covid-19 cases in the UK rose by 676 to 2,626 today; there have been 104 deaths. There are 68 confirmed cases of the virus in Northern Ireland.
Renters
Meanwhile, British Housing Secretary Robert Jenrick has said the government will introduce emergency legislation to suspend new evictions from social or private rented accommodation "during this national emergency".
Earlier in the House of Commons, Johnson promised to protect private renters from eviction due to the spread of coronavirus as he said the government was overseeing "unprecedented" steps to manage the crisis.
The prime minister said further measures would be introduced to protect the vulnerable and those who face job losses, adding: "This is a national emergency and we're asking the public to do things, to take actions in a way that is really unprecedented for a government in peacetime and perhaps even unprecedented in the last century."
During PMQs, Labour leader Jeremy Corbyn pressed Johnson on his plans for those who are renting.
Johnson said: "I can indeed confirm that we will be bringing forward legislation to protect private renters from eviction, that is one thing we will do, but it is also important as we legislate that we do not simply pass on the problem, so we'll also be taking steps to protect other actors in the economy."
PPE
Corbyn also questioned Johnson on the amount of personal protective equipment (PPE) issued to NHS staff for when they are treating patients with Covid-19. There have been reports of regional problems with supply of equipment, with some staff saying there are not enough face masks to go round.
#Open journalism No news is bad news Support The Journal

Your contributions will help us continue to deliver the stories that are important to you

Support us now
Corbyn also said measures to ramp up testing in the UK were not enough. He said: "The World Health Organization said test, test, test, and we should be testing, I believe, on an industrial scale."
The Labour leader said 10,000 tests per day is "nowhere near even the number of people working in the NHS and the care sector", adding: "It is a massive undertaking and I wish there was a greater sense of urgency from the government in getting this testing available for all staff."
Johnson said the NHS was now moving to carrying out 25,000 coronavirus tests per day – a new announcement.
He added: "There is a massive effort going on, comparable to the effort to build enough ventilators, to ensure that we have adequate supplies of PPE equipment not just now, but throughout the outbreak."
On ventilator numbers, Johnson said: "We already have 8,000, and we're moving rapidly upwards."
Contains reporting from PA and Sean Murray