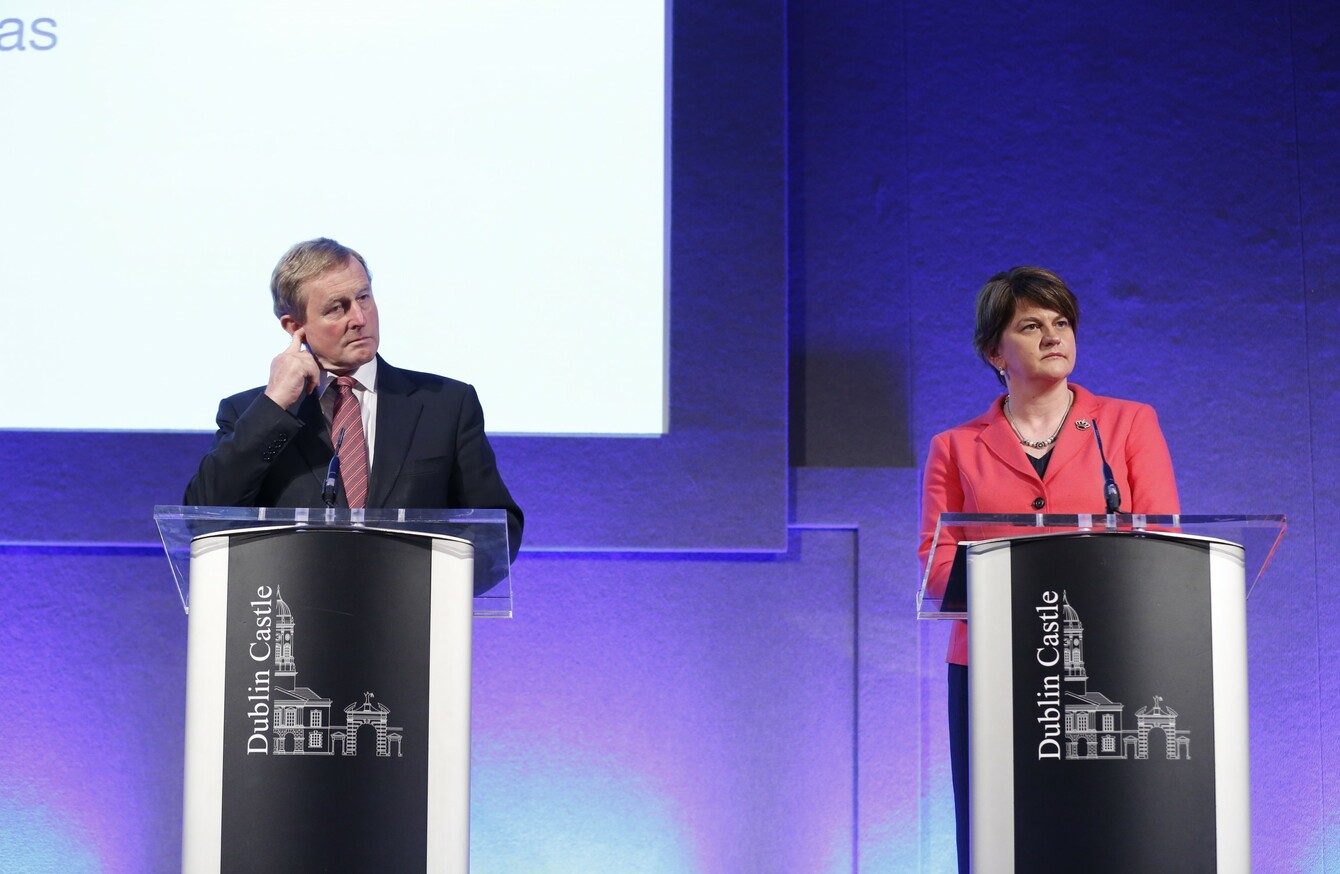 Taoiseach Enda Kenny and Northern Ireland First Minister Arlene Foster.
Image: RollingNews.ie
Taoiseach Enda Kenny and Northern Ireland First Minister Arlene Foster.
Image: RollingNews.ie
A FIANNA FÁIL TD has refuted comments made by Arlene Foster that the Irish government seeks to 'poach' investors from Northern Ireland.
Foster, the First Minister of Northern Ireland, was speaking today about opportunities post-Brexit when she suggested that the Irish government 'talks down' the North's economy and takes its potential investors.
In her first speech as Democratic Unionist Party leader, Foster had some strong words for Enda Kenny's government:
"Their representatives are sent out around the world to talk down our economy, and to attempt to poach our investors."
Now, it's clear conference, that the one place that a hard border does exist, is in the mind of the Irish government.
Well I don't believe in a hard border, and I'm happy to welcome any shoppers looking for a bargain from anywhere across the border anytime soon.
The chair of the Joint Oireachtas Committee on Foreign Affairs and Trade, Brendan Smith has reacted to the comments made by Foster.
"While, of course, we need to be aware that the First Minister was speaking to her political base, it is absolutely incorrect for her to suggest that the Irish government talks down the Northern Irish economy, and that Ireland seeks to poach investors away from Northern Ireland."
No Irish government, irrespective of who is in office, talks down the Northern Irish economy. In fact, the opposite happens.
"When I was Minister for Agriculture and Food, every opportunity to speak about the all-island economy was taken, and to attract investors to the island."
"For years, I have called for greater and deeper cooperation between the industrial development agencies in both jurisdictions to promote all-island economic development."
"I would hope that the First Minister would join with all of us who want increased cooperation to maximise foreign investment on the island, and especially in the border region."
"A single all-Ireland industrial promotion agency would have huge benefits for the entire island. We need to build further to realise the full potential of the Good Friday Agreement.
The First Minister can show leadership on this matter, and work with the Irish government to make this a reality. I hope she takes the opportunity," concluded Smith.