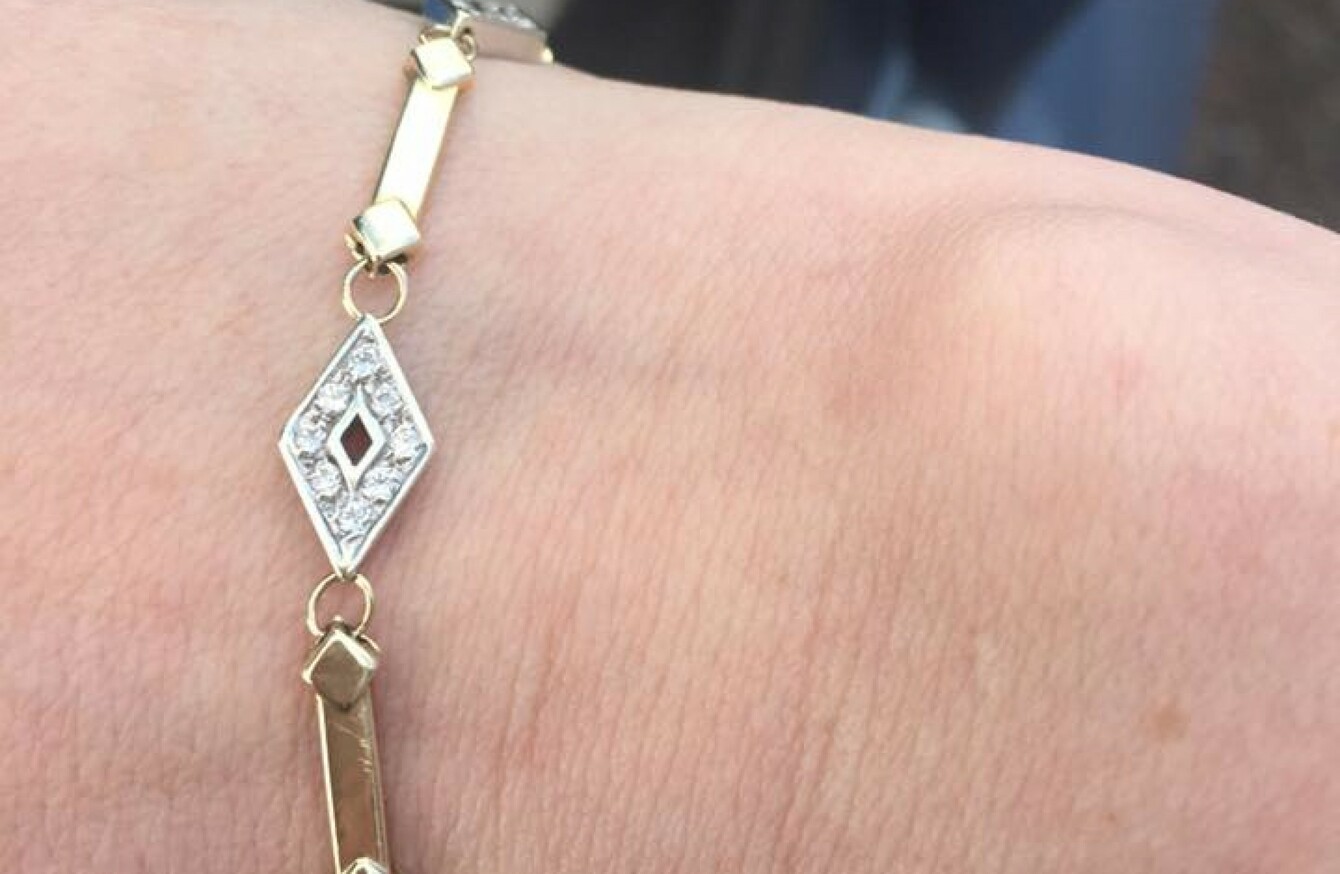 A bracelet similar to the one that went missing.
A bracelet similar to the one that went missing.
THE WIDOW OF a man killed in a freak accident has appealed for help in finding a bracelet he had given to her.
Elaine Bowens told The Anton Savage Show on Today FM that the bracelet has "huge sentimental value".
She said her husband Pa had given it to her for Christmas.
In her initial email to the show, she said:
"I'll give you my background story my name is Elaine Bowens and in August 2014 I was diagnosed with an aggressive brain tumour, which I had surgery to remove.
"I received treatment and finished it all last May.
We have two little boys and we were just starting to get our lives back, when my husband was killed in a freak accident whilst erecting lights at his mother's funeral. Obviously my whole world has been turned upside down and I'm totally devastated. I'm trying to keep going and be positive for our two young boys.
"Last Tuesday whilst shopping in Athlone I lost a gold and diamond bracelet which my husband Pa gave to me a few years ago. I have searched everywhere and every shop has helped and it's all over Facebook and still nothing.
"I'm at my wits end now."
She said that her husband had been a "great support" during her illness and called him a "great man".
She explained to the show that Pa had been an organ donor and had saved at least two lives. She said that when she realised the bracelet was missing, she had to pull the car over.
"I'll never get anything off him again."
The bracelet was lost somewhere in Athlone on the 29 March. Elaine had been shopping in the Golden Island Shopping Centre, the Athlone Town Centre, Woodies and many shops in the town.
If you can help, email anton@todayfm.com.