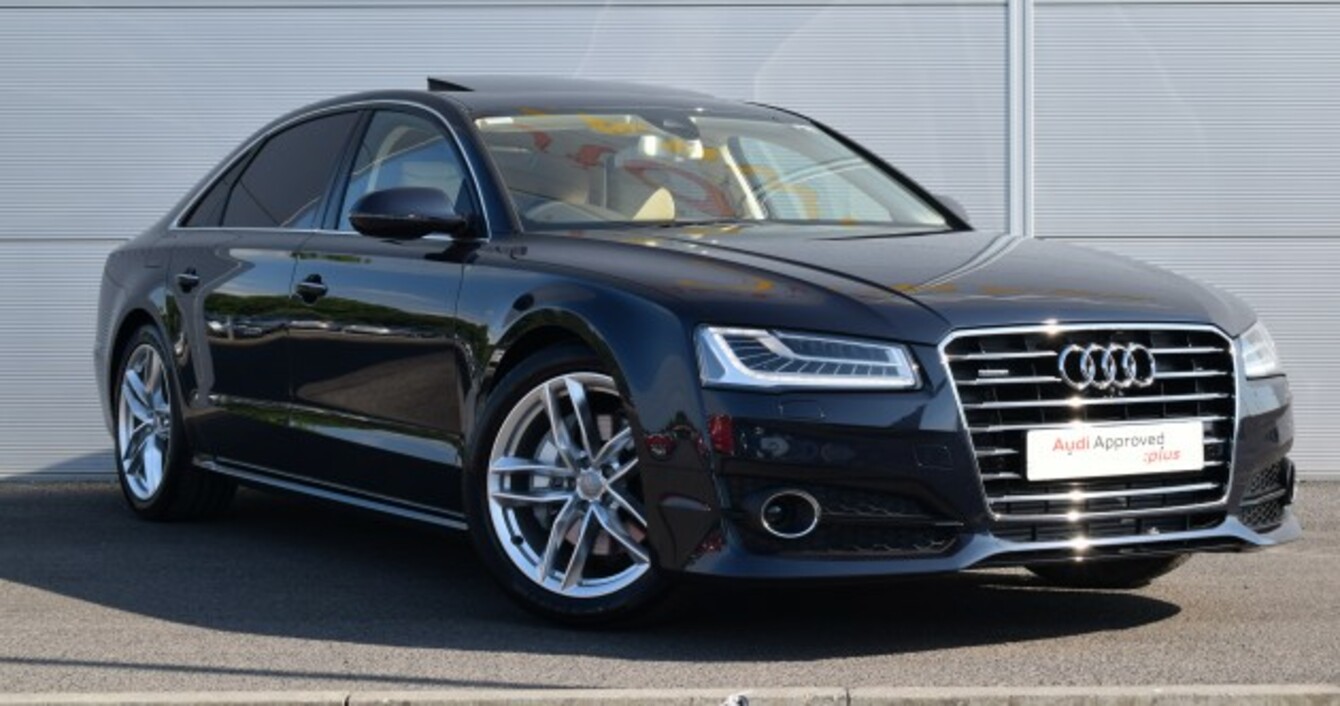 Image: Audi Ballina
Image: Audi Ballina
THE AUDI A8 is one of the most luxurious saloon cars currently on sale and in this long wheelbase form you could feel like a Head of State as you're driven around.
Its conservative styling adds a real sense of class to what is a mobile cocoon of fine leather and polished wood.
This particular car is the SE Executive trim, Long Wheel Base (LWB) model.
It is powered by a 3.0-litre turbocharged diesel engine that produces 262hp, while its 580Nm of torque means that it powers along almost effortlessly. This six-cylinder engine utilises Audi's latest diesel technology and is highly efficient, consuming just 5.8 litres/100km on a combined cycle.
Acceleration is impressive, with the car capable of reaching 100km/h in just 6.1 seconds. This is thanks in part to its quattro all-wheel drive – meaning power is evenly distributed to all wheels no matter the weather conditions to ensure maximum grip.
Along with that is an eight-speed automatic transmission that slips between gears almost seamlessly, but should you want to take more control, steering-wheel-mounted paddles allow you to shift manually too.
Electrically-assisted power steering is light to the touch while the front and rear park assist as well as the reversing camera make fitting into tighter spaces that bit easier.
Among the high-tech features on this Audi A8 LWB are the Matrix LED headlights.
These advanced units consist of 25 light-emitting diodes that serve as the car's high-beam. An on-board camera monitors the road ahead, and when an oncoming vehicle is detected it automatically adjusts segments of the LED to dynamically dip the headlight.
Only the area of the other vehicle is dipped allowing for more of the road to be illuminated – and this adjusts as the car moves.
Of course, being a long wheelbase model the rear passengers get to travel in real luxury. There's as much legroom as you would expect to find on a business class seat on an airplane and rear privacy glass adds to the occasion.
The rear does allow for three passengers, but the central backrest folds down to reveal a comfortable leather and wood lined armrest that includes rear climate controls and adjustability for the heated rear seats. Even the bootlid is electrically operated and opens to reveal a 520 litre capacity.
This 2016 Audi A8 LWB falls into tax band D, which is €570 a year. It comes with just 53km on the clock and a €114,050 price tag.
If this Audi A8 LWB ticks all the right boxes as your dream car, then contact Audi Ballina, Co Mayo, to arrange a test drive.
View the full advert here: Audi A8 LWB