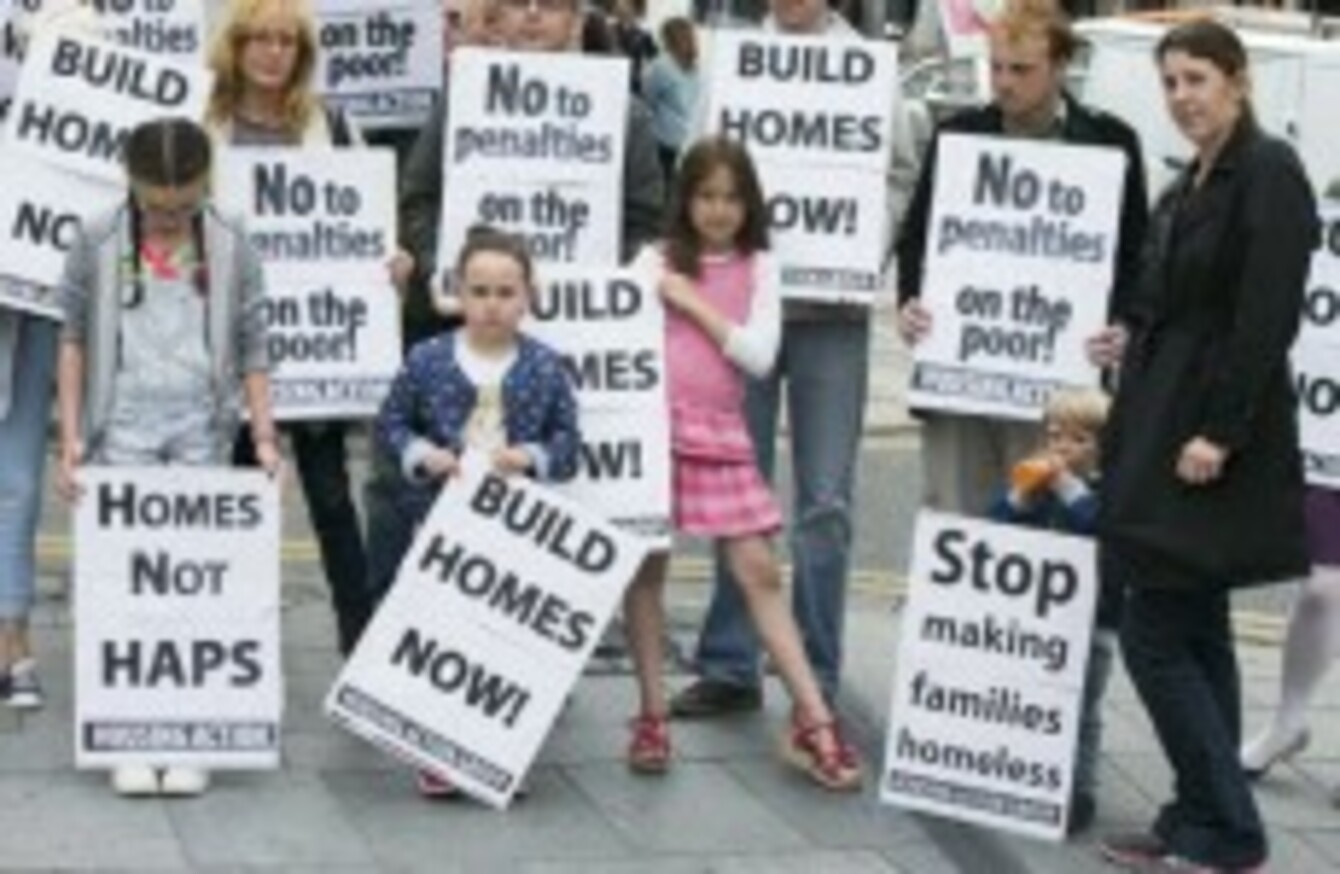 Ballymun residents protesting earlier in the month
Image: photocall
Ballymun residents protesting earlier in the month
Image: photocall
BALLYMUN RESIDENTS PROTESTING the rent allowance ban and the unsuitability of accommodation for homeless families are occupying their local civic centre, where a council meeting is underway this evening.
Protesters from the Ballymun/Finglas Housing Action Group have been putting questions to the councillors and presented them with a petition against the ban signed by locals.
Group spokesperson Gwen Connell told TheJournal.ie that protesters are hoping their concerns and questions will finally be addressed by the councillors this evening, but that "basically, they would like the ban on rent allowance lifted in Ballymun".
The ban was introduced when Ballymun was designated a 'regeneration area'.
Under section 25 of the Social Welfare Act 2007, areas can be identified where rent allowance is not payable as it has been assigned for "regeneration for the purpose of providing for greater social integration".
Connell said the ban is pushing people born and raised in Ballymun out of the area to find more affordable accommodation – and forcing families into homelessness:
You have a situation where a family is made homeless and they only have the choice of moving back to the original family home, but they're not allowed because of overcrowding – they're being forced to become homeless.
"There's one family [at the protest] that's going to be made homeless next week," Connell said, because they cannot afford their rent without the allowance.
"It's very difficult to see [the mother] so stressed to see what's going to come next week. She's been born and reared in Ballymun and she wants to move back to the area."
This evening's action follows a tent protest outside the council meeting area earlier today. Protesters brought tents to highlight that "they would rather live in tents than access the homelessness service".
Speaking to TheJournal.ie ahead of today's tent protest, Connell said the situation is very stressful and confusing for residents:
I was speaking to a person yesterday, and they can move back into Ballymun now after having lived away for a time. They want you to move out of the area so that you can move back in. It is ridiculous…    It is discrimination against the people of Ballymun.
- Additional reporting by Susan Ryan