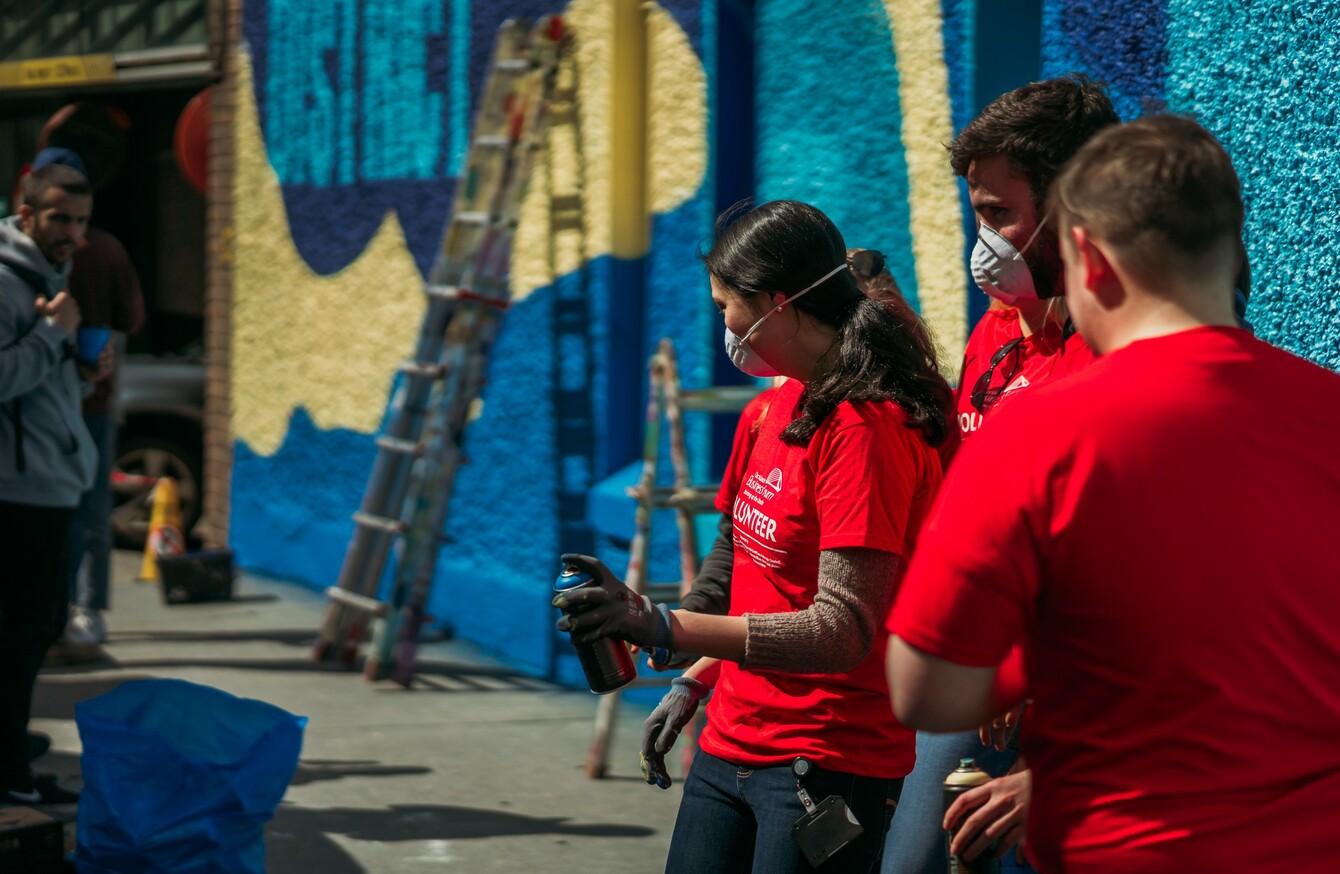 "PEOPLE THAT DON'T work or live here often view Docklands as a kind of uber-business park, but there is a great sense of community in the area," explains business owner Michael Noel Harte.
Along with many other Docklands locals, Harte has helped drive change in the Dublin neighbourhood that straddles the Liffey.
The area, referred to by many residents simply as 'Docklands', (minus 'the'), has been nominated for the Bank of Ireland National Enterprise Town Awards this year.
The National Enterprise Town awards provide a stage for local businesses, community groups and local authorities to show how they are working together to respond to their own challenges and create their own opportunities, which the Docklands neighbourhood has shown in spades. 
Business and community leaders collaborate on the application, with assistance from Bank of Ireland and their Local Enterprise Offices. It's a chance for residents to gain a new appreciation of the achievements they have already made. So, in the case of Docklands, what are those achievements? 
Few of us can easily recall the Docklands landscape prior to the towering skyscrapers over the Grand Canal Dock, or the bright lights of the Dublin Convention Centre lighting up the night sky. 
But it's easy to imagine that the area, which has undergone immense growth and change in the last few decades, would need to involve quite a lot of cooperation from local stakeholders in order to thrive. 
Lifetime resident and local community organiser Betty Ashe has spent decades coordinating just that. "Everyone here, we're all stakeholders in Docklands," she said, explaining that indigenous residents, longtime businesses, and new corporations, have all successfully worked together to make Docklands an award-worthy Irish town. 
To understand Docklands, it's important to understand the history as well as the present. Ashe painted a picture of a working-class neighbourhood that reached a crisis point in the 1960s, when many residents were moved out and those remaining needed help to survive.
Ashe grew up on Pearse Street, where many local families had lived in substandard tenement housing for years, until two of the buildings collapsed in 1962, killing two small children. "That set the ball rolling for demolition and the corporation swooped in and demolished the buildings," she explained. 
The city council subsequently moved many of the residents outside the city, and Ashe said, "We were left with a very very small community and a high percentage of older people who were dependent on family support, and they were all gone."
In order to help the remaining residents adjust, Ashe and her counterparts worked with the local council, founding what would eventually grow into the St. Andrews Resource Centre that employs over 200 people today. They combined Westland Row and City Quay parishes, and took over the local boys national school, no longer needed with so few residents remaining. 
St. Andrews Resource Centre now offers childcare, senior daytime classes and activities, job-seeking services, and much more, providing an essential hub for the community.  
Ashe and other community stakeholders, realised that attracting investment to Docklands would be a key to its survival, "All the time, we were looking at how we could attract investment." Under the leadership of Minister of Labour Ruari Quinn, the Dublin Docklands Development Authority was set up in the 1980s, and the area eventually began to attract some serious investment. 
Fast forward to the Dublin Docklands today, and development has, indeed, been a key force for the area. But with so many different types of entities calling Docklands home, they have all worked hard to to thrive together. 
When Google moved into Docklands in the 2000s, Ashe, local businessman Michael Noel Harte, and other community leaders set up the Docklands Business Forum. Harte explained that the organisation was designed to "help businesses and the local community to foster enterprise and a community spirit to support the Docklands' undoubted potential." 
Harte has been working in Docklands for almost two decades, and set up Mailboxes, Etc., in 2004. "The can-do spirit of the local community has been one of the key drivers for success of the Docklands," he said, "People that don't work or live here often view Docklands as a kind of uber business park beside the city centre full of new euro-glaze offices, but there is a great sense of community in the area. People who live and work here are proud of Docklands and what the area has achieved." 
Highlighting those achievements, Harte noted the wide range of businesses involved in showcasing their town for this year's Bank of Ireland National Enterprise Town Awards. From the Docklands Ferry service that provides visitors with an opportunity to see the area from a different vantage point, to Dublin City Council's Smart Docklands team that's working to use technology to improve urban life, he explained how the tour for the award judges showcased the broad strengths of the community. 
Local community employee volunteers, facilitated by Joe McCann, Chairman of the Bath Avenue and District Residents Association (BADRA), have taken part in a range of activities to improve the area. They have gardened for the elderly, created a playground for the Enable School in Sandymount, and planted pollinators in the Bath Avenue Community Garden. Harte also reported that they had organised to "bring some of our tech heads out into the real world for a day to give tech classes to the elderly on anything from using their digital camera to getting the most out of their new phone." 
And Ashe explained that in addition to improving the local area, the Forum was able to make a connection between the corporate headquarters in the area in order to help secure internship and training opportunities for locals. "We had no access, so we set up a forum that would give us access, a voice for business in Docklands, and we would be part of that community in the wider sense."
Ashe summed up that Docklands' success is about all of the stakeholders involved, "Everyone sharing the space here is part of that community. Not just community in the old-fashioned sense, we're all part of making it work."
The Bank of Ireland National Enterprise Town Awards bring business and communities together, in each town, to showcase the spirit of enterprise in their local area. The competition is the Bank's way of recognising the efforts being made by local people to promote and grow their towns and communities and to play its role as a business leader.