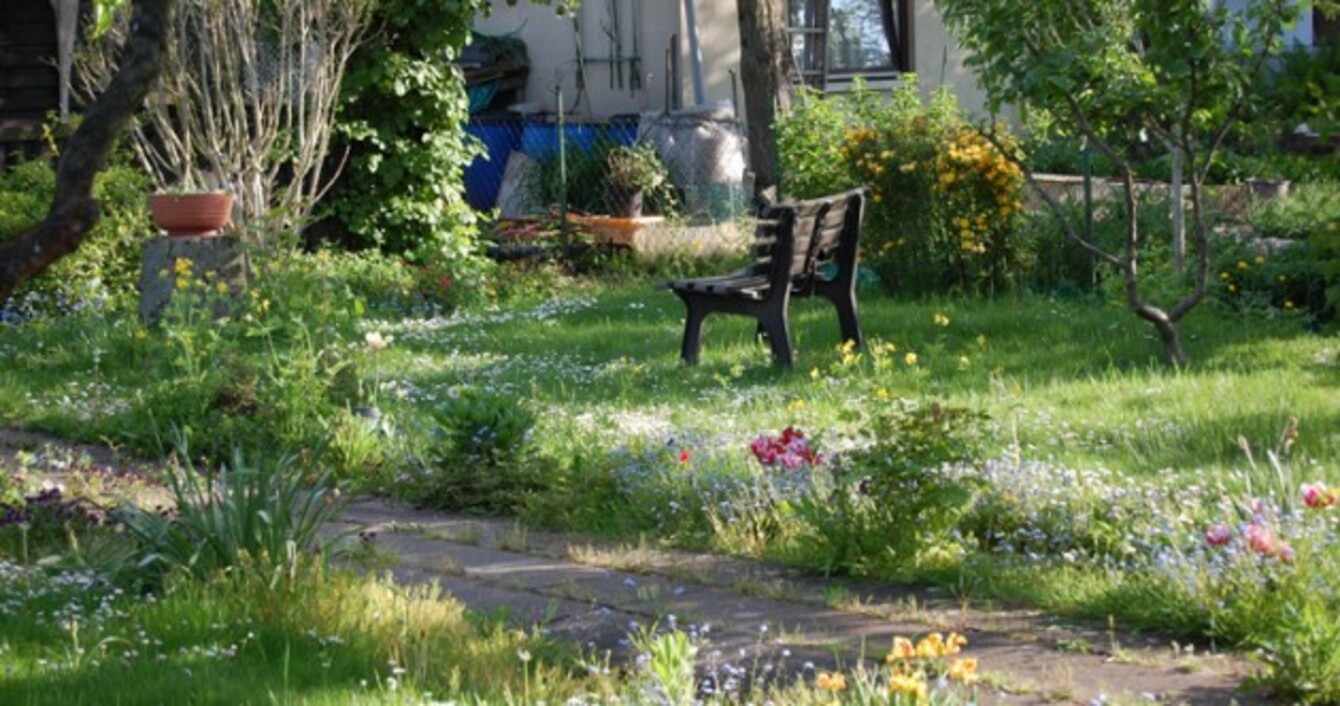 Renting allotments for leisure and growing fruit and vegetables is a regular part of life in Berlin.
Renting allotments for leisure and growing fruit and vegetables is a regular part of life in Berlin.
IN A GREEN bubble away from the Berlin grind, a passionate tribe of urban gardeners has taken up the struggle against developers' bulldozers as more oases come under threat from a property boom.
Frogs croak and garden shears slice, with little else breaking the silence of the Oeynhausen "colony" of allotments on a prime slab of land in the southwest of the German capital.
But there is tension behind the calm, placards at the entrance warn: "No chance for the destruction of the gardens!"
Two-thirds of the 131,000 square metres (about 18 football pitches) lovingly tilled by the Sunday gardeners were sold off in 2008 by its owner, the German postal service, to an investment company, Lorac.
Lorac plans to sell the property to a developer, Groth, which aims to build attractive new flats. Lorac says it will seek millions of euros in damages from the city if anyone stands in the way of the deal.
However the investors did not factor in a gardeners' revolt, with the survival of the idyllic 111-year-old Oeynhausen community hanging in the balance.
"If we hadn't fought, the excavators would already be there and we would all be gone," says Holger Jost, a 63-year-old pensioner and enthusiastic gardener.
"It's land to be built on," insists Bernhard Haas, an attorney for Lorac, complaining bitterly of the "fabulous privilege" enjoyed by the gardeners in a highly attractive residential area.
Quiet and just a few minutes' walk from public transport and the motorway, "this property is predestined for homes," says Henrik Thomsen, a Groth executive.
"Berlin really needs housing so you have to decide: do you save the gardens or build 700 flats?" he asks.
The Berlin government says the capital needs up to 15,000 new homes per year to cope with an influx from across Germany and abroad. Rents, long among the most affordable in Europe, have soared since 2009.
But locals, long spoiled with abundant parks and empty lots, are fighting tooth and nail to preserve their green oases. In 2014, voters blocked the construction of new housing on the giant site of decommissioned airport Tempelhof, which has been reclaimed by Berliners as a park.
The gardeners of Oeynhausen aim to take a lesson from that victory, commissioning expert reports, lobbying politicians and even calling a public referendum last year which saw an overwhelming majority support the preservation of the allotments.
Open to all
"These kinds of conflicts are going to be more and more common in Berlin," warned Stefan Grundei, of a German gardening lobby group.
With 67,000 parcels of property, Berlin has more community gardens than any other German city — in part a legacy of the Cold War when a lot of land, particularly near the Wall, was relatively cheap and West Berlin was largely cut off from the East German countryside.
But "it seems that number will drop," Grundei says. An entire colony near the upscale shopping avenue Kurfuerstendamm was razed in 2010 to make way for luxury lofts.
Some regions of Germany have trouble finding enough gardeners for their allotments but in Berlin, years-long waiting lists are the rule.
Among the tiny tracts, usually leased in perpetuity, just over 5% change hands each year. Previous tenants can ask for thousands of euros (dollars) from those who succeed them to cover the cost of sheds, planted trees and garden equipment.
The rent for the plots of land themselves average about one euro a day, according to Thomas Wagner of the BDG.
"Access to green space should not just be for the elite but for everybody," he said.
A crucial part of the battle for the survival of the garden allotments is conveying the message that they "contribute something positive for all of society", Grundei adds.
At Oeynhausen, large pathways are open to joggers and walkers from outside, a cafe serves al fresco lunches and information boards tell children about the secrets of flora and fauna. Leftover fruits and vegetables are placed in baskets, ripe for the taking for any passer-by.