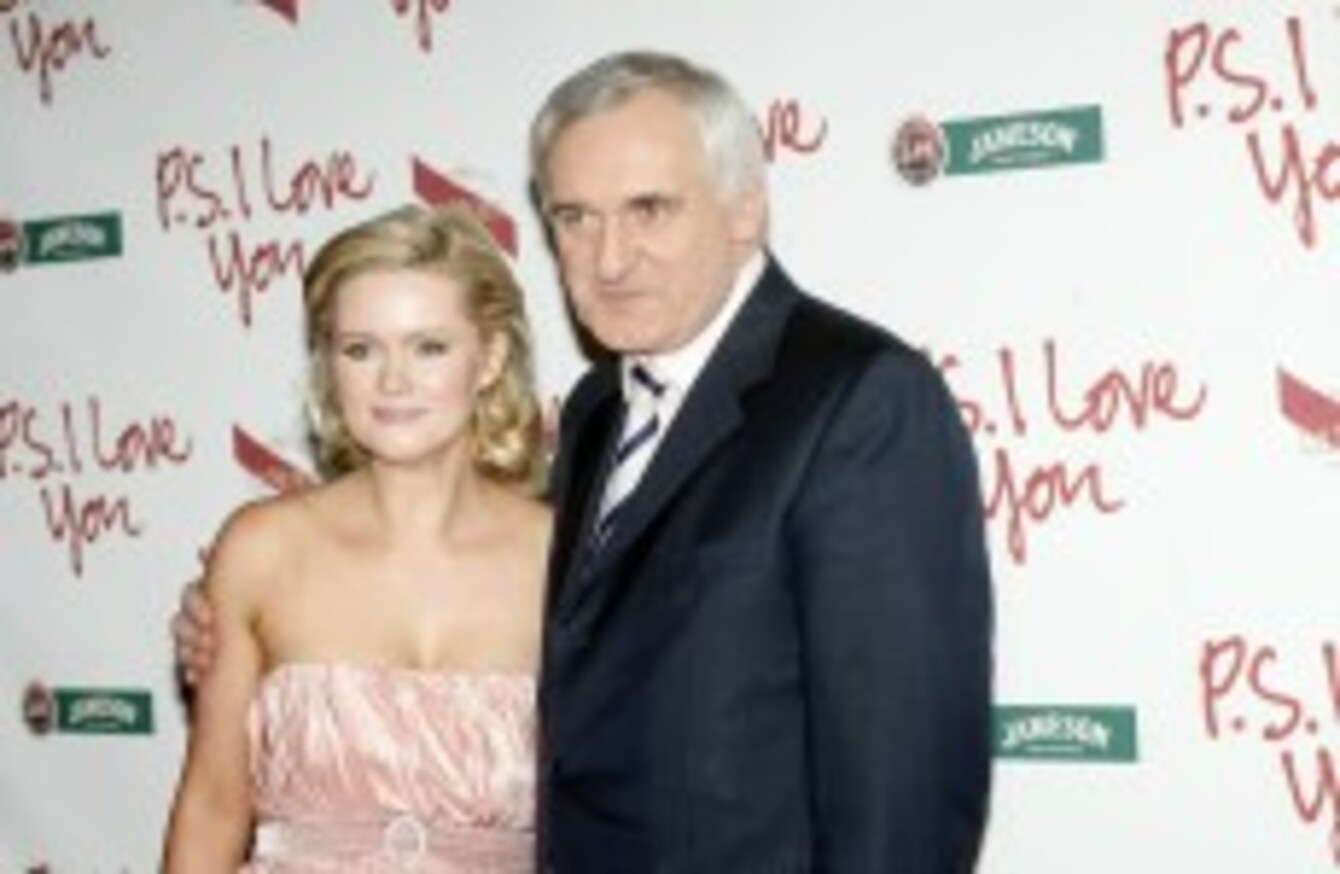 Cecilia with her father at the premiere of PS, I Love You in 2007
Image: Mark Stedman/Photocall Ireland
Cecilia with her father at the premiere of PS, I Love You in 2007
Image: Mark Stedman/Photocall Ireland
Updated 9.48 am
BEST-SELLING AUTHOR Cecilia Ahern has defended her father, former taoiseach Bertie Ahern, insisting he always put Ireland before himself.
Speaking to Miriam O'Callaghan in an interview to be broadcast tomorrow morning, Ahern said her father dedicated his entire life to his work and insisted that he always put the country first.
"He's dedicated his entire life to work. Some people don't think it, but he has always genuinely cared and always kind of put Ireland before himself," she said.
The author of the novel PS, I Love You said it was not right that attacks on her father became personal, insisting that the collapse of the Celtic Tiger and the financial crisis affected every country in the world.
"I think you have to see that it's happened all over the world, and he wasn't the leader of every country all over the world. So, I think people need to take responsibility for certain aspects but not all.
"But I suppose when it gets personal, that's when it's not right. Yeah, it's hard but growing up with a politician of a father I'm used to hearing all kinds of things all my life, but I think it did get quite extreme in the last couple of years.
She described the recent attack on her father outside a pub in Dublin city centre as "heartbreaking".
"Nobody wants to hear of their dad you know being hit over the head with a crutch. It's awful, so absolutely I'm very protective," she said.
She said her father is "enjoying himself now" and is a "wonderful grandad", but is still working and travelling and is "still involved in politics".
In the wide-ranging interview, Ahern also talks for the first time about her battle with anxiety and panic attacks which she first started getting when she as 19.
Sunday with Miriam airs tomorrow on RTÉ Radio 1 at 10am.