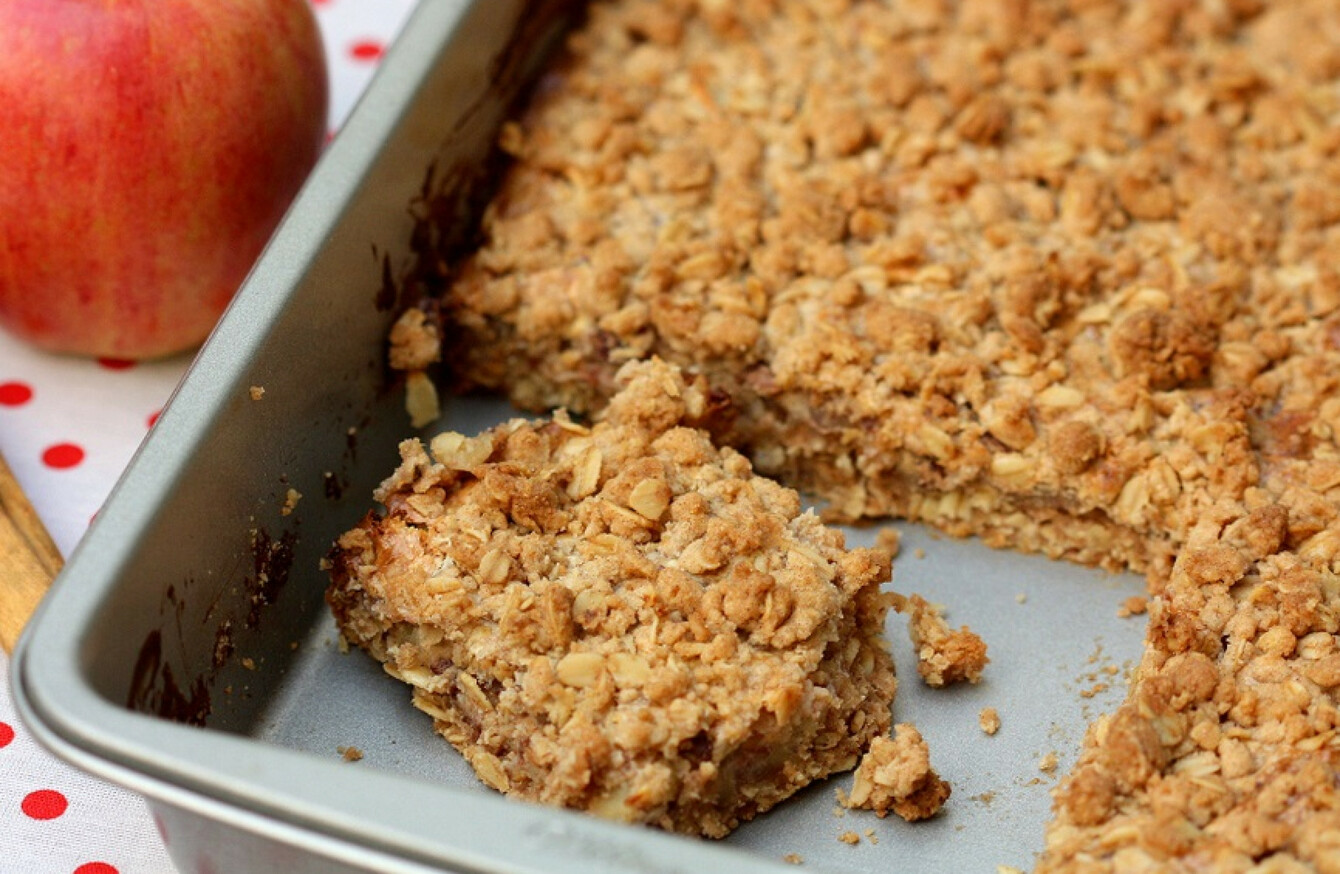 Image: Shutterstock
Image: Shutterstock
FLAPJACKS AND OAT bars make a perfect on-the-go snack. They're filling, tasty, and can be easily popped into a lunchbox or rucksack to fill a gap during the day.
Ask for a flapjack in the US and you'll most likely be presented with a plate of pancakes, but in Ireland and the UK, the term refers to a tray-baked oat bar.
If you want a homemade alternative to a shop-bought cereal bar or pastry, making your own tray of flapjacks is a good place to begin. Made using a few basic store cupboard ingredients, flapjacks are simple to prepare, and you can play around with the quantities of sweetener in there to make them as healthy or indulgent as you wish.
One more plus: flapjacks have endless possibilities when it comes to flavours. A spoonful of protein powder can add a protein kick, or you can add in some extra seeds like sunflower seeds or chia. Check out some of our favourite recipes below…
1. Fuss-Free Blueberry Oat Flapjacks, from The Irish Balance: Containing wholesome ingredients like oats, banana and blueberry and warming flavours like cinnamon and ginger, these chewy flapjacks are a great recipe to make for a winter morning.
2. Apricot Flapjacks, from the Little Green Spoon: The natural sweetness from dried apricots is enough to satisfy any sweet craving. Containing just five ingredients, this is a handy recipe to make when you're in a hurry, and with gluten free oats they're coeliac-friendly too.
3. No Bake Oat Protein Bars, from Jar Of Lemons: A perfect on the go snack and a good way to get some extra protein in, these protein bar-flapjack hybrids will keep you full for hours. Almond butter and protein powder turn these into great post-workout fuel.
4. Dark Chocolate Coconut Flapjacks, from The Food Medic: Dark chocolate and coconut are one epic flavour combination, so these flapjacks are bound to be a winner. Again, these could easily be made gluten free by swapping regular oats for a gluten free variety.
5. Peanut Butter & Raspberry Flapjacks, from Livia's Kitchen: Luscious peanut butter and fresh raspberries are a perfect flavour match in these sweet and salty flapjacks by Livia's Kitchen. They're definitely more on the dessert end of things, with a deliciously sweet taste and the perfect amount of crunch.
6. Banana flapjacks, from Gourmet Mum: Banana flapjacks are a creative way of using up leftover bananas, and their natural sweetness means that less sugar is needed. Stored in an airtight container, these flapjacks last for 4 days (though with my willpower, I'd be lucky if they lasted that long…)