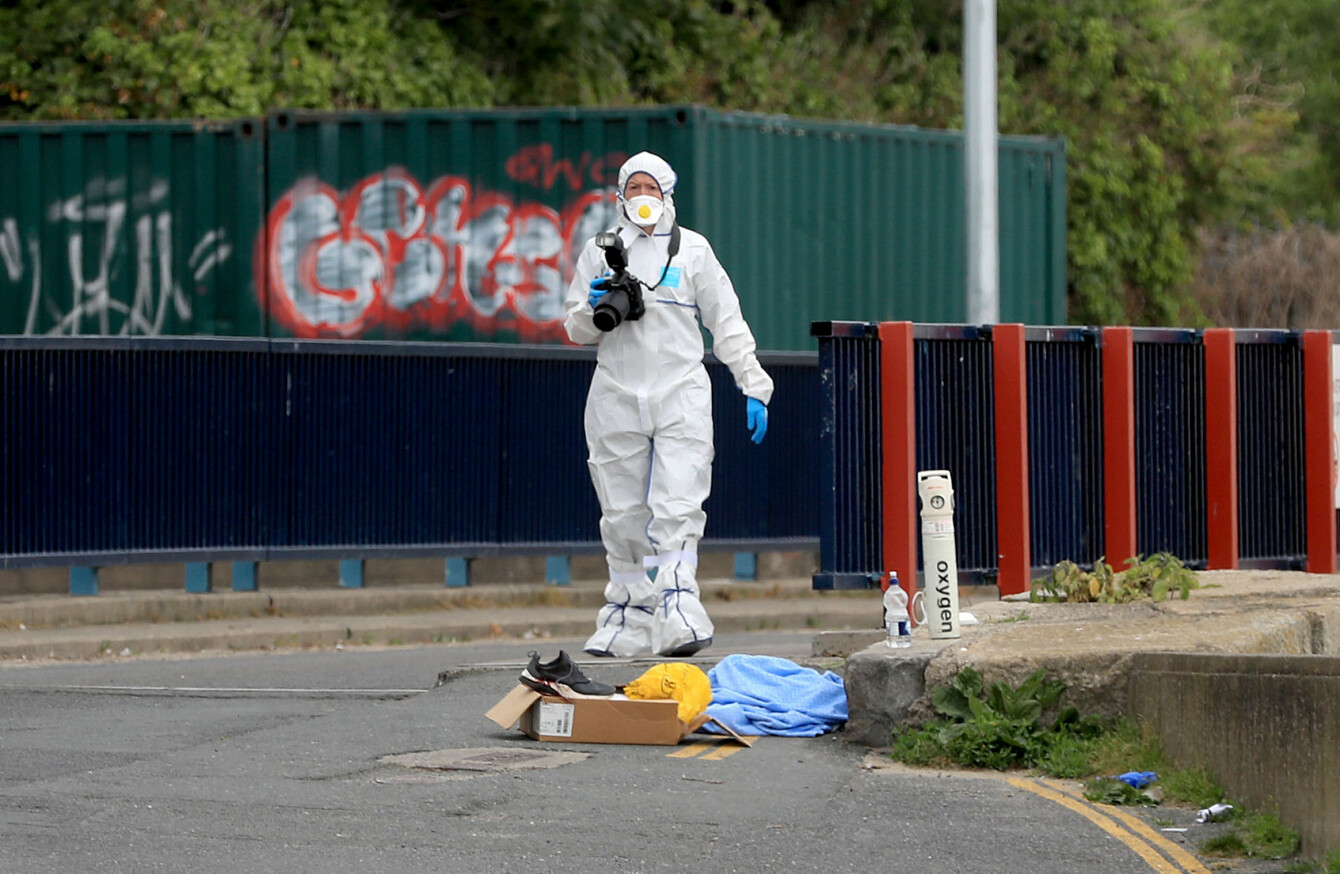 The scene outside Bray Boxing Gym this morning.
Image: RollingNews.ie
The scene outside Bray Boxing Gym this morning.
Image: RollingNews.ie
IT ONLY TOOK the gunman a couple of minutes to shoot the three men at Bray Boxing Club and escape in a white van, leaving one man dead and two men seriously injured.
The gym is right beside Bray Harbour and just like any other day, people were there early on Tuesday morning to get a workout in at the start of their day. Around 15 to 20 people had gathered in the boxing gym for their early morning workout.
Shortly before 7am, a man with his face covered burst in, armed with what is believed to have been a handgun, and began shooting indiscriminately.
Just a short time later, at 7.30am, the same people who had been inside the gym stood huddled next to one another near the seashore, in shock at what had just taken place and what they had been caught up in.
"I was so, so lucky," one man said on his phone. "I was right beside the door and he just burst in."
Pete Taylor, the father and former trainer of Irish boxing champion Katie Taylor, was injured in the incident. The 57-year-old sustained injuries to his arm and chest. Another man was shot three times in the leg.
One man aged 50 was killed in the shooting. Gardaí originally stated he was aged 30, but they issued a correction later in the afternoon. He has been named as local man Bobby Messett.
The father of three from Kilmacanogue in north Wicklow was very highly thought of and was known in his community for his love of exercise. Gardaí believe he was a completely innocent victim who was in the wrong place at the wrong time.
Messett was well known in sporting circles around the town. His son Gary had also represented Ireland in the Paralympics.
"An innocent family man", "a true gent", "the nicest guy you could ever meet". Those were just some of the sentiments expressed about the deceased after the news filtered out that he was the innocent man caught up in a nightmare.
The scene
Behind a blue and white garda ribbon were members of the Garda Technical Bureau, a number of police vehicles, what looked like a pile of of marked evidence and the cars of the three victims, one of which was a white Mustang.
The harbour was eerily quiet on Tuesday morning, only for the Garda helicopter and seagulls that were circling overhead.
Many people visit the harbour to feed the swans, but there were just a few walkers and their dogs out in the early morning light. There were also a few local business people there to open up for the day.
Local businesswoman Elizabeth Tynnan, who works in her family's factory next to the club, said she saw people being taken away in ambulances when she arrived.
Tynnan, who was shaken by the events and what she witnessed, said she would often meet Taylor and the boxers training early in the morning on her way to work, but she never expected this to happen. "It's crazy, I could have been in the middle of it," she said.
She said there is never any violence in the club, adding that the gym is "fantastic" and that it had done "wonders" for the town.
Another man with his dog stopped to take in the scene.
"It is unbelievable to think that it happened up here. I know Pete Taylor like most people do in the town, I know him well.
"It is a huge shock for it to happen here in what is a lovely scenic town," said the man.
"Years ago, you'd be very shocked with a shooting – now I don't think you are. There is plenty of them happening, the world has changed radically," he added before heading off with his dog.
Local politicians extended their sympathies to the friends and family of the deceased.
Speaking to TheJournal.ie, Cathaoirleach of Bray Municipal District Christopher Fox said the shooting has come as a "big shock" due to it being so close to home.
While he said he did not know the background, he knew two of the men involved very well.
"They are good, honest guys – big into fitness and sport – who would get down to the gym early at 6.30 to get their training done for the day. All I can do is wish the survivors a speedy recovery," he said.
Fox said he knew Messett well as he was a few years ahead of him in school. He said Messett loved sport and keeping fit. "He's from a good family. This will be very tough on them," he said.
Sinn Féin TD John Brady, who attended the scene, said it was too early to speculate about a motive.
"I'm absolutely shocked, anyone could have been in there. It seems like it's totally indiscriminate."
Brady added that he is devastated such an occurrence could happen in Bray. The gym is frequented by a lot of local people, he said, adding: "It could have been anyone in there."
"A lot of local people train in the gym, the names of those involved are good decent people," he said.