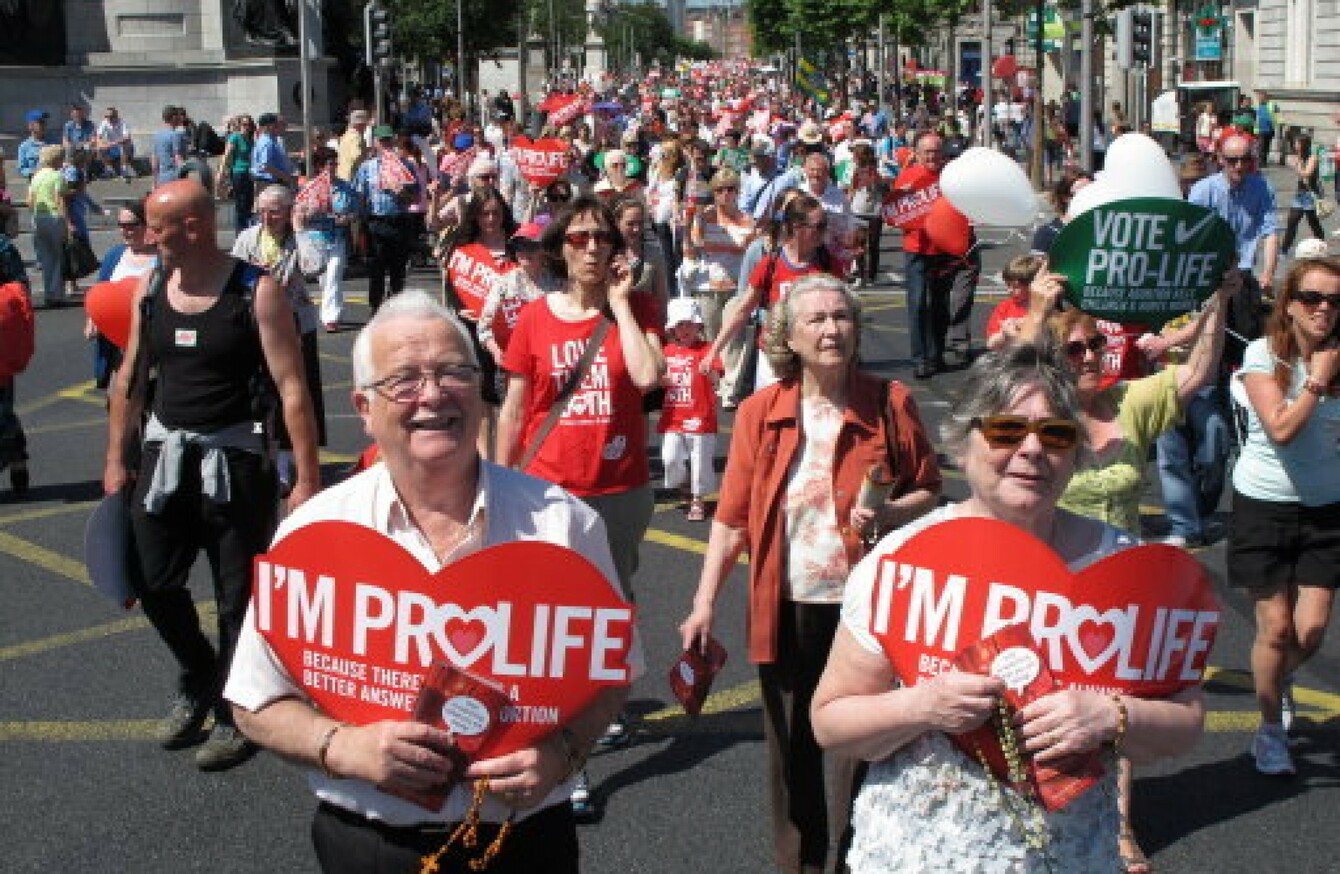 A Dublin march organised by the Pro-Life Campaign.
Image: Shawn Pogatchnik/AP
A Dublin march organised by the Pro-Life Campaign.
Image: Shawn Pogatchnik/AP
THE CITIZENS' ASSEMBLY on the issue of the Eight Amendment will not hear a first-hand account from a woman who regrets having an abortion.
The assembly will tomorrow hear six first-hand experiences from women affected by the Eighth Amendment, but that particular perspective will not be among them.
A spokesperson for the assembly's secretariat said that the stories the women were selected to tell were chosen to be representative of the submissions they received.
The personal stories will include a case of a woman who received a diagnosis of a fatal foetal abnormality as well as the story of a crisis pregnancy.
It will also include the case of a woman who chose not to have an abortion.
The spokesperson said that it was not designed to be a "box-ticking exercise":
These are real, lived experiences and therefore putting them in a way which is categorising them, to have some form of box-ticking exercise is very very difficult, very very challenging.  To do something in that manner would not be a women-centred approach to an issue like this.
"What we've tried to do ensure these stories are representative, are a representation of the broader submissions that have been received by the assembly."
Audio interviews
The six anonymous personal stories that will be played for assembly members are in the form of edited audio interviews that are between 7-7.5 minutes long.
The interviews were conducted by Mary Ryan of Maynooth University and the women agreed that the final version was an accurate account of their personal story.
The questions put to the women as part of the interview process will be made publicly available.
On Sunday, the assembly will hear from 17 advocacy groups who will each make a 10-minute presentation before a question and answer session.
Among those advocacy groups is the Women Hurt project which represents women who regret having an abortion.
A spokesperson for the assembly's secretariat said that chair of the assembly Justice Mary Laffoy is satisfied that viewpoint will be covered by Women Hurt despite it not being included as a personal story.
"In the overall scheme of things, it's important that we hear from all of those perspectives and we are getting that perspective through the advocacy groups. So overall the chair is very satisfied that that overall perspective is provided."
Dr Anthony Levatino will speak on behalf of Women Hurt.
This weekend's sitting of the Citizens' Assembly is the penultimate on the issue or Ireland's abortion laws.
Further details of this weekend's schedule are available online and the proceedings will also be streamed on citizensassembly.ie.
Follow @ronanduffy_ for updates throughout the weekend.